Get your athletes and spectators out into the community, give them ideas for food and even suggestions on an afternoon activity. Whether they are coming early, staying late or just looking for something quick to do in between games, our Show Your Badge program can help set your event apart from all the others. This COMPLIMENTARY service connects your attendees with the community, giving your participants something fun to do and encouraging them to get out and explore the area.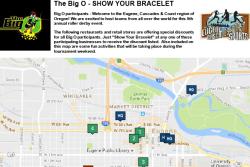 We can customize the offerings for each event by organizing businesses from the entire county or from businesses nearby the event venue. Each business that participates offers your attendees a discount on their services or a special gift for coming in. The Show Your Badge program can be adapted for all events from large to small. Don't have event badges? No problem, let us help you customize a discount card for your athletes, coaches and staff. A map is also included to showcase where each participating business is located.
In addition to Show Your Badge we provide visitor maps and brochures to enable your attendees to be more familiar with the area when they aren't busy with the next game. Take advantage of our mobile-friendly website to find the latest information on Events, Maps and Dining.
From the coast with PNGA Men's Mid-Amateur Championships to Cottage Grove with the Oregon Gran Fondo and back to Eugene with the Big O Roller Derby Tournament, the Show Your Badge program has been a success across the region. Add this exciting benefit to your next sports event in the Eugene, Cascades & Coast region.