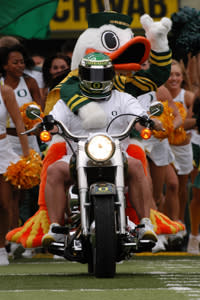 You know this guy is ready for the football season to start! (photo by John Giustina, courtesy of UO)
This month's update focuses on what many people in our area consider a holiday – the start of the University of Oregon Ducks football season. This year promises to be even livelier, as Duck Downtown takes over downtown Eugene and Springfield on the Friday before home games.
Duck Downtown August 29, 2014, Downtown Eugene and Springfield
There's no reason why one should have to wait until Saturday to celebrate their love for football and the Oregon Ducks. Duck Downtown is the perfect excuse to get the party started on a Friday, whether you head to downtown Eugene or Springfield when you get off work, or take a scenic train ride into town for a weekend getaway.
Duck Downtown will bring Duck fans together from near and far to not only show their spirit, but to take advantage of fan-friendly deals while enjoying live music, entertainment, and competitions like trivia games.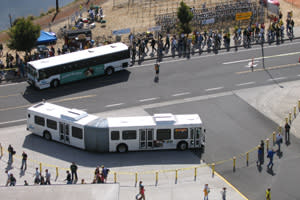 Lane Transit District (LTD) will offer free rides on their buses after 5 p.m. on Duck Downtown Fridays. Those wanting to attend the festivities in both downtown Eugene and Springfield can catch the EmX which will depart every ten to fifteen minutes . Fans coming in from out of town can save 25% on their Amtrak Cascades train ticket by riding a designated "game train" to Eugene (and will get a free ride on LTD just by showing their Amtrak ticket).
Take this opportunity to visit businesses in both downtown Eugene and downtown Springfield, as many will be offering specials just for these Fridays. Besides savings on local food and drinks and the chance to win gift certificates, there will also be discounts on whitewater rafting excursions, bicycles, and more!
There will be six Duck Downtown's during the 2014 season. Even if you plan on watching the Duck games at home, be sure to head downtown and show your support not only for our powerhouse football team, but for our thriving downtowns and the incredible businesses that call them home.
University of Oregon Football Season Opener August 30, 2014, Autzen Stadium
The Ducks start the season off as number three in the nation in the AP poll, and shouldn't have any trouble holding onto a strong ranking after their home opener against the University of South Dakota Coyotes.
The game may not start until 7:30 p.m., but don't miss your chance to get to Autzen Stadium early. There's no better time than the summertime in Eugene for tailgating, as the warm weather draws enthusiastic fans from all over for barbeques, games, and general comradery.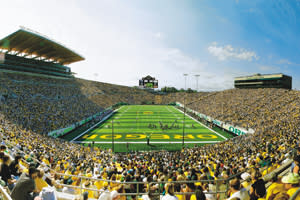 If you've never experienced a game in Eugene, expect the rowdiness that goes along with any college football game, but louder. Much louder. While Autzen may be nowhere near the largest in capacity in college football (Michigan Stadium holds more than twice the number of fans at almost 110,000!), Autzen is definitely one of the noisiest. Duck fans make their love of the team well known to the point where opposing teams are often left bewildered, unable to hear instructions from their coaches.
Duck fans will notice a handful of improved amenities at Autzen this season, including a new digital scoreboard at the east end to enhance the game-day experience for fans in the west end and adjacent corners. To keep fans updated on the game while grabbing a drink or using the restroom, more than 150 flat screen HD monitors have been implemented in public areas along the stadium concourse. A handful of food trucks will now call Autzen home, and the concession stands will offer upgraded dishes, including bacon corn dogs and a black bean burger with gluten free bun option. Electric trams are another upgrade for the season, designed to help disabled and senior fans navigate inside the stadium.
Don't wait when it comes to getting tickets to games throughout the season. The more games the Ducks win, the quicker they go. Be there in person to watch the Oregon Duck (arguably the most fit mascot in the Pac-12) do a pushup for every Oregon point every time they score… adding up to hundreds of pushups in a game. And of course, be there in person to watch the Ducks defeat Michigan State, Stanford, and Washington. Go Ducks!

About the author: Jessica Chestnut is the Social Media and PR Manager for Convention and Sports. She's called Oregon home for more than 20 years, and there's nowhere else she would rather be than Lane County. She spends her free time snowboarding, skateboarding, camping, floating the McKenzie, watching college football, enjoying local microbrews and spending time with her husband and their boxer-mutt, Audra.