Back To Previous Page
Sports Update March 2014
Published: March 20, 2014
We're only three months into 2014, and it's already off to a great start. Although the last of the snow in the mountains is slipping away, the warm weather has provided the perfect chance to get outdoors for a run in the sunshine or a bike ride around town (without rain gear this time of year makes it a real treat). There's a lot to look forward to with sports in the region over the next few weeks, with a number of major track and field events (what better way to cheer on the NCAA D1 Indoor Champion Oregon Ducks?), and even football, with the University of Oregon Spring Game just around the corner.
Color Me Rad April 12, 2014, Valley River Center (Eugene) Sure, Color Me Rad is about running - it is a 5K after all. However, it's also about the joy and silliness of being color bombed (and color cannoned and mortared) over a 3.1 mile course with a rainbow of colored cornstarch. Show up in head to toe white at the beginning to truly appreciate what the race is all about. At the finish line, you will be greeted with the "royal rumble of color", meaning a pummeling of Color Bombs for the finishers to ensure that no part of your clothing is left untouched. Teams are encouraged (along with costumes) or anyone can run solo. This year, Color Me Rad in Eugene benefits the Relief Nursery, a non-profit child abuse and neglect prevention agency, so participants not only have a exciting time, but get to help out members of their community in the process.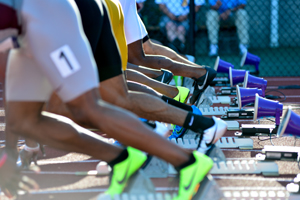 Oregon Relays April 17 - 19, 2014, Hayward Field (University of Oregon) UO will host the seventh annual Oregon Relays, bringing together high school, college, and pro athletes for two days of competition in a number of track and field events including a Distance Carnival. Expect thousands of athletes and spectators at Hayward Field as UO is fresh off of their sweep of the D1 Indoor Track & Field Championships, which is sure to contribute to the popularity of this and other events throughout the season. Single meet tickets are available, or purchase season tickets and see the UO men's and women's track and field team at five thrilling home meets in 2014.
University of Oregon Spring Football Game May 3, 2013, Autzen Stadium (University of Oregon) The actual kick-off of the 2014 college football season may still be about five months out, but luckily the annual Spring Game is almost here to hold football fanatics over. It's a fun opportunity to see how the Ducks are looking during their spring practice as they face off against each other, as well as a chance to get some early tailgating in during some spring sunshine. Come early, as this game is often as popular as the regular season games, and (if like in years past) entry is with a donation of non-perishable food items instead of purchasing a ticket, it's sure to be packed.

About the author: Jessica Chestnut is the Social Media and PR Manager for Convention and Sports. Although she's only been in Lane County since 2008, there's nowhere else in Oregon she would rather be. She spends her free time exploring the great outdoors, snowboarding, camping, floating the McKenzie, watching college football, enjoying local microbrews and spending time with her husband and puppy.
Comments