Back To Previous Page
A Sports Vacation Made Easy
Published: December 23, 2013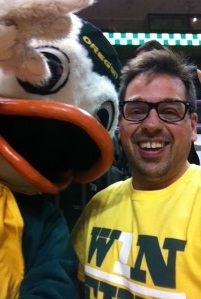 Planning a vacation around your favorite sporting pursuits can be a challenge. However, a little pre-planning can make deciding what all to do and see at your destination so much easier. Take Stephan Moreau from British Columbia. He had his sights set on a vacation that was in driving distance and would allow him to pursue his passions of running and mountain biking. The Eugene, Cascades & Coast area was a natural fit.
Stephan did his research before visiting, and it paid off! He found an affordable and comfortable hotel room, connected with a local mountain biking group to do some riding, visited historic Hayward Field, and attended a University of Oregon men's basketball game where he even met The Oregon Duck!
Read all about Stephan's adventures in his guest blog – we can only hope that he will return for another visit soon!

About the author: Jessica Chestnut is the Social Media and PR Manager for Convention and Sports. Although she's only been in Lane County since 2008, there's nowhere else in Oregon she would rather be. She spends her free time exploring the great outdoors, snowboarding, camping, floating the McKenzie, watching college football, enjoying local microbrews and spending time with her husband and puppy.
Comments