Hayward Field at the University of Oregon courtesy University of Oregon
Last year was tough for sports communities around the country where sports events and leagues were on pause. Despite the challenges of the COVID-19 pandemic, the Eugene, Cascades & Coast region of Oregon has continued developing and improving our sports venue inventory. 
New
Two exciting landmark facilities were completed during 2020.
Hayward Field
The first major addition, Hayward Field at the University of Oregon, was completed in the spring of 2020. It is a newly redesigned world-class track and field facility that will play host to many notable large events. On the books so far for its first two years of operation are the NCAA D1 Men's and Women's Outdoor Track & Field Championships, U.S. Olympic Team Trials – Track & Field, the Diamond League Prefontaine Classic, and the World Athletics Championships Oregon22.
Civic Park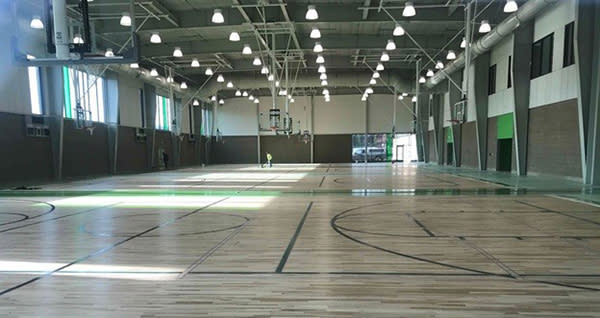 Civic Park Fieldhouse Interior courtesy of Civic Park
The second venue addition to come online in 2020 was Civic Park. It is a sports and recreation venue which boasts a fieldhouse complete with four indoor, multi-use courts with hardwood floors, two outdoor courts, meeting and event spaces, and elevated seating. Additionally, the facility has a FIFA regulation-sized artificial turf field with a flexible asphalt activity area. The facility has completed the first phase of construction and is currently fundraising for phase two which will add a 2,500-seat grandstand with additional bathrooms, concessions, broadcast booth, an upper concourse, and a large digital screen board.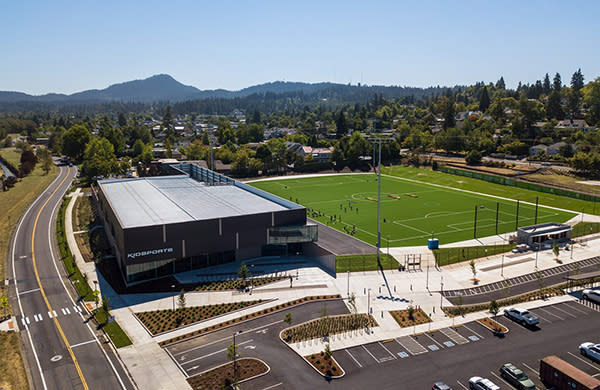 Civic Park Aerial View courtesy of Civic Park
Coming
In addition to the completion of Hayward Field and phase one of Civic Park, many other sports venue renovations and venue development projects are in the works. Sports planners, athletes and fans alike will be excited for the following enhancements and additions to the region.
Old Mill Disc Golf Course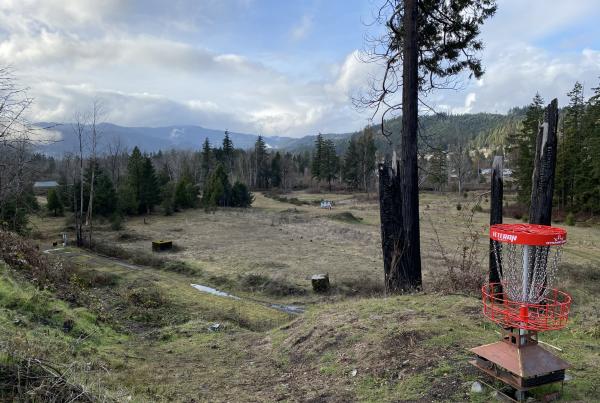 Old Mill Disc Golf Course by Jeff Malik
A short drive from Eugene at the foothills of the Cascades mountain range is the small town of Oakridge - the Mountain Biking Capital of the Northwest. The community has long been known for its miles and miles of mountain biking trails, but now has a new sports venue to delight outdoor enthusiasts and disc golf players. The highly anticipated Oakridge Disc Golf Course is quickly nearing completion. The beautifully picturesque 18-hole course has been built to meet Professional Disc Golf Association (PDGA) standards. The course features a lot of variety including open shots, wooded sections, and several shots which involve elevation changes. Adding to the beautiful natural settings, the course also incorporates elements of local timber history with antique metal saws adding to the decor throughout.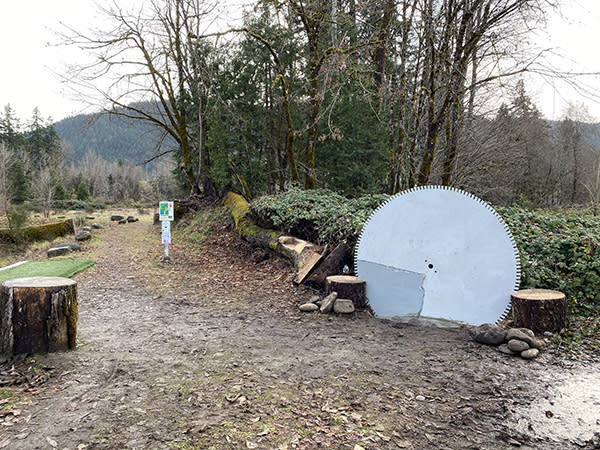 Old Mill Golf Course Hole by Jeff Malik
The course is now open for individual players and is scheduled to be complete in the spring of 2021 with the completion of the parking lot, which when finished will have room for 20-25 vehicles. For future tournaments and events, there is also an adjacent lot that the City will let organizers use for additional parking and staging that is equipped with electricity. Several local and informal fundraisers and matches have been hosted thus far. The goal will be to hold B-level PDGA events by summer 2021.
To learn more about disc golf in the region, read our blog Positive Disc Course.
On the Horizon
This important project is still in the planning phase, but will eventually add tremendous value to local clubs, event planners and the Eugene-Springfield metro area community.
Eugene Sports Complex at Golden Gardens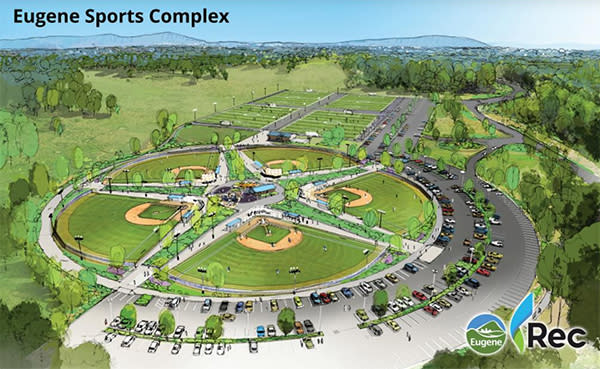 Eugene Sports Complex at Golden Gardens courtesy of City of Eugene
A new reimagining of an existing Eugene area park, Golden Gardens, has entered the master planning phase. Phase One of this project was funded in 2018 by the Parks and Recreation Bond and is slated to be completed by 2025. The Eugene Sports Complex will include five baseball fields and four rectangular turf fields. Outdoor courts with a BMX area are also included in the plan.
Local leagues and sports planners are looking forward to the additional field inventory that will be utilized for practices and regular season play. Sports planners can look forward to the opportunity to host larger events in the Eugene area as well.
New Venues Equal New Events
During this lively time of venue development and renovation, our team at Eugene, Cascades & Coast Sports Commission is looking forward to tapping into new sports markets and bringing larger prestigious events to our region. If you would like to learn more about any of these facilities or our destination, please reach out to our Senior Director, Joey Jewell at joey@eugenecascadescoast.org. We look forward to hosting your event soon!