Oregon Matt Hartner Memorial Volleyball Classic at the University of Oregon's Moshofsky Center
The Eugene-Springfield metro area normally hosts several important annual sports events during October through March which provide significant economic impact to the area each year. The Eugene, Cascades & Coast Sports Commission has been supporting many of these events for years.
Events held during this time are important because of the economic impact they provide during the time that the area is not hosting major summer events that substantially contribute to the local economy.
This winter, these events that annually bring thousands of athletes, coaches, parents and fans to the area to compete in our sports facilities, stay in our hotels, eat at our restaurants and visit our shops and stores have been cancelled.
Over the summer, some cycling and running events along with a few baseball tournaments were successfully held, though smaller than normal. But this winter, the pandemic is keeping sports events on ice.
The Sports Commission, event organizers, coaches, athletes, fans, facilities, hotels and area businesses all look forward to the return of these events, and our collegiate winter sports seasons, next year!
Cancelled Winter Events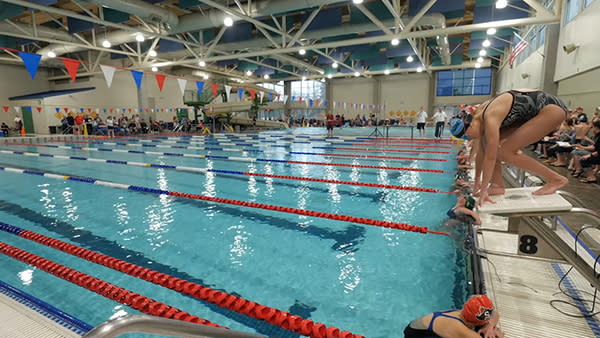 Willamalane Park Swim Center WSC
Willamalane Swim Club
Willamalane Swim Club is a registered USA Swimming year-round competitive swim team that offers high quality professional coaching and technique instruction for all ages and abilities. The Club hosts a robust annual schedule of large meets attracting 600 to 1,200 athletes and spectators per event from October through February each year. Annual meets include the SC Winter Invitational in January, OSI 10 and Under Championships and Oregon 5A & 6A High School District Swimming Championships in February, and the WSC Marie DeHoog Open in October. Meets are held at Willamalane Park Swim Center.
Oregon State High School Cross Country Championships
The track at Lane Community College is the stage for this annual event that hosts 6A schools and below and brings over 5,000 athletes and spectators to the region. The Sports Commission has been working with the event since 2001.
EWEB Run to Stay Warm
EWEB's Run to Stay Warm is a fundraiser that helps income-eligible customers who are struggling to pay their utility bills and stay warm through the winter months. The event features a half-marathon, 10K, 5K and Kids' 400-meter dash. Runs start at EWEB Headquarters, 500 E. Fourth Ave, follows Prefontaine's old stomping grounds along the Willamette River, and ends at EWEB's River Edge Plaza. The event brings 1,300 people on average to the area for the event and the Sports Commission has helped since 2016.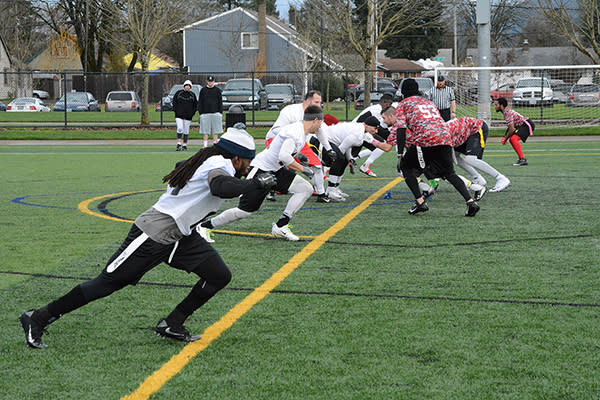 NW Flag Football Championships by Colin Morton
NW Flag Football Championships
This end-of-the-year tournament crowns the NW Champions of the Top Gun, Competitive, Recreational and Womens Divisions for NW Flag Football. Teams from all over the Northwest travel to play at one of the premiere facilities on the West Coast - Les Schwab Sport Park.  Various contests are held and prizes are awarded throughout the two-day event that brings over 600 people to the region.
Oregon Matt Hartner Memorial Volleyball Classic
The Matt Hartner Memorial (MHM) Volleyball Classic is one of the West Coast's premier MLK weekend tournaments and attracts close to 200 girls club teams. The event is hosted on over 30 courts at the University of Oregon's Matthew Knight Arena, Moshofsky Sports Center, McArthur (Mac) Court and the Student Rec Center, along with the Bob Keefer Center for Sports and Recreation in Springfield. The event is host to 260 high school age teams from Washington, Oregon, Canada, Idaho, Montana and California. The annual event was founded in 2010 by Matt Hartner and was originally called the Oregon MLK Classic. In 2015 with the death of Matt Hartner, the event was re-named in his honor. Matt was a member of University of Oregon volleyball program from 2002 thru 2010 starting as student manager, then graduate assistant and running the summer camps.
Ice Cup Hockey Tournament
Each year, the Lane Amateur Hockey Association hosts the Ice Cup Tournament for 10U, 12U and 14U teams to compete in a fun and friendly atmosphere. The event attracts around 300 people from around the state to Eugene's ice rink known as the Rink Exchange. The event guarantees each team a minimum of four games and offers both championship and consolation games. A skills competition is also held during the event and awards are presented after each year's competition concludes.
United States Tennis Association (USTA) Pacific Northwest
The United States Tennis Association Pacific Northwest (USTA/ PNW) chapter has brought different weekend tennis tournaments to the Eugene Swim & Tennis Club in February each year. Some of the tournaments have included the USTA One Weekend League Tournament, Adult 40 & Over Men & Women, and Co-ed 18-39 League. Each tournament brings groups of 100 to 300 passionate players to our area.
CEVA Presidents Day Volleyball Tournament
The Columbia Empire Volleyball Association's (CEVA) annual volleyball tournament is for 14s and 16s age groups and matches are held at the Bob Keefer Center for Sports & Recreation (formerly known as Willamalane Regional Sports Center) and Springfield High School. Each division caps out each year and the event brings around 3,000 athletes and spectators. The event was moved to Lakeview in Lake County in 2021 as the COVID-19 restrictions were more favorable and allowed for the event to proceed.
Emerald Team Challenge
The Emerald Team Challenge brings around 1,000 gymnasts from over 40 teams to the region and attracts about 3,000 spectators each year. Teams come to the region from as far north as British Columbia and as far south as central California, making the Emerald Team Challenge one of the top gymnastics competitions in the West. Originally called the Emerald Cup, the Emerald Team Challenge is presented and hosted annually by the National Academy of Artistic Gymnastics (NAAG). NAAG was founded in 1973 and has trained 17 Olympians and over 75 National Champions.
Looking Ahead
As county safety restrictions and protocols ease, the Eugene, Cascades & Coast Sports Commission will continue to be actively involved with state health officials to help event organizers strategically plan and host their events safely.
Sports events play an important role in supporting the community and everyone looks forward to their return.