Over the last several weeks, the buzz has been building over TrackTown Fitness. What is it? When is it? How do I get involved? Many are passionate and go every week to experience this exciting and social event. Many still don't know much about it and question whether it's for them. TrackTown Fitness is for everyone!
TrackTown Fitness is a program hosted each Sunday at Historic Hayward Field from 8 – 9 a.m. Modeled after the community jogging classes that Bill Bowerman started over 50 years ago, the goal of this fitness program is to teach anyone and everyone the fundamentals of how to run or walk for better health. TrackTown Fitness will have different stages focusing on specific areas of an individual's fitness progress. The first, 13-week stage, started on September 20. By December 13, when the first 13-week  stage of the program ends, individuals fitness level will be assessed to know where they are fitness-wise leading into the next stage. The overarching goal is to get the community more health conscience, making Oregon the fittest state in the country by 2021, when Eugene hosts the IAAF World Championships at Hayward Field.
Each session starts off with attendees gathering for a group pep talk about general fitness, delving into more specifics depending on the week such as heart rate, stretching and different topics important to overall health. This is followed by group stretching and then dividing out into one of three groups: walk, run/walk and run. Don't let the names of these groups make you anxious. If you're not sure where you fit make a best guess and go for it! You can always change your mind and change lanes, no need to wait till next week. The program is set up to make people who cannot make it each week feel comfortable no matter what. Every week you receive a participation ticket. Once a month, there is a drawing for people who have attended three sessions that month. At the last session, there is a grand prize drawing! "Participation in local road runs is one of the most popular avenues to a healthy lifestyle and we believe this program will provide you with an important first step in making such events as the Eugene Marathon, Half Marathon and 5K more accessible as a runner, jogger or walker," states TrackTown USA.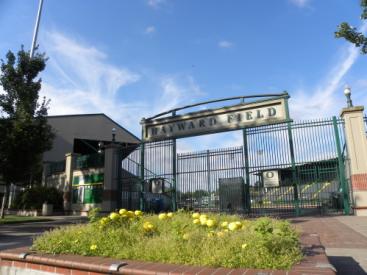 This is a great opportunity for the local community and even travelers, to interact and train with world class athletes, a world class coach and using the same coaching principals they use for the Olympics. It also gives novice walkers and runners a safe space to train; on Hayward Field, where legends have been made!
Natalie Inouye from Travel Lane County has been to a few of these sessions. She enjoys it because it includes people from throughout the community who aren't runners by nature but want to become more physically fit and get a better idea of their general fitness. "One friend likes the fact that it's social and it's accessible for those who are more casual about running. She likes being out there and able to participate at her pace," Natalie related. "I really like this program and will continue to go whenever I can."
Have you ever wanted to be an active runner or walker? This is the perfect environment to start!
What you need to know about TrackTown Fitness:
Sundays until December 13
All participants should enter Hayward Field through Powell Plaza (corner of 15th Ave and Agate St).
On-Street parking only: Free on Sundays!
Gates will open at 7:30 a.m.
Session is from 8 a.m. – 9 a.m. with social time until 9:30 a.m.