The Trans-Cascadia has taken the backcountry by storm. For the past two years, this event has showcased the best of Lane County Mountain Biking to some of the best and most adventurous mountain bikers across the world. The Trans-Cascadia is a blind-format, backcountry race in the wilderness and small towns of the Cascade Mountains. It includes 4 days of racing and a curated backcountry experience of primitive single-track, gourmet food, and social activities provided by the hosts.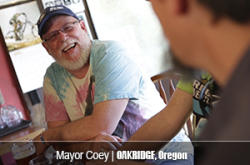 Not just a spectacular event for the participants but for the community as well. "The positive impact of having Trans-Cascadia in the Oakridge/Westfir area has been tremendous!" delights Mayor James Coey of Oakridge, Oregon. "They just finished their 2nd season in our area and this year was better than last which was pretty awesome. They are great trail stewards! You barely know they have been here when the event is over. And this year dollars and time spent on creating some new connectors and trails exceeds $20k and began as soon as the event was done last year. The trails that were created this year will have a huge impact on our community for years to come. Trans-Cascadia and the Modus Group are tremendous partners in helping maintain Oakridge/Westfir as the Mountain Biking Capital of the NW!" It's clear to see why the community is so excited to support this event and see similar events thrive in their area. 
See what each day of this year's event held and discover more about mountain biking in the Eugene, Cascades & Coast region.
Day 1
The course took racers through stages 1 – 5; 17.8 miles of riding with 4,110 feet of climbing. Starting from the lake they headed up the Indigo Lake Connector Trail to complete a clockwise loop through the trail systems before descending to climb the connector trails a second time. Racers finished back at Lake Timpanogas after completing a counter clockwise loop from the saddle.
Day 2
Day 2 of Trans-Cascadia stretched over 18.1 miles of riding for Stages 6-11. The course sent racers backwards on the first three stages of Day 1 around Lake Timpanogas, which included some surprises; like a straight line down the scree field they hiked up on Day 1.
Day 3
A planned 20 miles of pedalling and 15.5 miles of racing took racers from the trails around Oakridge to their new basecamp on the outside of McKenzie, covered Stages 12 - 15. 
Day 4
Day 4 was a monster of a day with over 10 miles of riding, much of it on an exposed ridge at 5,500 feet in snow and freezing rain. Geoff Kabush took the overall win, after finishing in 2nd last year. Rosara Joseph won her second consecutive Trans-Cascadia in the Pro Women's category.
All videos, imagery and trail information courtesy of Trans-Cascadia. 
What is your favorite part of mountain biking?