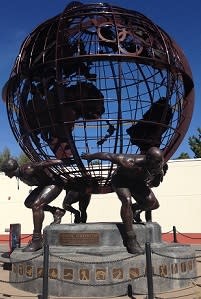 Four months may seem like a lot of time to most people, but when you're planning the Winter Olympics, it can feel like minutes. With the start of October marking four months until the start of the Sochi 2014 Winter Olympics, I headed to Colorado Springs for the Sixth Annual U.S. Olympic SportsLink Conference (USOC). This event brings hundreds of people involved in different facets of sports to give us a better idea of what to expect from Team USA, as well as become better educated on new USOC initiatives. We also look beyond the games at Sochi, as we prepare for the 2015 Toronto Pan American Games, the Rio 2016 Summer Olympics, and the 2018 PyeongChang Winter Olympics.
The four day event provided opportunities to create strategic partnerships between National Governing Bodies (NGBs) and the more than 160 cities that were represented. Sports Commissions, CVBs and other public and non-profit organizations that may be interested in hosting the Olympic Team Trials and NGB Championship events were also on hand at the event. The cities in attendance would also get a better understanding of what events are available for bidding, and what the impact could be on the host communities.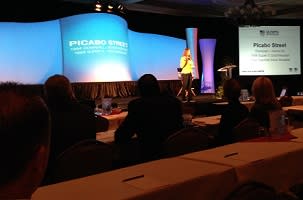 A number of past Olympic athletes delivered remarks and showed their support, including skier Picabo Street, snowboarder Louie Vito, and swimmer Rowdy Gaines. Another notable speaker was Eugene's own Ethan Nelson. Ethan works for the City of Eugene's Waste Prevention and Green Building Department, and was there to deliver a one hour talk on sustainability at events.
It's clear that the USOC is putting an emphasis on developing meaningful initiatives. They focused on delivering the message that opportunities exist and that communities, Sports Commissions and Local Organizing Committees around the country should be engaged and excited at the possibilities. The information presented was enlightening and extremely valuable. It was exciting to envision the many possibilities for our region as I talked with various representatives from the USA governing bodies. Having the ability to connect with these entities and talk directly with people who are passionate and highly involved with their respective sport was priceless. The goal will now be to properly and realistically evaluate each opportunity and determine their real potential.
The Eugene, Cascades & Coast region is known as a sports destination that provides unrivaled hospitality, made possible through strong community support. The residents throughout our area open their businesses and provide all the necessary services that make hosting these events possible, and that's why these popular events return annually. You only have to witness the excitement of a track and field event at Hayward Field, or the spectacle of Autzen Stadium on game day to see the impact.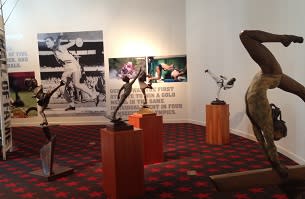 A real testimony to our success is the exciting return of the U.S. Olympic Trials for Track and Field in 2016, which we also hosted in 2008 and 2012. Moving forward, Eugene, Cascades & Coast Sports will be poised to represent our area as a Sports Commission dedicated to attracting, supporting, and fostering the growth of major sporting events to our destination. We will also work to support grass root programs that benefit our communities and continue to improve the quality of life of those who call Springfield, Eugene, Florence, Cottage Grove, Creswell, Veneta, Oakridge, Junction City, and the rest of Lane County home.

About the author: A way over the top sports enthusiast, Mike is the Sports Sales Manager at Eugene, Cascades and Coast Sports. Arriving in Eugene by way of UCLA, Mike manages to keep his Bruin identity even in Duck country. On top of his position with the Sports Commission, Mike is also the Head Women's Volleyball Coach at Northwest Christian University also located in Eugene. When those rare free moments in his schedule do occur, Mike enjoys running, swimming, and almost any kind of activity or competition that breaks a sweat.