What is pickleball exactly? Played with rackets on half a tennis court, it's only the fastest growing sport in the United States! I headed to the Western Oregon Pickleball Classic a few weeks back to catch everyone in action.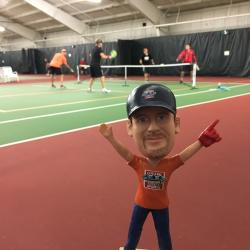 Once a year over 140 athletes gather at the Eugene Swim & Tennis Club (or should it be called the Eugene Swim, Tennis & Pickleball Club?) to celebrate and participate in the annual Western Oregon Pickleball Classic. This event draws people in from as near as Eugene, Oregon to as far away as Washington State and California. That's quite the drive for some.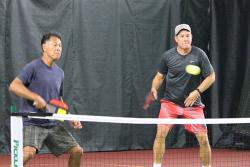 One of the cool things I didn't realize, they use tennis courts. By splitting the tennis court in half they form two pickleball courts. That makes this facility (and sport) really flexible. 
I was watching six games while enjoying myself in the above court viewing area, a pretty swanky place to be watching from. I grabbed food and drink from the snack bar and pulled up a lounge chair to watch the match. Someone told me while we were watching that they love the comradery and fun experience that this tournament inspires. We talked about how there are 6 more courts outside, in addition to the 11 indoor courts that they use for pickleball (and tennis, of course).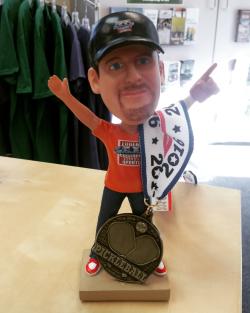 I asked Aubree Nash, gold medal winner of the Mixed Doubles 3.0, what she thought about the tournament and she described it as "A wonderful event in a beautiful indoor facility with a great atmosphere. You don't often find all of that in one tournament." 
When it was time to head home I decided to leave the hospitality food to the athletes and hopped across the street to one of my favorite watering holes for a bite. Then hit I-5 to head home. What a day! 
Pickleball has taken the Eugene area by storm and it doesn't seem to be leaving anytime soon. Are you going to try out this fast-growing sport? I certainly can't wait for this tournament to be back next year.  
Facilities that are ready to host your next pickleball tournament: