Note: The IAAF World Junior Championships came to Hayward Field June 22 - 27 and brought some of the best young track and field stars from around the world to Eugene. Travel Lane County's Juanita Metzler volunteered at the event and wrote a series of blogs sharing her experiences.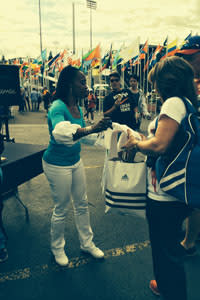 Day 3: In track and field like in most other aspects of life, there is procedure. You practice and train and compete, and practice and train and compete, over and over again. In the lives of those of us who are not track and field athletes, we practice and train in our profession and yes, we even compete. Are we in the final selection for the interview or the contract?  Did we get the opportunity to introduce our product or even ourselves? Did we make it from the semifinals into the final race for this event? We all know that only one competitor is awarded first place but sometimes we see someone who deserves a different award for finishing first place in humanity.
At the IAAF World Junior Championships athletes from nearly 200 nations around the world have gathered to celebrate track and field and to compete. We witnessed multiple lead changes in a women's race that could ultimately only be won by one, and watched someone who could have medaled only to fall steps before the finish line.  We saw amazing efforts made by those who jumped higher or threw items through the air with great finesse. We observed heartbreak by young athletes who did not qualify for the semifinals or final of their event and who were comforted by their teammates or their coach.
But the ones who deserve outstanding medals are those who represent countries at war with each other. These young people talked and interacted with each other in the Fan Zone in addition to the sporting venue. When a moment of silence was held for the recent victims of the Malaysia Airlines crash, they all stood quietly, hats in hand. I was so proud of these athletes, ages 16 to 19, who silently honored those that had been killed. I have personally seen interactions between nations whose political leaders can't even talk to each other.
World record holder and Olympian Gail Devers spent part of an afternoon with athletes and spectators before presenting medals on Thursday. Gail spoke to those around her, telling them to just get started, keep going, and respect each other. Some days we are winners and others are just not our day, but we still respect each other.
It seems like there's a lesson to be learned from this gathering. We are all humans trying to be good at something, and with repeated practice, training, competition and respect for each other, we are witnessing some amazing efforts and achievements. Hopefully these attributes will not be left at Hayward Field when everything is said and done. I hope that the lessons learned travel throughout the globe.  Some adults could learn a thing or two from these young athletes.