Baseball and Softball Fields
Play ball! Baseball and softball are ready to rumble here in the Eugene, Cascades & Coast region. We host a number of tournaments throughout the season with a variety of field setups. Fields are easily accessible whether driving or flying, with hotels and other amenities close by. 
From college level stadiums like PK Park and Jane Sanders Stadium to youth sports complexes like the Willamette Valley Babe Ruth Complex and everything in between, this region is ready for your next event. 
Give us a call to talk about your next baseball or softball tournament hosted in the Eugene, Cascades & Coast region!
MAP IT
Bob Artz Park is the areas primary softball field complex. The 11-acre facility is heavily used by adults and youth from throughout the region for league and tournament play.

7807 Thurston Rd, Springfield OR 97478

P: 541.736.4104

Book Now
MAP IT
Jane Sanders Stadium features 1,500 permanent seats plus 1,000 more bleacher seats in center field. A team meeting room, locker room, film room, training room and other amenities are located in a team building along the third base line while an indoor practice center with batting cages, pitching lanes and an infield will is in left field. The field is artificial turf with a real dirt infield. For fans, a roof covers more than 500 seats behind home plate and a state-of-the-art videoboard is installed in right field, in addition to all the modern restroom and concession facilities.

18th & University, Eugene OR 97403
MAP IT
Laurel Sports Complex features five fields, with three additional fields nearby, allowing the facility to host tournaments with up to 38 teams. With all-dirt fields set up to accommodate fast-pitch softball, the facility also features homerun fences, spectator seating and complete dugouts for all fields.

1515 Rose St, Junction City OR 97448
MAP IT
University of Oregon's PK Park is an outdoor baseball stadium with a capacity of 4,000 which includes 2,000 box seats with backs, 480 general admission bleacher seats, 53 ADA seats, two picnic plazas and eight luxury suites. Located adjacent Autzen Stadium with plenty of close parking and shared festival areas. The baseball facility includes full locker rooms, clubhouses and team amenities, concessions and even a "Sluggo FunZone" for children. Home to both the Oregon Duck and minor league Eugene Emerald baseball teams.

2760 Martin Luther King Jr Blvd, Eugene OR 97401
MAP IT
200 Silver Ln., Eugene OR 97404
WE CAN HELP YOU FIND THE RIGHT VENUE
J.B. Carney
Senior Director, Sports
J.B. oversees the Eugene, Cascades & Coast Sports Commission, focusing on growing the local sports event economy through excellent sales and services programs and effective target marketing. J.B.'s professional experience as a general manager and director of sales at a variety of hotel properties dates back to 2005. He holds a Bachelor's degree and Master's of Science degree from Oklahoma State University.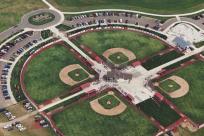 Planner Ballfield Guide The Eugene, Cascades & Coast region of Oregon offers many great facilities…
More

Info

›