Tournament Golf Courses
The Eugene, Cascades & Coast region is home to a number of public and private 18-hole championship length courses. Enjoy amenities on the course including clubhouses (perfect for hosting pre and post tournament meetings), pro shops, driving ranges and stunning views like the Willamette River, coastal sand dunes and snowcapped mountains. The 2016 NCAA DI Women's and Men's Golf Championships and the 2018 U.S. Senior Amateur Championship were held at the nationally renowned Eugene Country Club. Let's add your tournament to the list!
Give us a call to talk about your next golf tournament hosted in the Eugene, Cascades & Coast region!
WE CAN HELP YOU FIND THE RIGHT VENUE
J.B. Carney
Senior Director, Sports
J.B. oversees the Eugene, Cascades & Coast Sports Commission, focusing on growing the local sports event economy through excellent sales and services programs and effective target marketing. J.B.'s professional experience as a general manager and director of sales at a variety of hotel properties dates back to 2005. He holds a Bachelor's degree and Master's of Science degree from Oklahoma State University.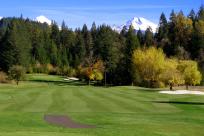 Combine stunning vistas with top-tier golf venues and the result is gorgeous greens and scenes in…
More

Info

›