Gymnasiums
Have you ever imagined waiting your turn to leap from one bar to the next or balanced on the beam while the crowd waits with bated breath for you to stick that landing? Yes? Then look no further than the Eugene, Cascades & Coast region for your next gymnastics meet.
With a variety of indoor multi-use facilities that cover all aspects of a great meet, we have hosted events such as the 2018 Men's Region 2 Gymnastics Championships - US Gymnastics Academy, the 2016 Regional Gymnastics Championships - National Academy of Artistic Gymnastics and the nationally renowned Emerald Team Challenge, which brings in over 900 gymnasts. The Eugene, Cascades & Coast region has more to offer with our proximity to additional exciting activities, including natural wonders to experience.
Give us a call to host your next Gymnastics meet in the Eugene, Cascades & Coast region.
MAP IT
Event center with six multi-use courts, inline hockey/lacrosse rink, sports leagues, classes, cardio and weight equipment, rock wall and golf simulator.

250 S 32nd St, Springfield OR 97478

P: 541.736.4544

Book Now
MAP IT
Lane Events Center features a 75,000 square foot exposition space that includes two large halls, one with a permanent stage, a glass enclosed atrium and four dividable meeting rooms. Additional buildings are available on campus for events as well. Full catering services, Wi-Fi and 2500 parking spaces are also available.

796 W 13th Ave, Eugene OR 97402

P: 541.682.4292

Book Now
MAP IT
Mac Court is a nostalgic piece of history for Eugene. It was built in 1926 on the University of Oregon Campus, McArthur Court (Mac Court or The Pit) was the home of the Oregon Ducks men's and women's basketball teams until 2011 when it was replaced by Matthew Knight Arena. Mac Court is dedicated for recreational use and is available to rent for sports events.

19th & University St, Eugene OR 97403
MAP IT
Facility includes a full-length artificial football surface, a synthetic four-lane 120-meter running track. An automated system of nets can be lowered within minutes to convert the structure into a batting cage for softball or a driving range for golf.

2727 Leo Harris Parkway, Eugene OR 97401
WE CAN HELP YOU FIND THE RIGHT VENUE
J.B. Carney
Senior Director, Sports
J.B. oversees the Eugene, Cascades & Coast Sports Commission, focusing on growing the local sports event economy through excellent sales and services programs and effective target marketing. J.B.'s professional experience as a general manager and director of sales at a variety of hotel properties dates back to 2005. He holds a Bachelor's degree and Master's of Science degree from Oklahoma State University.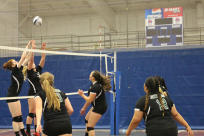 The Eugene-Springfield metro area is home to many flexible indoor sports venues with multi-purpose…
More

Info

›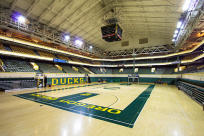 Built in 1926 on the University of Oregon Campus, McArthur Court (Mac Court or The Pit) was the home…
More

Info

›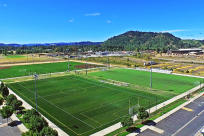 Explore the Willamalane Park and Recreation District's premier sports complex, the Bob Keefer Center…
More

Info

›