Back To Previous Page
Guide to Eugene's Tasty Mushroom Scene
Published: October 14, 2019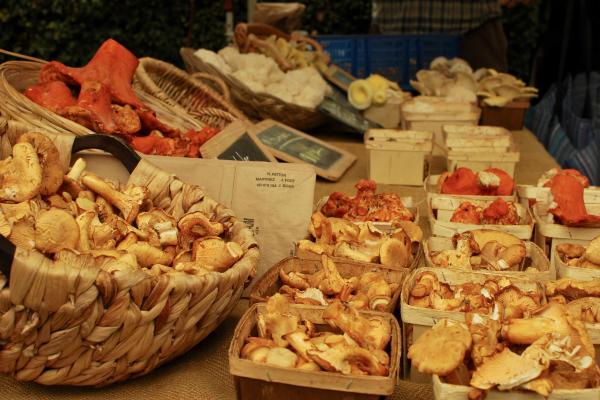 One of the local food thrills of the Pacific Northwest is mushroom foraging. The damp, rich soil around Eugene from the Willamette Valley and up into the Cascade Mountains is aptly suited for mushrooms, so much so that this area is known as a year-round mushrooming destination and a home to the acclaimed Oregon truffle. If you are curious to try mushrooms or if you are already a devout mushroom fan, there are many ways to get a taste of these local treasures.
We've collected our top tips for trying the delicious mushrooms in the Willamette Valley below.
Mushrooms on the Menu
Start with the region's best locavore restaurants that tailor their menus to the seasons. While mushrooms can't be promised every night, these local restaurants are some of your best bets for enjoying what fungi has been freshly foraged from the fields and forests. If mushrooms on the menu are the deciding dining factor for you, we recommend you call ahead for a sneak peek at the day's menu.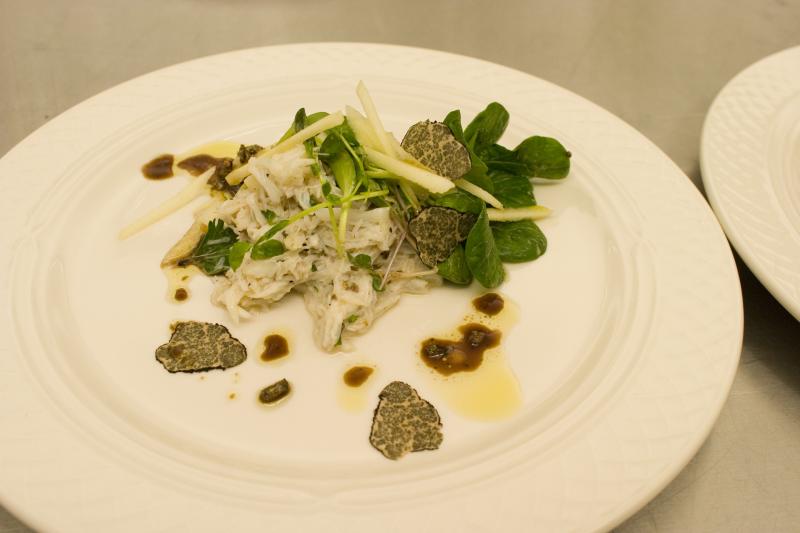 An Oregon Truffle Dinner by Georgia Freedman  
Grit Kitchen & Wine
Located in an historic Whiteaker neighborhood house, Grit Kitchen offers a fixed four course dinner or an a la carte menu. Chef Ashley Hawkins sources exclusively from over 30 local farms, wineries, breweries and vendors. When it comes to mushrooms she relies on Eugene's Mycological Natural Products for locally gathered and grown specimens. If you are looking for a meal to savor, this is the place. Reservations recommended.
Party Downtown & Party Bar
Sprung up from a food cart, this special occasion and casual dining duo features locally-source ingredients in creative southern-style dishes. For example, a sweet corn polenta with summer chanterelles, greens and herbs right from the owners' garden. Delicious! While Party Downtown never aspired to be a fine dining destination (they are still the cart from the block), the quality of food dished up here makes this a go-to restaurant for visitors and locals alike.
Marché & Le Bar
In the '70s, Chef Stephanie Pearl Kimmel spearheaded locavore and slow dining before were recognized movements. Today she presides over a Eugene-based culinary empire that excels in some of the finest dining around town. Her dishes are frequently focused on mushrooms from chanterelle pizzetta to grilled portobello sandwiches. If you are lucky, Marché will also be offering one of their quarterly French regional dinners sourcing primarily Oregon ingredients to replicate traditional French dishes.
North Fork Public House
This farm-to-fork experience at North Fork Public House makes northwest comfort food that treats your palate to seasonal show stoppers like wild mushroom tagliatelle, lobster mushroom pappardelle and even a truffle burger with grass-fed Oregon beef dressed with a truffle aioli. Don't miss their bacon Bloody Marys and their Oregon Duck football watch parties.
George + Violet's Steakhouse
In Springfield's dining hub along Main Street, this fabulous date night restaurant shines with mushroom soup and add-on trimmings such as mushrooms in red wine sauce. Whether you order a local grass-fed steak or a juicy hamburger, George + Violet's knows how to make it extra special. But like all these restaurants that are sourcing ingredients locally, the menu evolves with the season – so mushroom offerings may vary month to month.
Mushrooms at the Markets
Another place to get your fungi fix is at the local farmers' markets. Foragers and cultivators with commercial permits do the dirty work and share the spoils with you. At the Lane County Farmers Market there are two top notch mushroom vendors worth wading through the throngs around their booths.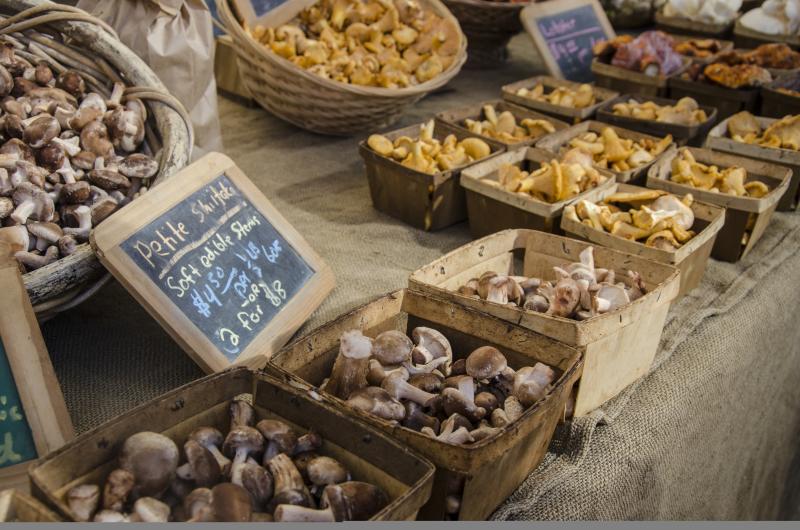 Mushrooms at the Lane County Farmers Market by Katie McGuigan
RainForest Mushroom Company
This Oregon Coast family has been growing Oregon Tilth certified organic mushrooms for thirty years and are best known for their medicinal maitake mushrooms. They also raise shiitake mushrooms, oyster mushrooms, buttercap mushrooms, scallop mushrooms and lion's mane mushrooms. They have a selection of dried mushrooms and grow-at-home kits if you're feeling the DIY spirit.
The Mushroomery
The variety of mushrooms displayed by the Mushroomery is amazing. Both organically grown and ethically wildcrafted in the foothills of the Cascade Mountains, these mycologists offers mushroom tinctures, mushroom powders, dried mushrooms and, of course, fresh mushrooms. Learn from them all about how to cook with mushrooms and snag some great recipes. And seasonally, there may even be opportunities to pitch in with work in their greenhouses.
Mushroom Events
Oregon's mushroom bounty is honored by two outstanding annual events. Attending these celebrations is a great way to learn more and have a lot of fun.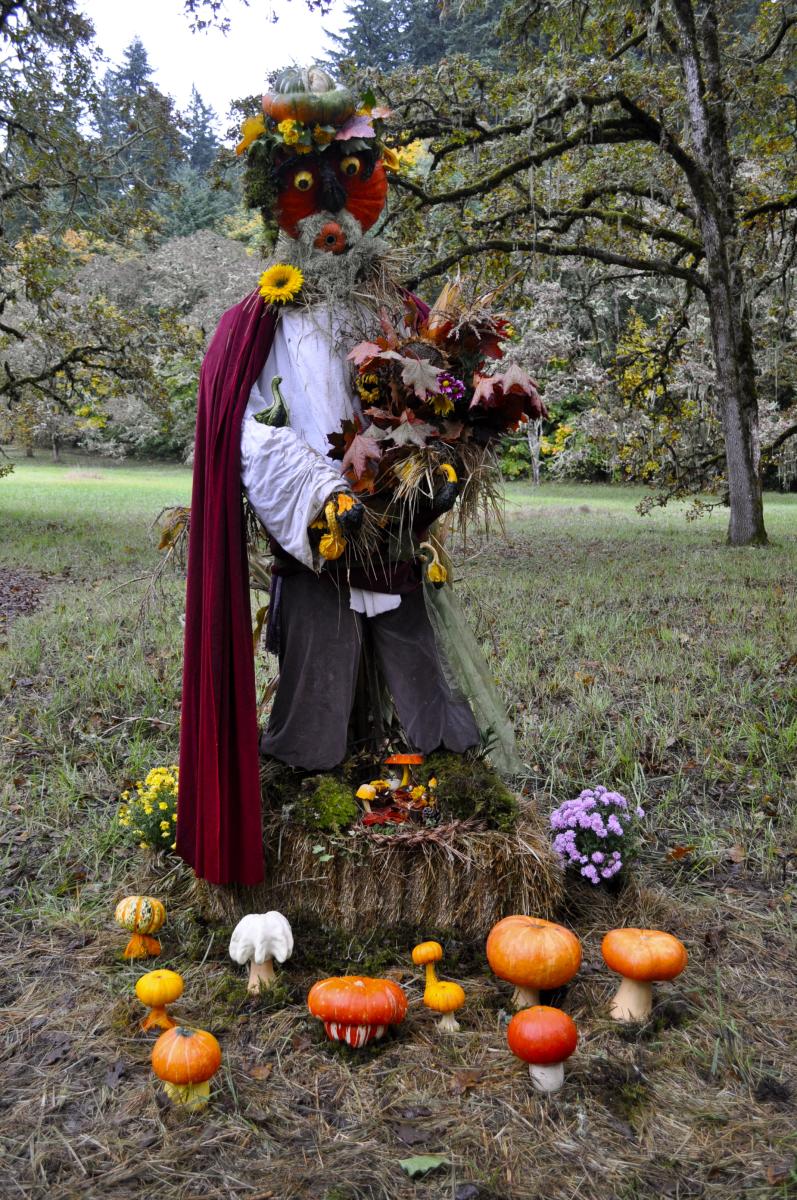 Scarecrow at Mount Pisgah Mushroom Festival by Caroline Harben
Mount Pisgah Arboretum Mushroom Festival
Held in October, this annual one-day affair attracts mushroom hunters and enthusiasts from across the region. Browse a display of over 300 local species, ask experts on mushroom identification, take guided nature walks and learn about cooking with mushrooms. Don't miss the creative scarecrow contest! Additional entertainment from live music and food vendors to hay rides and crafts makes the Mount Pisgah Arboretum Mushroom Festival a festive, family-friendly event.
Oregon Truffle Festival
An indulgent January weekend in Eugene honors the Oregon truffle. This mighty culinary jewel is showcased with truffle cooking classes, lectures, food and wine pairings, chef's dinners, culinary tours and a truffle marketplace. Delve deep into the aromatic pleasures of the truffle and learn about the fundamentals of truffle dog training and truffle farming. Watch the Joriad North American Truffle Dog Championship as truffle dogs compete to unearth truffle-scented targets at the Lane Events Center. The weekend culminates in the Grand Truffle Dinner – six courses of truffle infused dishes prepared by celebrated guest chefs.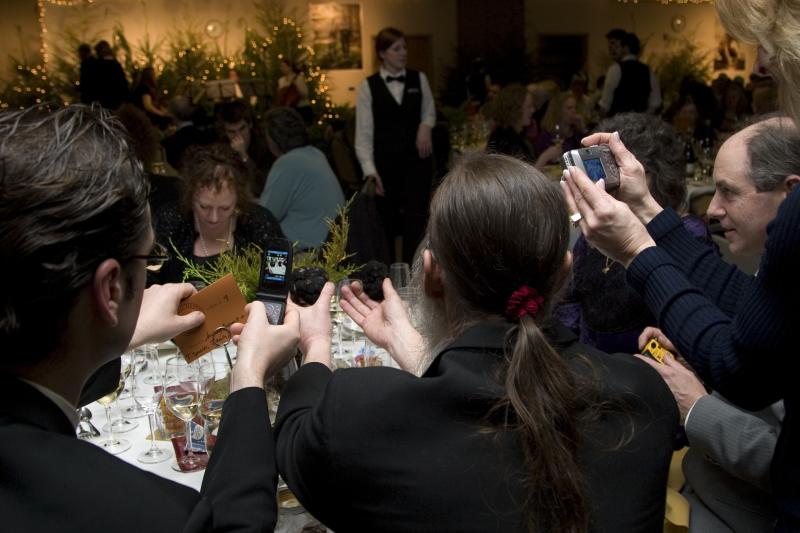 Admiring an Oregon Black Truffle at the Oregon Truffle Festival by Georgia Freedman
Mushroom Foraging
Want to find wild edible mushrooms yourself? Immersing yourself in nature to forage for fungi can be a fun adventure – but to be safe and successful it's important that you educate yourself first and consult with local experts. Go with a guide (ask if they offer special mushroom tours or know someone who does) or take a course on mushroom identification (when in doubt, throw it out!). Be aware of your surroundings and only seek mushrooms on approved public lands. Follow our Adventure Checklist before you head out in Oregon's outdoors.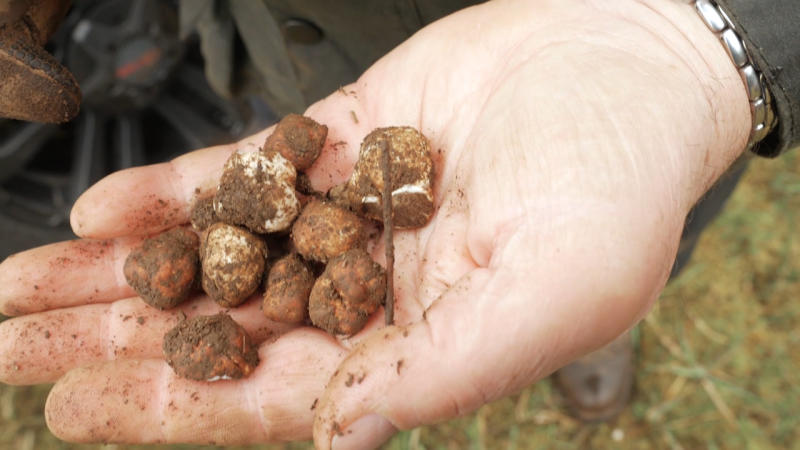 Foraging and Finding Oregon Truffles with a Truffle Dog
Upcoming Mushroom Events