Large Conferences & Conventions
The Eugene - Springfield metro area features many large event spaces for conferences and conventions along with over 4,290 hotel rooms for attendees. From large ballrooms of over 20,000 sq. ft. to venue configurations and event campuses combining up to 75,000 sq. ft. of useable indoor space, there are plenty of flexible conference layouts for your consideration.
Large-scale events previously held here include citywide events like Neighborhoods, USA (NUSA); Living Proof Live with Beth Moore; and the Wine Marketing & Tourism Conference.
Top conference spaces include Eugene's Lane Events Center with 75,000 sq. ft. exhibit space, the state-of-the-art Matthew Knight Arena with 12,500 seats, the Graduate Eugene (formerly Hilton Eugene) with 30,000 sq. ft. of flexible conference space and the University of Oregon Conference Services with its newly renovated Erb Memorial Union student building encompassing 22,000 sq. ft. of meeting space. Then there are many more convention hotels, performance halls, indoor and outdoor sports venues and constellations of facilities that can accommodate large numbers including retreats, camps, churches and educational buildings.
Lane Events Center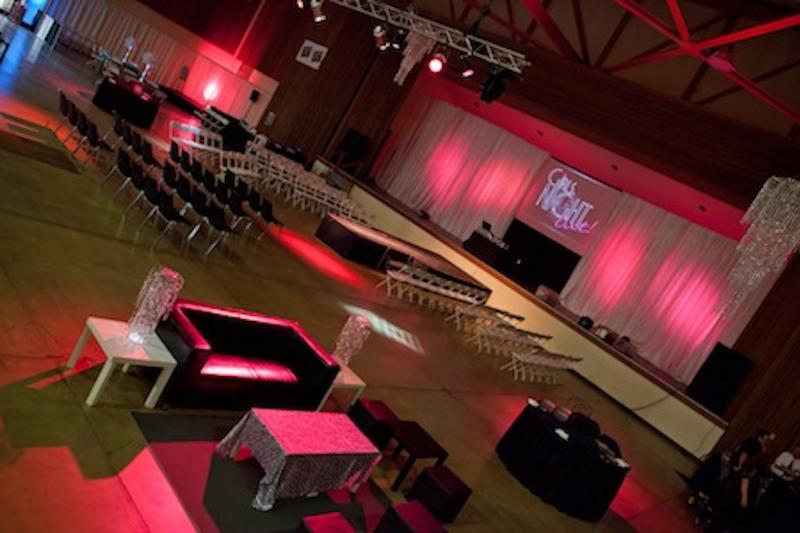 Lane Events Center set Theater-Style
The Lane Events Center offers an expansive 75,000 sq. ft. campus with parking for over 2,000 cars, easy shuttle staging and convenient public transportation access. Just blocks from Eugene's downtown and the artsy Whiteaker neighborhood, the Lane Events Center provides plenty of versatile space for a wide variety of events. Seven unique spaces include an exhibit hall, performance hall, atrium, pre-function concourse and multiple meeting rooms, both large and small. Additionally, there is a separate 36,000 sq. ft. arena, a 12,000 sq. ft. auditorium and a 11,000 sq. ft. pavilion.
Matthew Knight Arena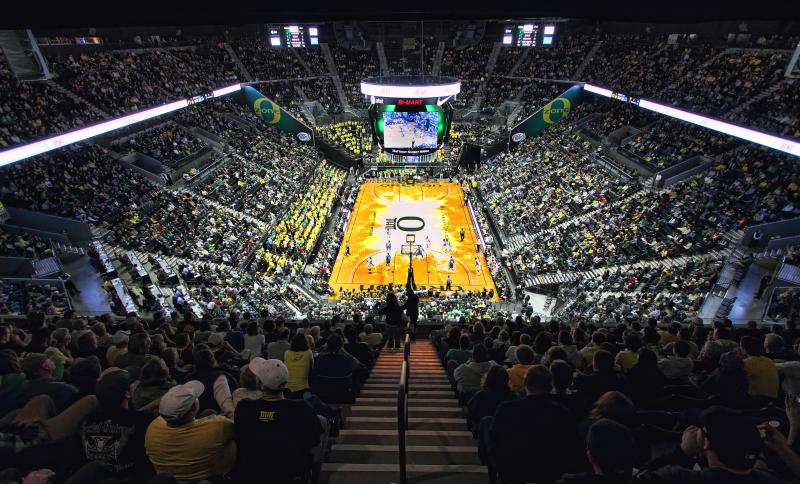 University of Oregon Basketball Game at Matthew Knight Arena by Gregory Burns
With capacity of up to 12,500 seats, the Matthew Knight Arena is the largest indoor venue in Eugene - Springfield. From its impressive technological touches, to its symbolic architecture and private club rooms; this mega-venue has it covered. Built in 2011 on the edge of the University of Oregon campus, the arena is located within walking distance to a cluster of campus hotels.
More Than You Would Expect The beloved Matthew Knight Arena, a cornerstone of the University of…
University of Oregon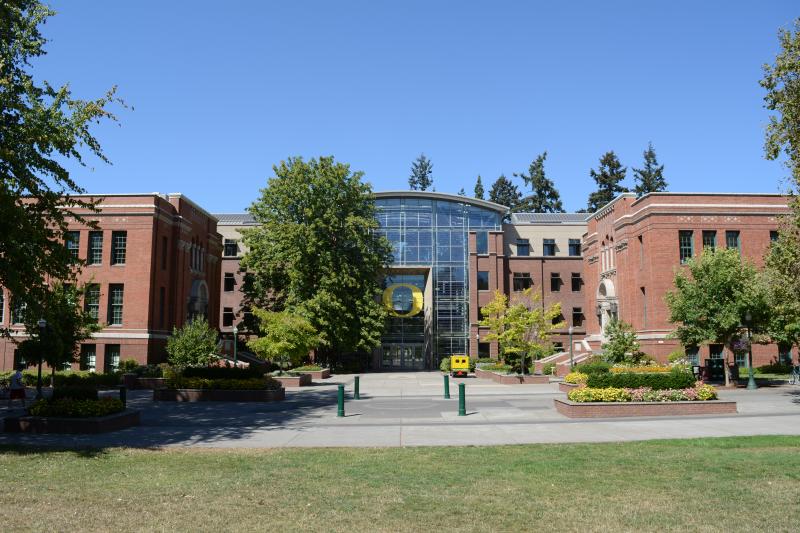 Lillis Business Complex at the University of Oregon by Collin Morton
Multiple indoor and outdoor spaces from the Ford Alumni Center and the LED-certified Lillis Complex to spacious lawns and courtyards, offer versatile and beautiful spaces for conventions, meetings and events. The Erb Memorial Union (EMU) offers half a dozen large meeting rooms and dozens of medium and small rooms. The conference services staff works with 250,000 sq. ft. of space that include classrooms, lecture halls, theaters and sports fields. They also provide AV support and catering. Holding your event on the University of Oregon campus has the added advantages of access to intellectual capital, art, culture and heritage.
Graduate Eugene Hotel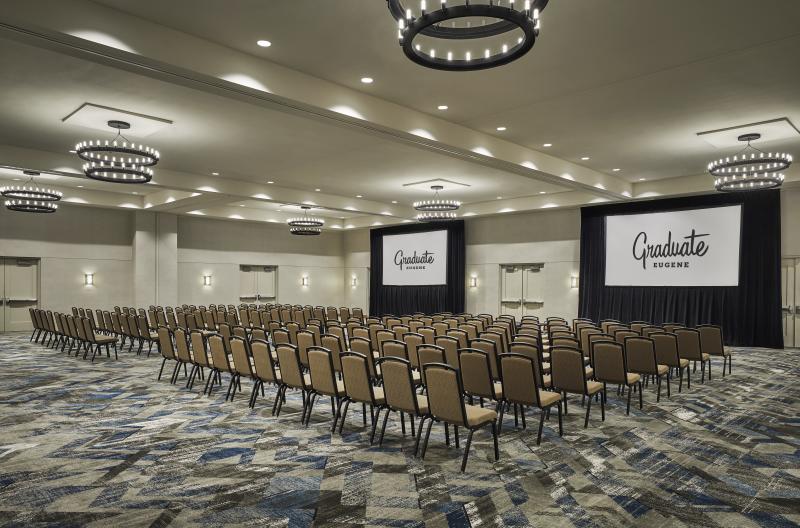 Graduate Eugene Hotel set Theater-style
Located in downtown Eugene, adjacent the Hult Center for the Performing Arts, this landmark hotel showcases Eugene's rich running history and university connections. A variety of ballroom spaces, foyers, meeting rooms and outdoor patio space comprise 30,000 sq ft and make the Graduate Eugene one of Eugene's most significant convention hotels. Accommodate delegates right onsite or at nearby hotel properties. The Graduate is central to shopping, dining and riverfront parks. 
Valley River Inn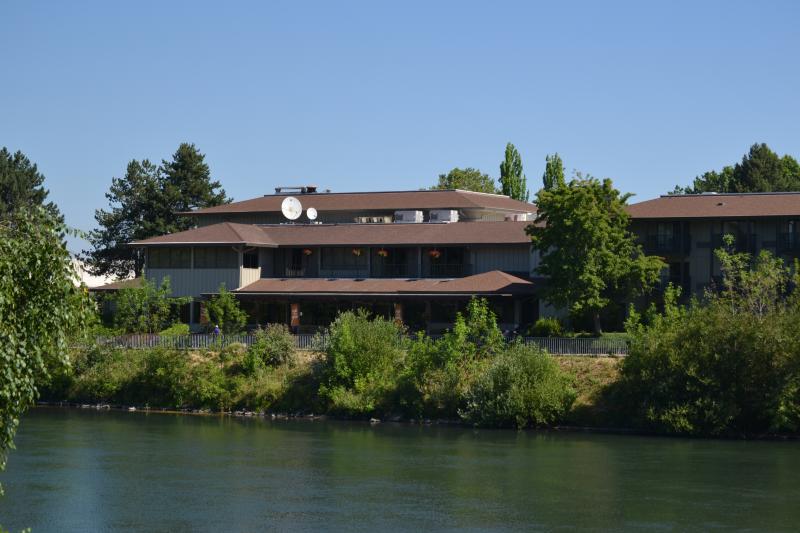 Valley River Inn From Across the Willamette River by Sally McAleer

 

Another one of Eugene's best conference hotels, the Valley River Inn, overlooks the Willamette River with 15,000 sq. ft. of event space, 257 hotel rooms and onsite catering. The largest ballroom is 6,113 sq. ft. and can be separated into three breakout rooms. It includes a lovely foyer with a built-in bar, perfect for receptions, mixers or vendor displays. There are two more large ballrooms and multiple medium and small meeting spaces. Delegates can enjoy walks along the riverfront path, or browse the Valley River Center shopping mall next door.
Venue 252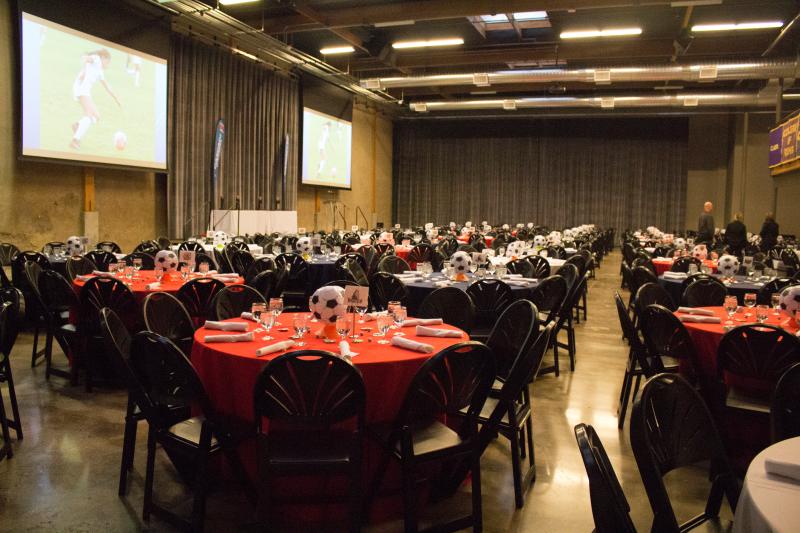 Cascade Collegiate Conference Soccer Banquet at Venue 252 by Joey Jewell

 

This is a stunning, contemporary building designed especially for events. Dramatic and practical, Venue 252 offers maximum impact and flexible usage. The Grand Hall is 9,410 sq. ft. including the balcony which overlooks the main floor. There is even a Green Room for VIPs or keynote speakers to retreat or rest with a make-up station, comfortable couch, private bathroom and beverage chiller. Totaling over 20,000 sq. ft., the entire venue can seat 770 guests or host 1,285 reception-style. Onsite catering adds an additional "wow" factor—select quality, chef-prepared dishes from an extensive menu. Venue 252 is located in downtown Eugene adjacent the artistic Whiteaker neighborhood.
More Large Venues
There are many more large event spaces and constellations of venues that can accommodate your group needs. Contact our meetings and conventions staff for complimentary, personalized assistance.
Let Us Help

Juanita Metzler, CMP, CGMP, SEPC

Senior Director, Conventions
Juanita secures meeting and conference bookings for the Eugene, Cascades & Coast region. She manages all local and national meeting markets. She specializes in business-to-business relationship building.