Small Meetings & Retreats
There are numerous personable meeting spaces and comfortable lodging options suited for retreats, medium and small meetings and reunions throughout the Eugene, Cascades & Coast region of Oregon. Get reacquainted, delve deeper, or accomplish important goals at a riverfront lodge in the Cascades, at a beachfront condo on the Oregon Coast or at a bed and breakfast in the heart of Oregon wine country. Book your meeting in a hotel or office suite, restaurant banquet room, a lodge or vacation rental, a community center or grange, a sports club or an outdoor venue.
Browse our facilities grid for venues by square footage and number of rooms. Below are just a few ideal destinations for small meetings and retreats — and we can help you find the right venue for your meeting from our even greater inventory.
Hotel Breakout Rooms & Office Suites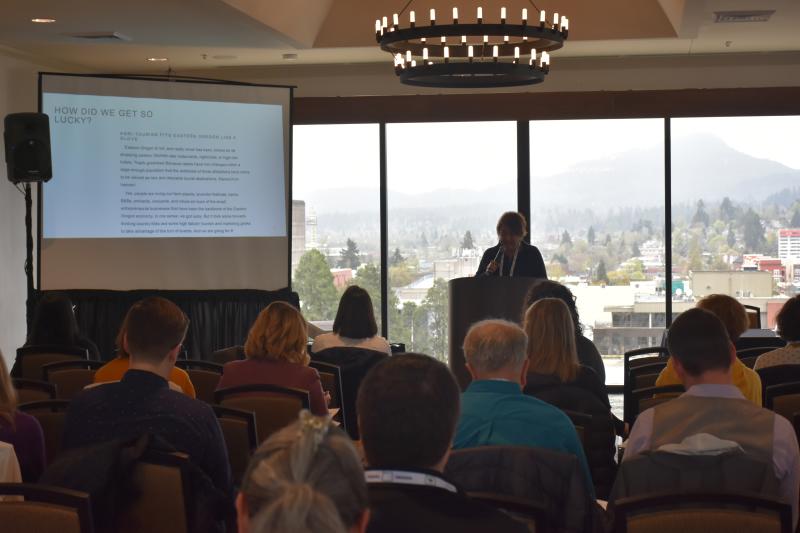 Graduate Eugene meeting space in downtown Eugene by Timothy Bishop  

Many conference hotels offer meeting spaces that can accommodate smaller gatherings. The Graduate Eugene and Valley River Inn both offer small and medium-sized conference rooms with stunning views of downtown Eugene and the Willamette River respectively. Enjoy gracious hotel lobbies, on-site dining and catering, and the comfort of delegates staying in-house. The Hilton Garden Inn in Springfield and Holiday Inn Express Eugene-Springfield both offer premium conference services and business-friendly amenities. Centrally located to entertainment, recreational and social opportunities, these meeting destinations work well across multiple industries.

The Inn at the 5th and Gordon Hotel are luxury hotels located downtown and close to tax-free shopping at the popular 5th Street Public Market and Market Alley. Each hotel offers well-appointed, intimate meeting rooms perfect for executive meetings or small staff retreats. 

With conference hotels like Driftwood Shores on the Oregon Coast or Creswell's Comfort Inn & Suites' smaller meeting room options, discover an array of associated adventures for meeting themes and group bonding.
Intimate Banquet or Board Rooms
Many restaurants and entertainment centers offer separate banquet rooms for private dining, meetings or events. Enjoy the exclusivity of your meeting, reception or dinner in a comfortable private space separate from the delightful but busy atmosphere of our best restaurants and popular destinations. One such example is the "Cellar Room" at Ambrosia Restaurant — seat up to 60 people in this hideaway room downstairs from the main dining room. Another example is the private boardroom upstairs at the Oregon Wine LAB, with its large picture window overlooking the tasting bar below. Or reserve the main dining room at Best Western Pier Point Inn for 1,650 sq. ft. of stunning, riverfront view meeting space on the Oregon Coast.
Banquet rooms are perfect spaces for family celebrations, corporate recognitions and important business dinners. Enjoy personalized, attentive service in both elegant and casual settings. We know all the smaller rooms tucked into restaurants and businesses around town, so just tell us what experience you are seeking and we'll make suggestions.
Club Rooms & Classrooms
Golf, swim, tennis, shooting, garden, social and athletic clubs often have useable meeting spaces that can be combined with recreational activities. Community centers in urban and residential neighborhoods, local granges set in beautiful rural surroundings or even theaters may also be booked for meetings. Spaces may include halls, great rooms, activity rooms and classrooms. 
Host a workshop at Eugene's Hilyard Community Center, a fully-accessible and adaptive recreational center. At the Laurelwood Golf Course, meet in the morning and arrange for a round of golf in the afternoon! 
Private Retreats with Kitchens or Catering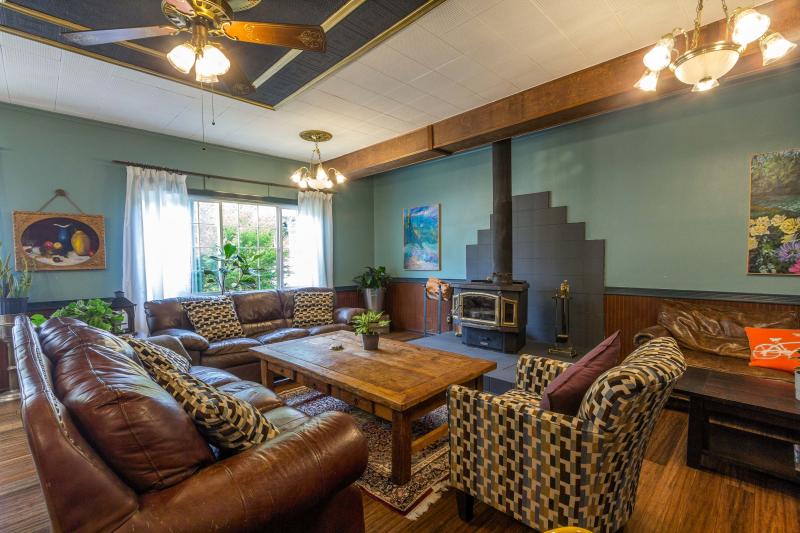 The comfortable living room at Westfir Lodge by Tracey Sunflower

 

Small groups may even be able to reserve a bed and breakfast and hold their meetings in the library or parlor. The Westfir Lodge in the Cascades has guest rooms and nicely appointed common areas. Trailheads are just outside, and the B&B's hosts also offer full guide service for group adventures like river rafting, fishing, hiking or snowshoeing. Likewise the Heceta Lighthouse Bed & Breakfast on the Oregon Coast is a magnificent historic property with lodging and informal gathering spaces for meeting. Impress your group with the novelty of staying in a lighthouse keepers' home and bond over stories of the friendly ghost "Rue".

The Inn at Diamond Woods is a private house that overlooks the golf course and is uniquely designed to host gatherings. Three large common rooms support A/V set ups and meeting layouts as well as receptions or dinners. Use the large kitchen for staging on-site catering. Overnight accommodations include four large master suites with private baths.

You can also secure a roomy vacation rental with a kitchen—in town, in the Cascades or on the Oregon Coast. Enjoy the relaxed setting of strategy sessions conducted from comfortable couches or work parties held around the dining table. Less formal, these functions also ensure added privacy and enhance team building or group bonding when everybody pitches in to make dinner.
Lodge Meeting Rooms & Cabins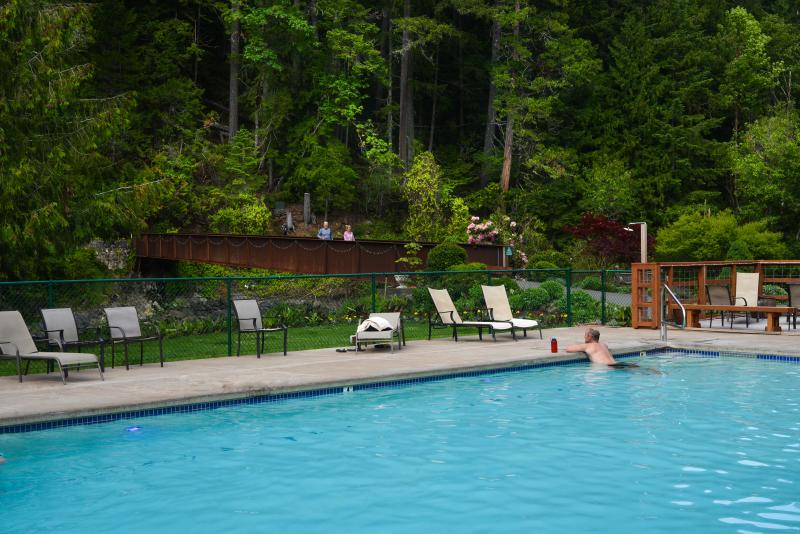 Swimming in the hot springs-fed pool at Belknap Hot Springs Resort
A twist on the bed and breakfast or vacation rental is a cluster of cabins or campsites. Belknap Hot Springs Resort & Camp Yale is anchored by its main lodge serving lodge guest rooms, a number of private cabins and several RV / tent sites. With its lush gardens, walking and cycling paths, and hot spring-fed swimming pools, this resort is a popular destination for family and friend reunions, weddings and meditative retreats. 
Similarly, SKY Camp is on a lake with seven chalets that each sleep 20+ and share separate bathroom facilities. A central lodge features a main hall and several smaller classrooms. The camp is a great draw for church groups, kids' programs and sports teams. Lost Valley Education & Event Center is an intentional community committed to sustainability and you can host a retreat or small conference on their grounds. Rental facilities include their main lodge, vegetarian kitchen, several classrooms and a yurt. Dorms can accommodate up to 50 people and additional camping sites are available.
Outdoor Gathering Spaces & Pavilions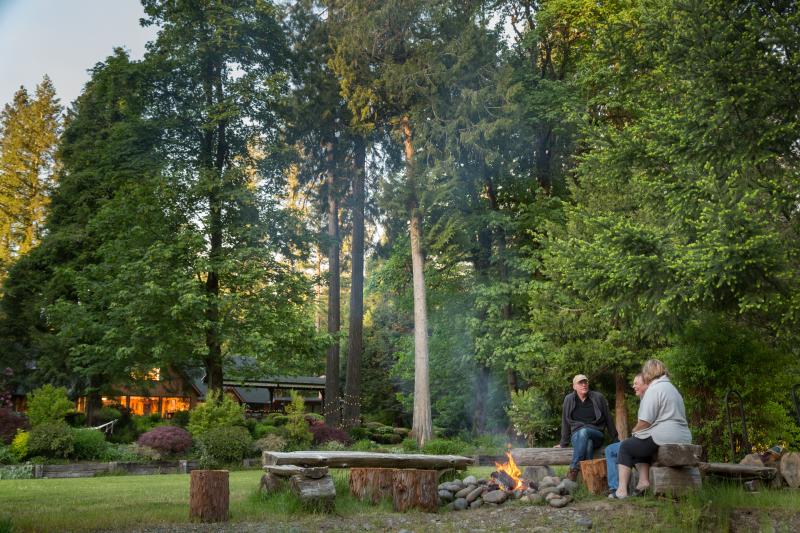 Outdoor gathering spaces at Eagle Rock Lodge along the McKenzie River  

The Eugene, Cascades & Coast region's temperate climate facilitates easy enjoyment of many outdoor meeting spaces. Parks offer a variety of picnic shelters of various sizes. Some feature large stone fireplaces, barbecue stations or picnic tables. Combine small meetings with volleyball, softball or woodland hikes. Hendricks Park, Eugene's oldest city park, features the Francis M. Wilkins Shelter that can host up to 50 guests.

Private venues and resort hotels offer charming gardens, barns, gazebos, courtyards and patios for gatherings. Pull up a log-hewn seat around a campfire in the Cascades, toss blankets on the grass at a natural amphitheater in a city park, gather in a special open-air pavilion on a wine estate or assemble on beachfront lawns overlooking the ocean. From camps to city plazas, there are many outdoor options for meetings and events. For more inspiration, view our special venues.
Let Us Help

Juanita Metzler, CMP, CGMP, SEPC

Senior Director, Conventions
Juanita secures meeting and conference bookings for the Eugene, Cascades & Coast region. She manages all local and national meeting markets. She specializes in business-to-business relationship building.

Linda Norris

Director of Convention Services
Linda provides in-market support for convention meeting planners. She assists with venue and activity arrangements, delegate itineraries and tour options, and dining and transportation recommendations. Linda coordinates welcome table services, delegate information packets, "Show your badge" discount programs, meeting micro-sites and pre-conference collateral. Additionally, Linda offers resources for reunions, weddings and other group events.
A Sampling of Smaller Venues