Relocation
Welcome to Oregon
Improve your quality of life by relocating to the Eugene, Cascades & Coast region in beautiful Oregon, where a diverse array of activities and adventures are easily accessible!
Located at the center of western Oregon, our region, also known as Lane County, stretches from the Oregon Coast through the southern section of the Willamette Valley to the Cascade Mountains. One could feasibly spend the morning hiking or skiing in the mountains, have lunch and do a little shopping in Eugene, and then drive to the coast for sunset and a stroll on the beach! But why rush? When you live here, you can do all of that at your own pace.
The diverse geography and temperate climate provide an ideal niche for every outdoor enthusiast. Eugene - Springfield is known for its extensive network of bike paths, jogging paths, hiking trails and public transportation routes, and has earned the reputation of TrackTown USA. Surfers, ocean fishermen and boaters are drawn to the rugged coastline; while snowboarders, skiers, anglers, whitewater rafters and kayakers embrace the mountains. Ranked in Livability's Best Places to Live, Eugene gets extra points for its great downtown — with its many performing arts venues, farm-to-table restaurants, outdoor markets and boutique stores. The University of Oregon (UO) campus adds collegiate sports and academia to the smorgasbord of local culture. Lane Community College, Bushnell University and Oregon State University (OSU) extension offerings round out the plethora of educational offerings.
Lane County is the fourth most populous county (following Multnomah, Washington and Clackamas counties). Since the 1980s, population in the Eugene, Cascades & Coast region has been growing at a slow, steady rate. Eugene is the designated county seat.
In 2008, Portland State University conducted a Population Forecast for Lane County 2008-2035. This report is full of statistical information about Lane County and the Eugene - Springfield populous area. You can also read their annual estimated population survey.
If you are moving to the Eugene, Cascades & Coast region, we welcome you home! The region's technology and innovation sectors have been garnering attention, the craft beer scene is burgeoning and, of course, green businesses and sports continue as a source of community pride. According to United Van Lines' annual National Movers Study, Eugene-Springfield continues to attract inbound moves. Retire in the All-America town of Cottage Grove, raise a family in Springfield, open a business in Junction City, further your education in Eugene, embrace country living in Veneta or discover peaceful solitude along the McKenzie River.
The top employing industries in the Eugene, Cascades & Coast region include government, educational and health services, retail trade, profession and business services, leisure and hospitality, manufacturing and the tech industry. Some of the larger employers include Lane County, City of Eugene, the University of Oregon and Lane Community College. 
Looking to relocate your business? Be sure to visit the chamber of commerce offices throughout the area.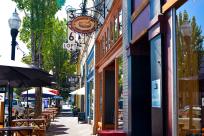 Explore the neighborhoods that comprise the Eugene-Springfield area. Each community has its own…
More

Info

›
Real Estate & Rentals
Housing in Eugene, Cascades & Coast is as diverse as the region's terrain and climate. Oregon housing options include everything from beachfront cottages, ranch homes and mountain retreats to urban condos, retirement communities and university housing.
If you are relocating to the Eugene, Cascades & Coast region, a local real estate professional can help you find homes in your price range. The City of Eugene's neighborhood associations list is another useful resource. Long-term and short-term house rentals are also available, particularly in Eugene's university neighborhoods and in beach or mountain communities. Make arrangements for an Oregon vacation rental or extended stay accommodation while you explore our towns and neighborhoods.
Hospitals & Medical Services
Medical care in Eugene - Springfield includes three hospitals, urgent care, specialty and general practice clinics, assisted living facilities and birthing centers. Eugene's medical care includes a spectrum of specialties from sports medicine, to cancer research, to alternative medicines. Find extended stay housing and vacation rentals conveniently close to RiverBend. From the coast to the Cascades, high-quality health-care, fitness and whole foods are regional values.
Relocation Resources
From banks to moving companies, schools to the DMV, find the local businesses and government agencies that can help you get settled.