Sports For All Seasons
Boost our economy and the health of our community
For a number of years, a group of local business leaders and elected officials have been developing plans to create an indoor multi-use sports facility. The need for such a facility is due to the fact that our community's indoor sports infrastructure is underbuilt. Facilities such as Civic Park, home to KidSports, and Willamalane's Bob Keefer Center, are facilities that are programmed for local use and are serving this purpose well. But the need is much greater. We need additional places for kids and adults to practice, play and compete.
As the only facility of its kind in Oregon, an indoor multi-use sports facility would be a unique draw for people from across the Pacific Northwest. Evan Eleff of Sports Facilities Advisors discusses the economic and community benefits of multiuse indoor sports facilities and the projected economic impacts of a facility located on the Lane Events Center campus in this presentation. A written summary of the proposed project is available here.
A multiuse indoor sports facility could include:
A hydraulic, banked 200m indoor track that can raise and lower in just four minutes
Convertible spaces for nearly every imaginable indoor athletic or recreational event:

21 wrestling rings
16 volleyball courts
9 basketball courts
20 pickleball courts
Gymnastics
Cheerleading
Martial Arts
Active Kids = Active Adults
Studies show that active kids are 6x more likely to be active adults and we all know that activity leads to better health outcomes. Local pediatrician Dr. Pillar Bradshaw sums up many of these benefits in this video. 
Boosting our Winter Economy
We had more than 3 million overnight visitors last year and millions more day visitors last year. These visitors spent over $850 million at hotels, restaurants, cultural events and more all around our region and provided jobs for more than 10,000 Lane County residents.  Visitors also pay lodging tax that builds and sustains attractions and funds marketing to bring more visitors. We're doing a great job bringing visitors here from spring through fall, but our businesses need more demand in the winter. A year-round multi-use indoor sports facility will generate needed wintertime demand for local businesses through hosting indoor track meets, basketball and volleyball tournaments, and other indoor competitions. The estimated economic impact over the first five years of operation is approximately $91 million. Learn more about the economics of the hospitality industry in Lane County.
Our region continues to experience a variety of climate disasters. Wildfires, smoke, summertime heat and wintertime freezes are becoming more common and these events create a need for evacuation sites and emergency operations, A climate-controlled indoor facility can be used effectively during these events. Additionally, Lane County lacks facilities that are built to seismic standards, which will be important when a Cascadia event occurs. A new indoor sports facility can be designed for immediate occupancy in order to be available for this type of emergency.
How We Arrived Here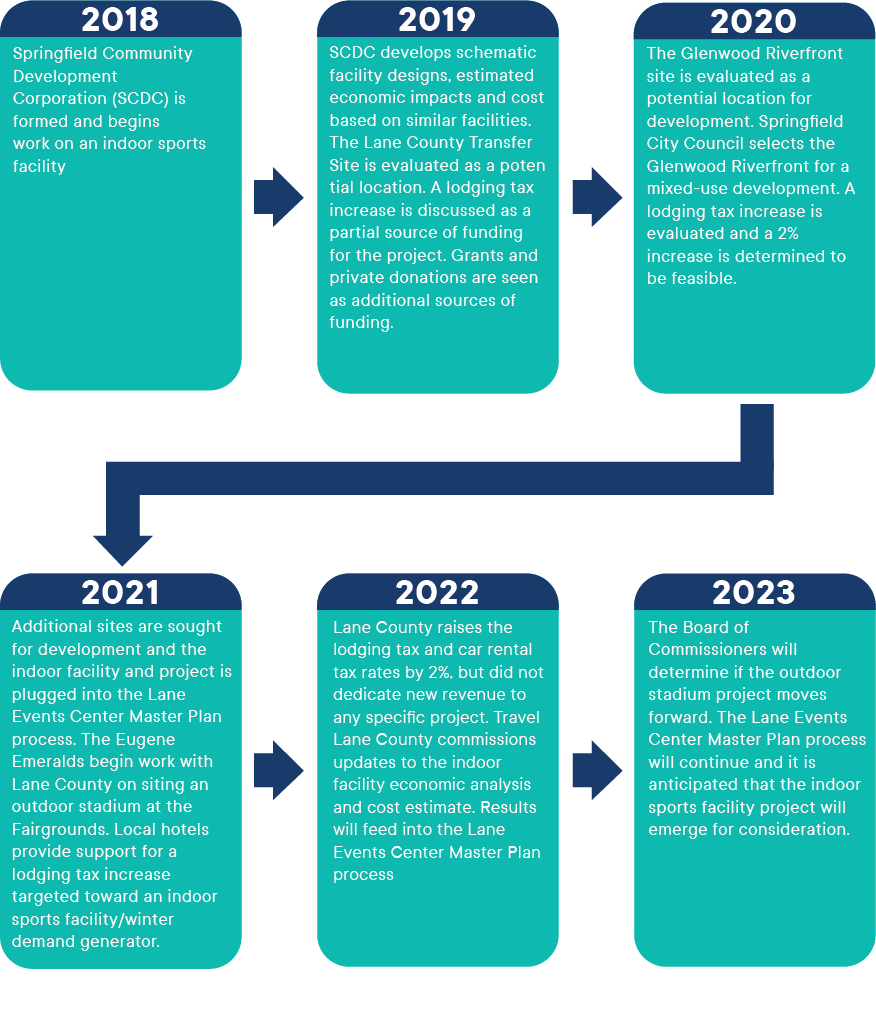 See Similar Existing Facilities Across the U.S.
There has been an explosion of indoor and outdoor sports facilities across the nation. While it's common for communities to make these investments, an article in Sports Business Journal notes that more than $9 billion has been committed to youth and amateur sports projects since 2017. Here are links to a few:
Learn More & Stay Updated
Below are links to additional information and answers to questions that have come up throughout the process. You are encouraged to read through these and if you have a question that isn't answered here, please reach out to us. Stay informed on how the project is progressing by signing up for Travel Lane County's industry email and the Eugene, Cascades & Coast Sports Commission email.

Andy Vobora

Vice President of Stakeholder Relations
Andy oversees all local media communications, press releases and external reports. He is the primary community liaison for regional government, business and community groups.