Recently, the Eugene, Cascades & Coast meetings team hosted the Eugene FunFAM (a familiarization tour) for meeting planners who were considering hosting an event in the region. The planners went on a 36-hour whirlwind of amazing experiences and learned why this region of Oregon is an ideal meeting destination.
DAY ONE
Urban River Float, Reception, and Dinner
After leaving the Eugene Airport (EUG), attendees officially kicked off the FAM by embarking on a two-hour urban river float provided by A. Helfrich Outfitter. The group had a blast floating along the Willamette River soaking in Eugene's surrounding natural beauty.
Once the float was finished, the group headed back to the Graduate Hotel for a warm reception before dinner at the Gordon Tavern. Not only is the food great, but the space is spectacular. The Gordon Tavern, located in the Gordon Hotel, has its own private dining room that can be rented out for meetings and group dinners.
DAY TWO
Hotels, Venues, and Meeting Spaces
Day two started with breakfast at Jazzy Ladies Café & Club's new location across the street from the Graduate Hotel. Jazzy Ladies is a local favorite that serves up tasty dishes for breakfast, lunch, and dinner. After the delicious breakfast, the group toured the city's boutique hotels, the Gordon Hotel and Inn at the 5th. Both the Gordon and Inn at the 5th boast remarkable reputations in the city for being refined hotels with intimate meeting rooms that are perfect for executive meetings or small staff retreats. The planners loved seeing the special amenities and carefully curated décor throughout both properties.
Then, everyone made the short drive to Valley River Inn (VRI), a popular conference hotel in our region. Planners fell in love with the magnificent views of the Willamette River and enjoyed learning about the 15,000 square feet of meeting and event space.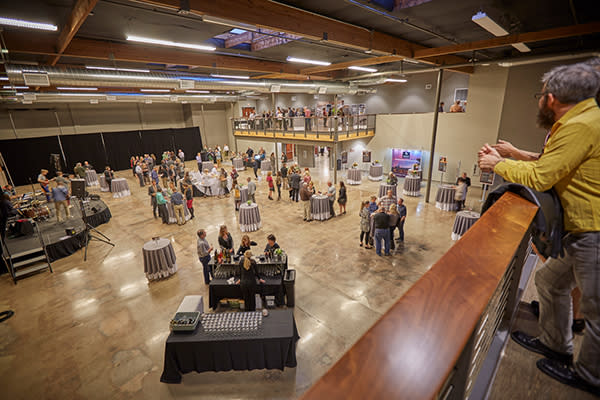 The next spot on the agenda was Venue 252, one of Eugene's most popular meeting venues. With over 20,000 square feet of meeting space, this venue is capable of hosting a wide range of events. The planners were impressed with the contemporary design of what once was a planing mill along with the multimedia abilities and full-catering service menu.
The last meeting space to check out was the Lane Events Center (LEC). Located just minutes away from downtown Eugene, this meeting space is convenient for many reasons including its close proximity to the downtown area and nearby restaurants. Attendees toured some of the venues within LEC including the convention center, performance hall, auditorium, and pavilion.
Lunch and Arcimoto FUV Tour
After touring some of Eugene's meeting spaces, it was time for lunch at Sixth Street Grill. The restaurant accommodates sit-down dinners up to 60 people and can be dressed up or down to create the desired atmosphere.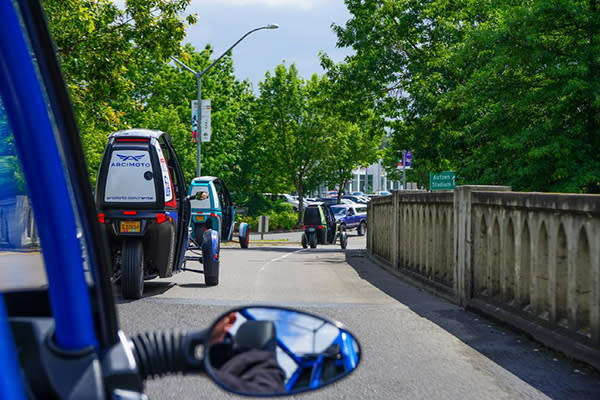 After eating, it was back to the Graduate Hotel to drive some Fun Utility Vehicles (FUVs) from Arcimoto through the downtown area. These FUVs are small, two-seated, fully electric utility vehicles that reach a top speed of 75 miles per hour. The Arcimoto team gave everyone an educational talk on how the vehicles operate and how to safely drive them. When the group was feeling comfortable, everyone did a quick test loop to make sure they were well-positioned to drive the vehicles. Once everyone was feeling confident and safe, it was time for a tour guided by Arcimoto. Everyone got in their vehicles for an experience completely new to them. These futuristic FUVs continue to prove that the best way to ride in style throughout Eugene is with Arcimoto.
Foodie Mural Beverage Tour
The Foodie Mural Beverage Tour began with a trip to Oregon Wine Lab, an urban wine bar and tasting lounge that features locally sourced wine from small wineries throughout Oregon. The group tried some local wine and dove into a charcuterie board provided by Oregon Wine Lab.
After Wine Lab, it was time to check out some of Eugene's murals. The first one the group saw was Ila Rose's beautiful 40-foot mural that was once a sawdust silo. With geometric patterns and multiple hues, this mural is filled with depth and character from every angle.
The group then headed over to Wildcraft Cider Works to try some special hard ciders. Wildcraft's ciders are made from 100% Oregon-grown heritage fruits and botanicals that are sustainably gathered in the wild. This experience is totally unique to Eugene and the topography and climate that we have here in the Pacific Northwest.
An unforgettable art piece that shouldn't be overlooked is the one in remembrance of Ruth Bader Ginsburg. Smaller than most of the murals seen, this beautiful artwork holds just as much importance and emotion as the other murals in the city.
Last but certainly not least is the mural created by Shamsia Hassani, Afghanistan's first female graffiti artist. Her work is moving, powerful, and always tells a story. Her mural consists of a towering image of a woman holding a large keytar. The instrument serves as a voice for the woman, empowering her and females across the world to speak through the arts and use the instruments to "play her voice." Most of Eugene's murals and their information can be found here.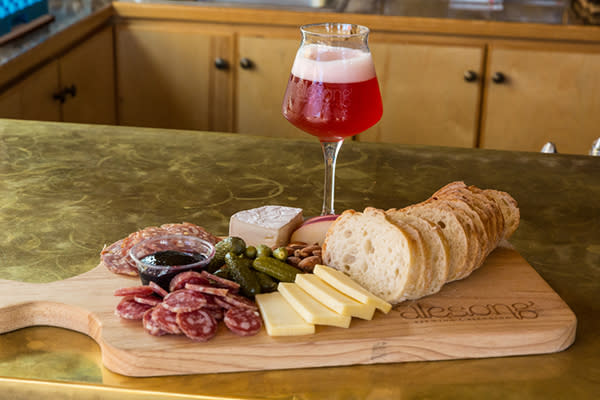 Following Wildcraft Cider Works, the next stop on the Foodie Mural Beverage Tour was a trip to the 5th Street Market Alley for barrel-aged craft beer from Alesong Blending and Brewing, award-winning Pinot from Pfeiffer Winery, and mouthwatering chocolates from Euphoria Chocolates. Alesong staff provided an educational session on beer and food pairings as well as curating a charcuterie board for the group. Their wide range of beers includes everything from dessert beers such as the 'cocoa maestro' to the award-winning "touch of Brett". The group sat at a community table inside the Market Alley and enjoyed the delicious wine and chocolate together.
Dinner at Ambrosia Restaurant & Bar
The group ended with an amazing dinner at Ambrosia Restaurant and Bar. Ambrosia's menu features authentic Italian food cooked to perfection. Pizza, calzones, soups, and tasty pasta dishes are all created in the bustling Ambrosia kitchen. Ambrosia is a go-to space for groups, meetings, and events due to their wonderfully laid-out interior. Plus, they have four private dining rooms.
Consider Eugene, Cascades & Coast
If you have an event that you would consider bringing to the Eugene, Cascades & Coast region of Oregon, please keep an eye out for next year's Eugene FunFAM and make sure to apply. Eugene has all the conference amenities of a larger city while being surrounded by an abundance of natural beauty. Add unique conference hotels and venues, the Eugene Airport (second largest in Oregon) with many non-stop flights, and a safe, vibrant downtown and you begin to understand the magic that is unique to the region and why it's the choice of so many planners. "Eugene is a small city with a big city attitude," one participating planner said during the FunFAM. 
Consider hosting your event here. We'd love to put together a unique and amazing itinerary that you and your attendees will always remember!