With leaves beginning to turn and temperatures dipping to the low 40's, it seemed like the perfect day to ride a skateboard across America.  Having traversed the continent four times as part of a team of skateboarders, Jack Smith is now going solo on a state-of-the-art Evolve electric-assist skateboard. If you're like me you are probably wondering why anyone would consider driving across the United States, let alone skateboarding across the continental divide, the amber waves of grain, the cornfields of the Midwest and through the tangle of humanity in the east. Not unlike Forrest Gump who said, "I just wanted to run," Jack Smith is doing it for the love of skateboarding and for a good cause.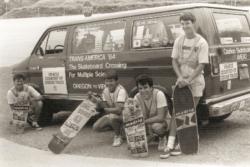 The founder of the Monterey Bay Skate Museum, Jack is celebrating the 40th anniversary of his first U.S. crossing in 1976.  With four crossing behind him (noted in the Guinness Book of Records), the latest being a benefit ride for Alzheimer's research in 2013, this ride is raising funds for Board Rescue.  A 501(C)(3) dedicated to providing skateboards for underprivileged, at-risk and special needs children, Board Rescue reviews applicants from across the United States and since 2008 has helped "thousands of kids" receive boards and safety gear. 
Having made a stop at Sand Master Park in Florence, Oregon on September 13, Jack and his support driver Ed Nadalin began their journey just west of Eugene on the 14th.  Ed is a former freestyle skateboarding world champion and, as a professional filmmaker, will document the entire journey. After learning that Jack would be using the Fern Ridge Bike Path into Eugene, I estimated Jack's speed and calculated the time I might intercept him. The old "two trains left the station …." story problems were never my strong suit, but my math teachers would be proud! I left the office walking south on Charnelton Street and after settling behind the Lane Events Center, with coffee in hand, it was fewer than five minutes before I saw the bright green glow of Jack's safety jacket. It was my pleasure to chat with Jack and Ed about the technology integrated into the Evolve electric-assist skateboard. With multiple speeds, controlled through a handheld remote, the board can reach speeds of 20 mph although Jack likes to stay around 12-15 mph for safety reasons. He noted his second board can reach 26 mph, but "the conditions have to be just right to use it." 
In roughly one month, 59 year-old Jack Smith will arrive in Williamsburg, Virginia.  Having raised awareness and funds for Board Rescue, I'm convinced that Jack's love for skateboarding will be passed along to budding skateboarders who will be inspired, maybe not to ride across America, to learn to love skateboarding just as much.  Best of luck Jack and God's speed in your Evolve Across America ride!  
Update: A few days after Jack came through Eugene he had a couple of close calls with vehicles along the route and decided to call it quits.