Note: The IAAF World Junior Championships came to Hayward Field June 22 – 27 and brought some of the best young track and field stars from around the world to Eugene. Travel Lane County's Juanita Metzler volunteered at the event and wrote a series of blogs sharing her experiences.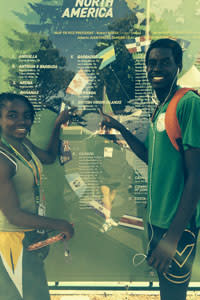 Day 4: Today was a day of celebration and loss at the IAAF World Junior Championships. Families traveled across the globe to cheer on their athletes. Unfortunately, few of the competitors made it onto the podium in their particular event. But after chatting with two athletes from the British Virgin Islands (IVB), there was still celebration in their camp despite a lack of medals.
Nelda Huggins and Kyron McMaster represented the IVB at Hayward Field and had mixed reactions to my question about their performances. Nelda competed in the 100 and 200 meters. She placed 26th out of 53 runners in the 100 meters and made it into the semifinals for the 200 meters. Kyron competed in the 400-meter hurdles and finished 43rd out of 55 competitors, so he did not move onto the semifinals. Their celebration was due to their qualifying for the IAAF World Junior Championships as well as Nelda's opportunity to race in the 200-meter semifinals. She was so excited and Kyron was incredibly proud of his teammate.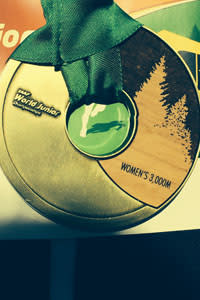 When asked what was next, Nelda and Kyron both responded, "China", as they have another race there soon. I asked them about the 2016 Olympics and they indicated that they were working hard for the games in 2016 and even 2020. Nelda and Kyron both said, "Yes, we WILL be back" for more competition in Eugene and Oregon.
So while neither athlete is carrying home a medal from the IAAF World Junior Championships - Oregon 2014, they are taking with them many photos, lots of memories, and the drive to improve for when they return to compete. I think that is definitely worth celebrating!