Back To Previous Page
Best Bets For Colorful Fall Hikes
Published: October 05, 2020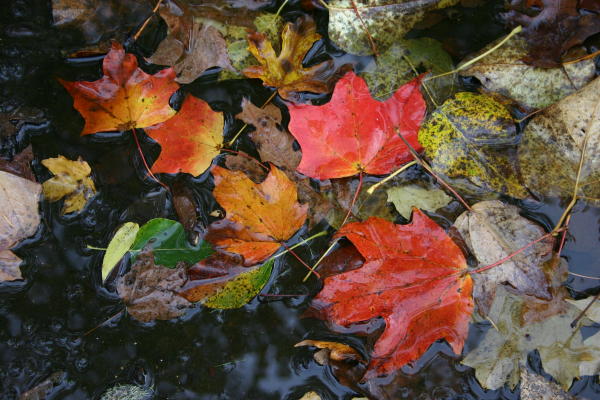 Autumn is a glorious time of year across Oregon, and it can be stunning in and around Eugene - Springfield. Looking for colorful leaves that crunch underfoot and brighten up the brisk days with vibrant reds, oranges and yellows? We've compiled a list of some of the best leafy spots for fall frolics, fall photos and fall hikes. Now is the time to lace up your hiking boots and hit the trail to experience the beauty of fall across the Eugene, Cascades & Coast region. Here are a few of the local favorite spots to visit this fall season.
Greenwaters Park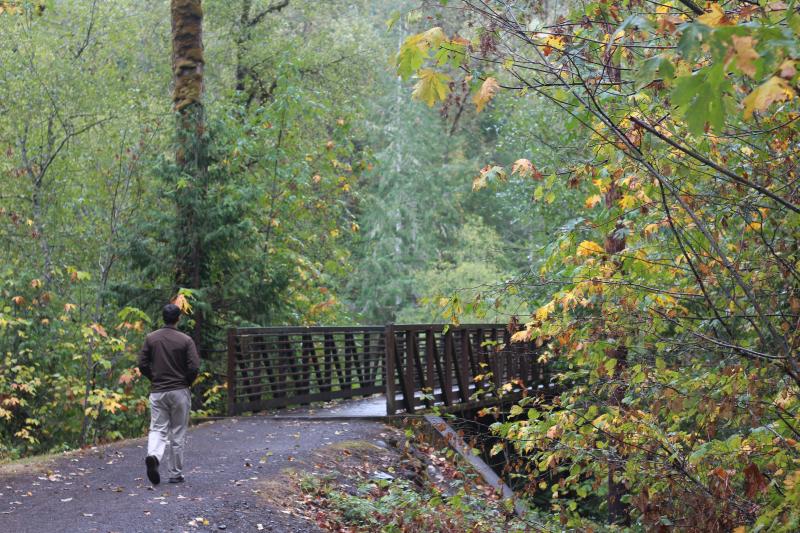 Greenwaters Park is just off Highway 58 in Oakridge. Photo by Natalie Inouye  
The lush green of Oakridge starts to turn golden in early October. Cross the bridge for a loop trail near the river at Greenwaters Park. This is a great spot for picnicking or mountain bike riding. After your hike, enjoy a cold craft beer at the 3 Legged Crane Pub in town.
Spencer Butte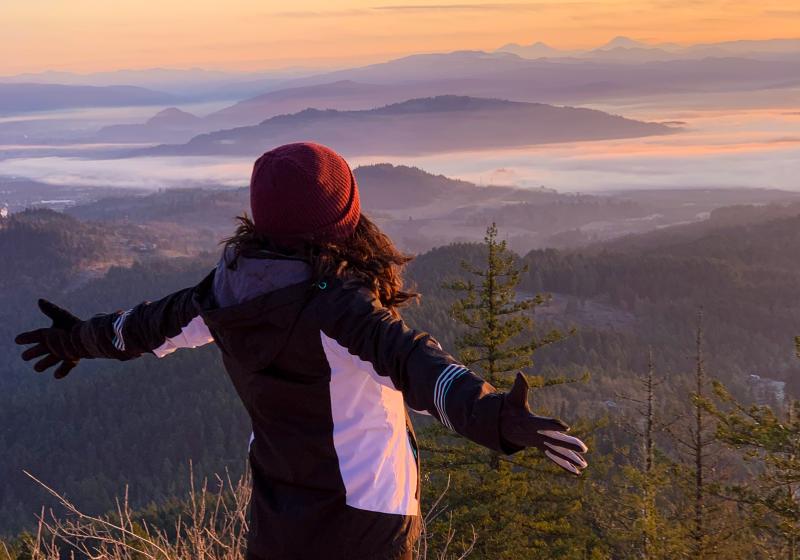 Welcoming the sunrise on a frosty fall morning from Spencer Butte. Photo by Melanie Griffin  
Located just south of Eugene, Spencer Butte is well-recognized as one of Eugene's most iconic "urban escapes." Plan a clear day for this hike and be rewarded with panoramic views from the Willamette Valley to the Cascade Mountains, featuring a landscape of colorful foliage in the fall. The short trail is steep but well maintained.
Elijah Bristow State Park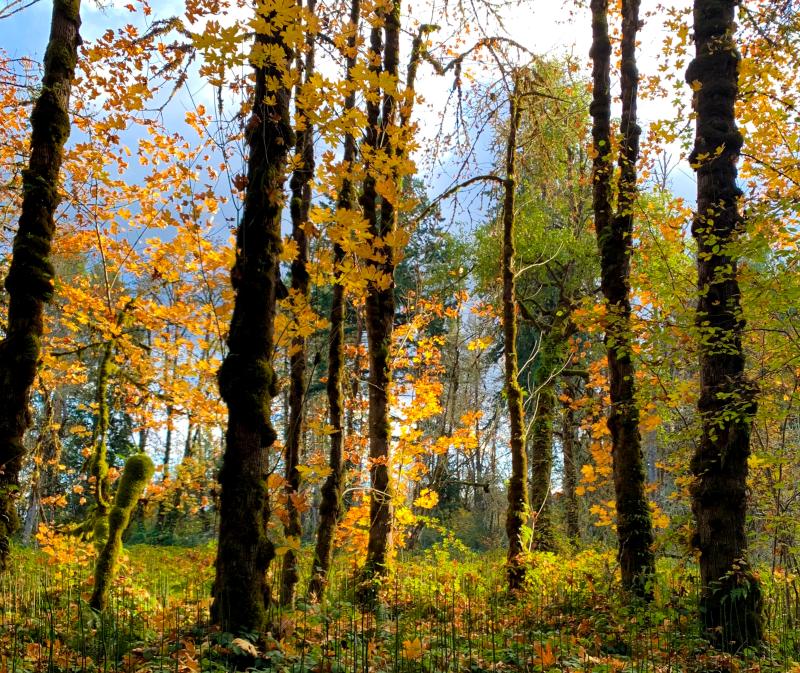 For a quieter ramble, explore Elijah Bristow State Park where you are more likely to encounter horses along the trails than hikers. Thickly forested paths hug the Willamette River Bank where golden colors mix with green. Clearings open to yellow meadows or the deep green expanse of river. Bring your fishing rod and take a break by the mossy banks.
Pinard, Spirit, and Moon Falls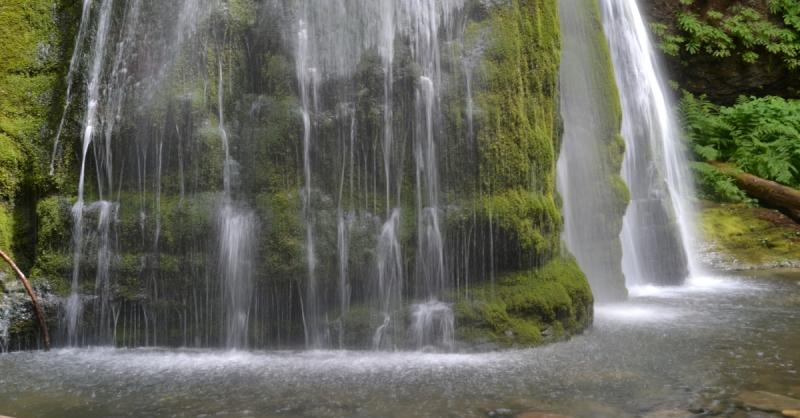 Cottage Grove's spectacular Spirit Falls by Sally McAleer
Right outside of Cottage Grove, Layng Creek is home to multiple dazzling waterfalls perfect for fall hiking. Ranging from 0.25 - 0.5 miles (.40 - .80 kms) Pinard Falls, Spirit Falls and Moon Falls are a great trio to accomplish in one day!
Mount Pisgah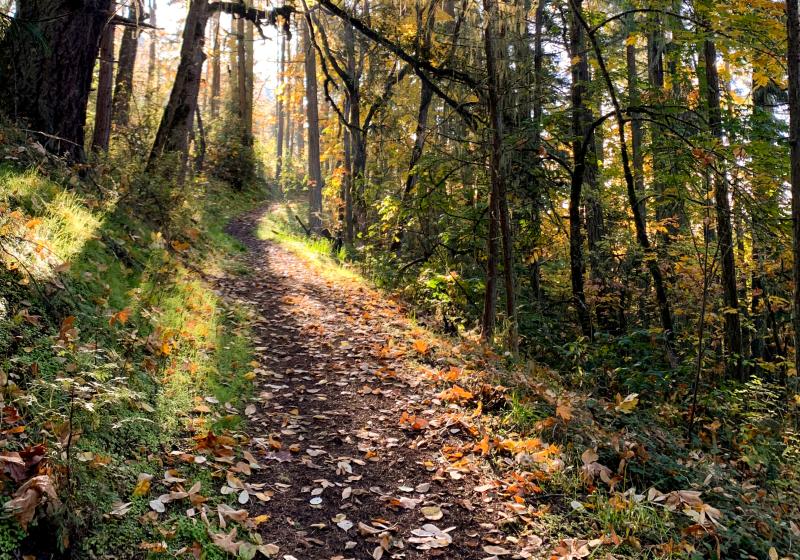 A Mount Pisgah hiking trail winds through yellow and orange forests. Photo by Melanie Griffin  
Meander the many trails crisscrossing Mount Pisgah from the riverside arboretum to the grassy slopes of the mountain. Discover woodsy trails strewn with fallen leaves — ankle deep in some sections! Yellow leaf hues blend with the dappled sunlight for the perfect fall effect. Smell the damp forest, sharp pine, wet oak and warm earth. Mount Pisgah offers numerous trails through diverse landscapes.
Ruth Bascom Riverbank Park System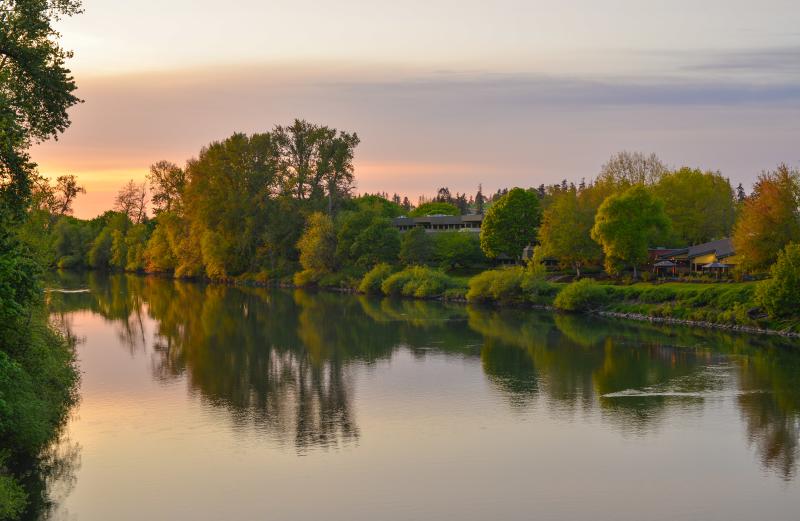 The Willamette River transitioning to fall colors by Melanie Griffin  
Fall just might be the best time of year to walk, run or bike this Eugene staple. Follow along this twelve-mile loop as it wraps around the Willamette River and winds near Eugene's city center. Top hot spots for leaf color include Alton Baker Park and Skinner Butte Park with their lovely landscaping. Take a detour from the main paths and cross Peter Defazio footbridge then walk toward Autzen Stadium. During October's peak time, the stretch of woods between the bridge and the stadium are alight with huge yellow leaves.
Embrace the total fall experience with a staycation at the historic Campbell House Inn, on the edge of Skinner Butte Park. This special bed and breakfast has its own gardens with beautiful trees.
Middle Fork Path at Dorris Ranch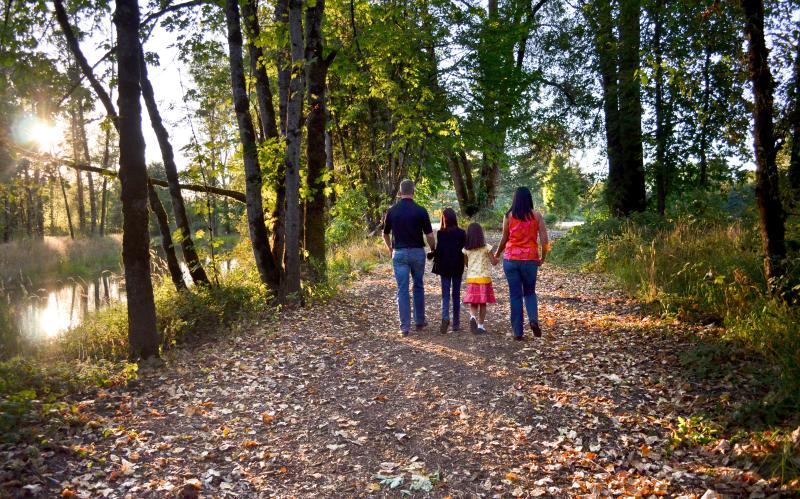 The leaf-strewn paths at Clearwater Park and Dorris Ranch are popular photo spots. Photo by Sara DeAnne Rankin

Connecting Clearwater Park and Dorris Ranch the Middle Fork Path is a four-mile (6.4 km) long paved path weaving along the Willamette River. Plastered with fallen leaves, this path is a great option for walking, running and cycling through a canopy of fall trees. Afterwards stroll Main Street in Springfield and enjoy a cup of warm soup or a tasty craft beer.
University of Oregon Campus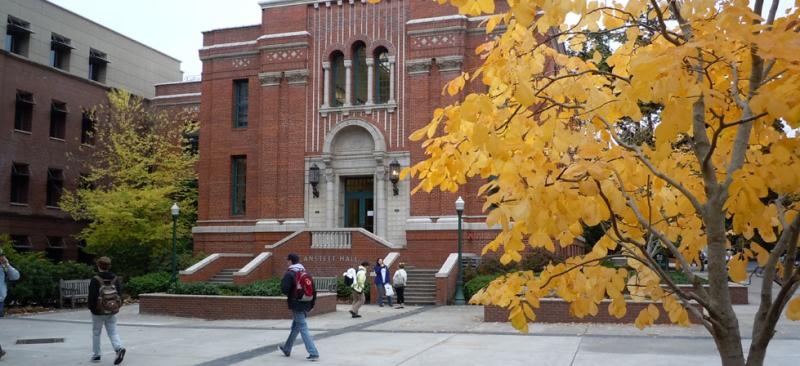 UO in the fall by Lisa Lawton
Oregon's green, lush campus features dozens of heritage trees. In fact, they even have a self guided tree trail (PDF) and a comprehensive tree atlas! You'll spot many of the trees around Straub Hall, the Jordan Schnitzer Museum of Art and Deady Hall. Hike across campus from the Pioneer Cemetery toward the Erb Memorial Union, zigzagging to meander by the library and art museum, and then back toward the Knight Campus science center.
Armitage Park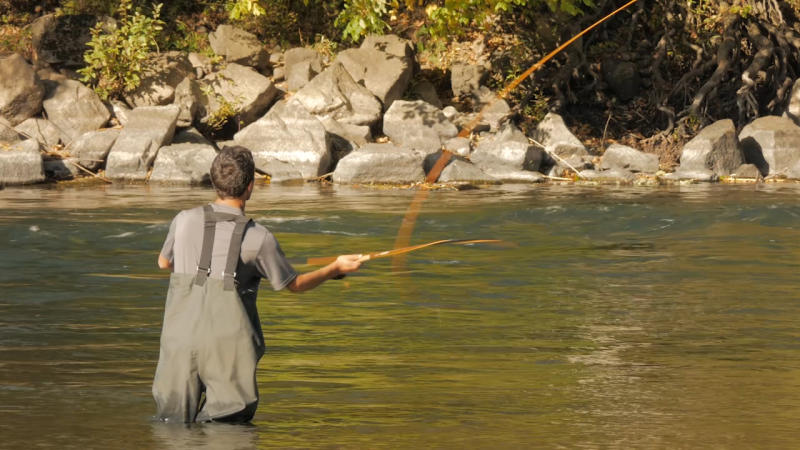 Armitage's leafy paradise offers camping, hiking trails and McKenzie River access in North Eugene near Coburg. Roam on the park's paths layered in leaves and enjoy the splashing of the river over the rocks.
Enjoy a Fall River Trip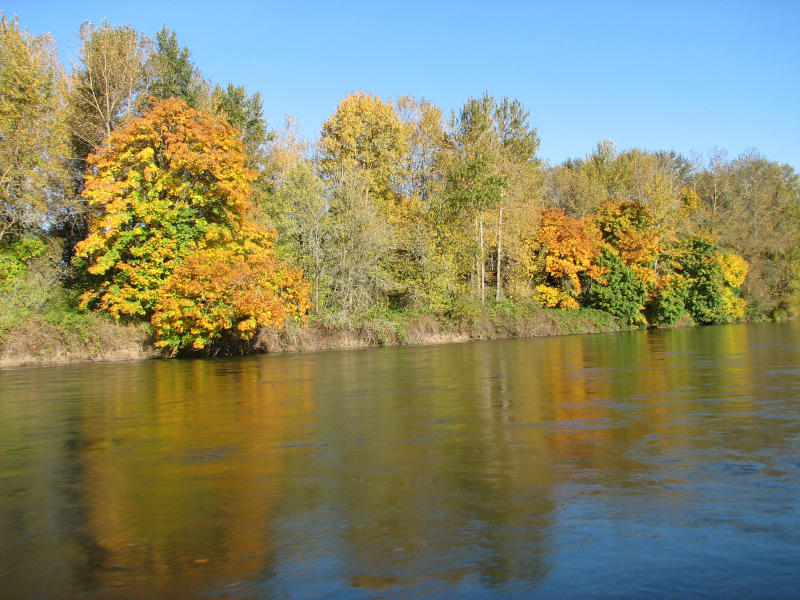 Fall foliage on Willamette River by Cari Garrigus  
For a different perspective, enjoy the changing leaves along the Willamette River by jet boat! Tours will take you out to the middle of the water so you can admire both banks and watch for wildlife too. Floating the river in autumn is an exciting, fresh way to look at nature's beauty. Wrap up in a blanket, bring a bottle of wine and cruise the water way as the sun casts its last golden rays over the fiery fall trees.
Plan Your Hike
Before departing for your hike, be ready with backup trail idea in case the trail looks busy! Find more tips with our Adventure Checklist and visit TripCheck.com for the latest updates on road and weather conditions. The drive to the trailhead may be just as colorful as the hike itself, so slow down and enjoy the journey!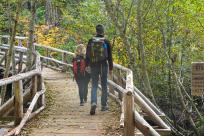 Oregonians are eager to go out and enjoy the beautiful outdoor spaces we're lucky enough to call…
More
›