Back To Previous Page
Getting Around Downtown Eugene Car-Free
Published: June 13, 2022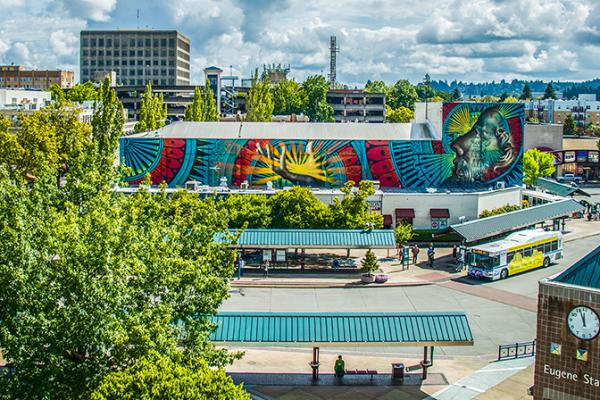 In downtown Eugene you can get from restaurant to theater or shopping to coffee by bike share, electric vehicle or ride share!
Whether you fly into the Eugene Airport, take Amtrak to the Eugene Station or ride the LTD bus from Eugene-Springfield neighborhoods and outlying communities, once you are downtown there are many ways to get around without a car. 
Downtown Eugene is bicycle friendly and connects with miles of bike routes (PDF map) to outlying areas. Along with bike rentals, taxi service, Uber or Lyft; try these alternative transportation options that serve Eugene's downtown core.
PeaceHealth Rides
All those blue bicycles you see out and about are part of PeaceHealth Rides. This bike share program is inexpensive and easy to use for short bike rides around downtown. There are beautiful bike paths along the Willamette River and you can even ride to Valley River Center or the University of Oregon campus. When in downtown Eugene, please walk your bicycles through pedestrian-only spaces such as sidewalks.
To use just download the app, reserve your bicycle at one of many bike share hubs and go! Bicycle helmets are not provided but are recommended. Bicycles are available 24 hours, seven days a week. Riders must be at least 18 years old.
Adaptive bicycles are available through the Hilyard Community Center.
Emerald City Pedicab
Hail an Emerald City Pedicab throughout Eugene's downtown core, including the Market District, Alton Baker Park, the Whiteaker Neighborhood, the University of Oregon campus and the South University Neighborhood. This is a fun and relaxing way to get about without too much effort on your part! The pedicab is out during special events and when neighborhoods have a high volume of pedestrians. Limited pre-arranged trips can also be coordinated. 
Electric Bikes & Road Bikes
Electric bicycles make it easier to cover more ground and are designed for touring or longer commutes. Rent Pedego Electric Bikes right in the Market District and then ride all over downtown Eugene or follow the bike paths out further. 
Bicycle Way of Life also has e-bikes, plus they have an inventory of road and urban bikes and accessories like bike racks and Burley bike trailers. So you can hook up all the members of your family for a great ride.
Arcimoto Fun Utility Vehicles (FUV)
These zippy electric, three-wheeled cars are perfect for cruising downtown. Arcimoto FUVs make it easy to get around town and visit the outlying communities. Compact, easy to drive, all weather, and environmentally-friendly, the FUV gives you independence around town. Rentals are available by the hour or the day.
E-Scooters (Coming Soon)
The City of Eugene has a plan to make electric scooters available to rent in the downtown area.
Park Downtown & Walk
There are two downtown parking garages (the Overpark and the Parcade) that offer free all day parking on weekends and the first hour free on weekdays.
Downtown Tours
See more of Eugene on a guided walking or cycling tour of the metro centers. While these aren't transportation options in the classic sense — these tours are a great way to get around and see all the sights. America's Hub World Tours offers downtown walking tours that can highlight history and food, and Pacific Pub Cycle offers a fun-filled cycling loop of the Market District and the Whiteaker Neighborhood's fermentation district.