Back To Previous Page
Getting Around Downtown Eugene Car-Free
Published: August 16, 2019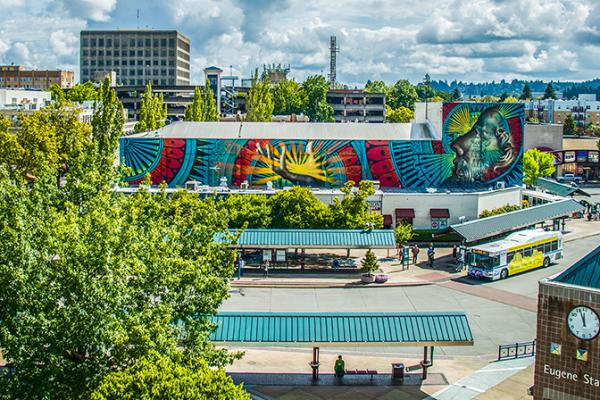 Whether you fly into the Eugene Airport, take Amtrak to the Eugene Station or ride the LTD bus from Eugene-Springfield neighborhoods and outlying communities, once you are in downtown Eugene there are many ways to get around without a car.
Along with bike rentals, taxi service, Uber or Lyft; try these alternative transportation options that serve Eugene's downtown core.
LTD's Ride Service (Beginning August 26, 2019)
Part of Lane Transit District's (LTD) sustainable ride service program, EmGo offers 5-seat electric vehicles that shuttle people between 70 stops in downtown Eugene. These free vehicles operate Monday through Friday, 7 a.m. - 6 p.m. Download the TransLoc mobile app on Google or Apple to find the stop nearest you. EmGo makes it easy to get around downtown on your own schedule.
For Americans With Disabilities Act (ADA) service, contact RideSource which serves the larger Eugene - Springfield metro area. This origin-to-destination transportation is for people who are unable to use the bus due to a disability. 
Ride Zero (Coming Soon)
This free ride service serves downtown Eugene and the Whiteaker Neighborhood. Hop into one of Ride Zero's electric vehicles for a quick ride to your next nearby destination. Operating all weekend and most evenings, this is an effortless way to get from dinner to a show. Also, call it "Plan B" when rain or sore feet impinge on your planned walk. With Ride Zero to the rescue, you won't have to worry about designated drivers, expiring parking meters or walking alone. 
PeaceHealth Rides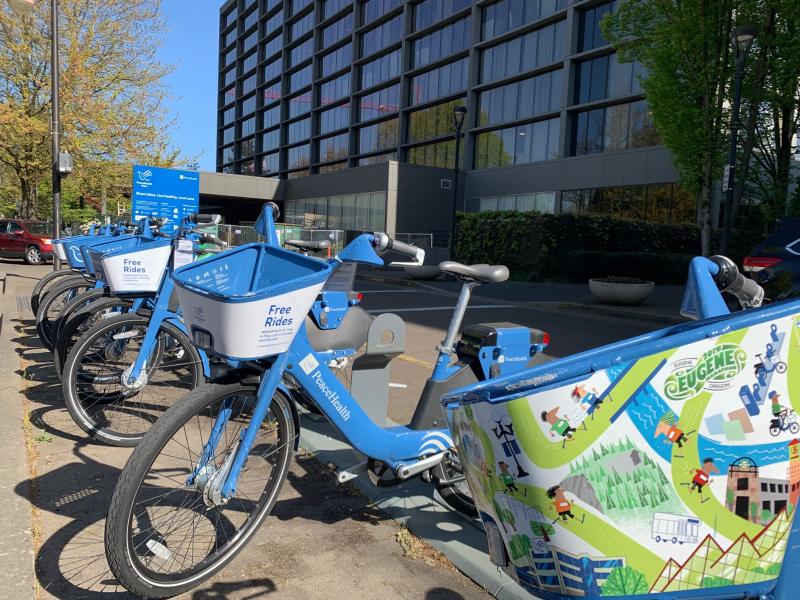 PeaceHealth Rides Bike Share at the Graduate Hotel by Melanie Griffin
All those blue bicycles you see out and about are part of PeaceHealth Rides. This bike share program is inexpensive and easy to use for short bike rides around downtown. There are beautiful bike paths along the Willamette River and you can even ride to Valley River Center or the University of Oregon campus. When in downtown Eugene, please walk your bicycles through pedestrian-only spaces such as sidewalks.
To use just download the app, reserve your bicycle at one of many bike share hubs and go! Bicycle helmets are not provided but are recommended. Bicycles are available 24 hours, seven days a week. Riders must be at least 18 years old.
Adaptive bicycles are available through the Hilyard Community Center.
Pacific Pub Cycle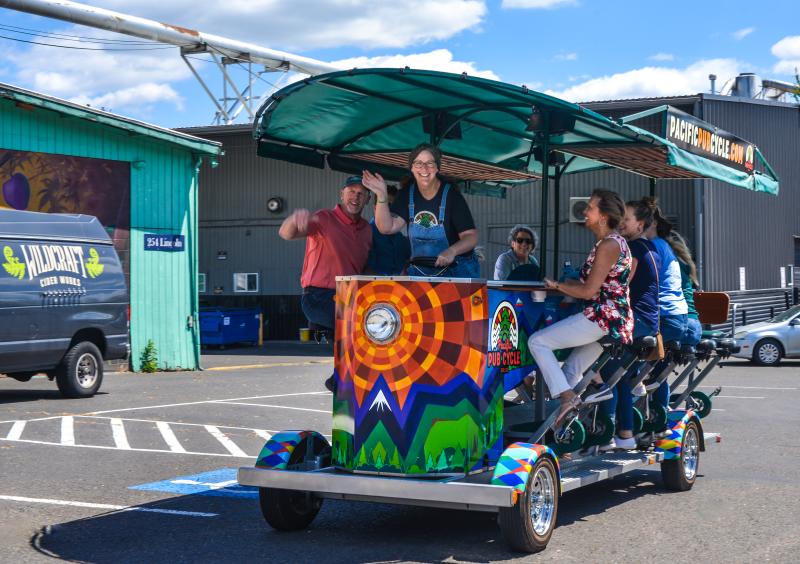 Cruising WildCraft Cider Works on the Pacific Pub Cycle by Melanie Griffin
Doesn't this look like fun? This guided group conveyance operates under your own pedal power - so if your plan is pub crawl the local breweries, you'll also be working off the calories. Pacific Pub Cycle offers custom or packaged tour routes of the Whiteaker neighborhood and downtown Eugene's Market District. Recruit a minimum of eight friends to pedal the "pub" (don't worry if it's been a while since you've pedaled - it does have motor assist to help you!) and call ahead because reservations are required.
Park Downtown & Walk
There are two downtown parking garages (the Overpark and the Parcade) that offer free all day parking on weekends and the first hour free on weekdays. The City of Eugene offers a mobile app IPS Park Smarter that allows you to pay and manage on-street parking meters Monday through Saturday. The app also tracks available parking spaces for you, making it easy to find a spot.
And since you are walking... why not sign up for a guided walking tour of downtown? America's Hub World Tours offers a foodie tour and a historic tour of the area.