Back To Previous Page
Unusual & Very Cool Places to Stay in Oregon
Published: February 27, 2020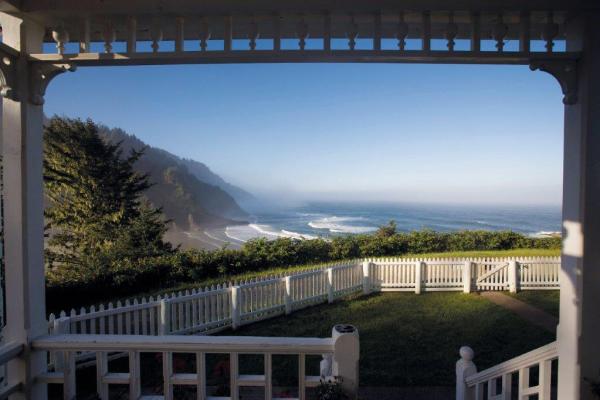 If you're looking to step outside of the ordinary and try something new, you need a getaway to one of these unique lodging options in the Eugene, Cascades & Coast region. This list of unusual and wonderful places to stay is sure to make you rethink what a hotel can be. 
Tipi Village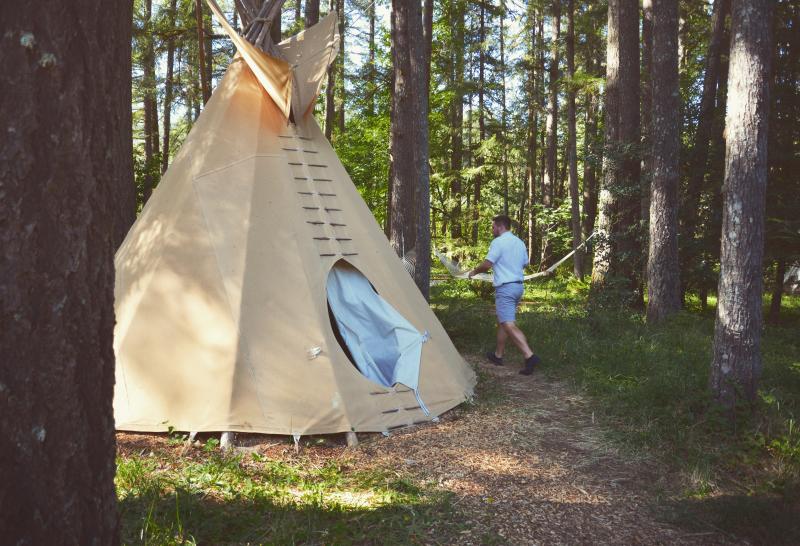 Tipi Village Retreat summer campout by Melanie Griffin  

Tipi Village is a secluded forest retreat where guests can sleep, glamping-style, in one of five snug tipis or in a traditional cabin. Recharge your spirit in the resort's Zen atmosphere. Quietly immersed in nature, you may observe wildlife, hear birds singing or rest in a perfect spot for meditation. Reflexology and yoga sessions are available, and each morning a gourmet breakfast is served beside the creek. For an extra treat, make arrangements to enjoy the highly recommended Spanish paella feast for dinner.
Heceta Lighthouse Bed & Breakfast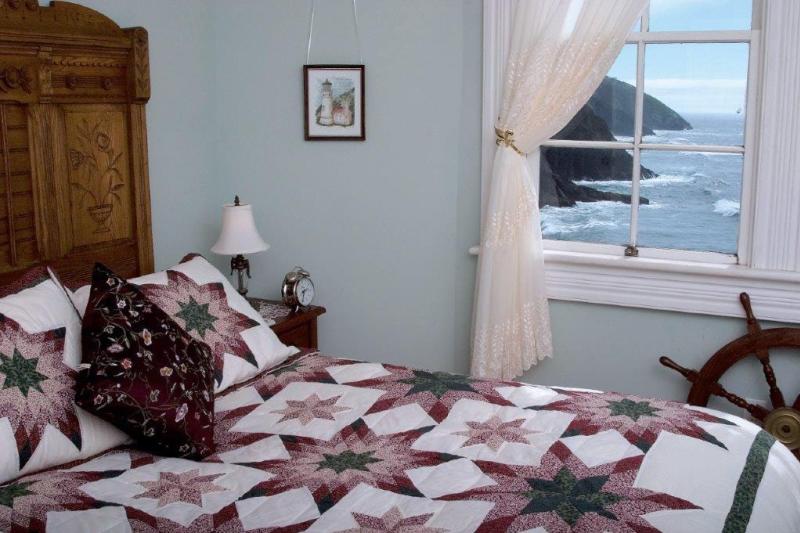 Heceta Head Lighthouse Bed & Breakfast   

Imagine yourself as a lighthouse keeper and stay in this historic bed and breakfast at the foot of the Heceta Head Lighthouse. The view is spectacular overlooking a sheltered beach, miles of rugged coastline and, of course, the endless Pacific Ocean. Stories of a friendly ghost named "Rue" add mystery to the stately Victorian home. Each room has unique charm with comfortable appointments (and you can even request Rue's favorite room). 

Make new friends by the fireplace during the wine and cheese social, then relax with a long soak in a claw-foot tub with a view of the lighthouse shining through the rolling fog. Your stay is made even sweeter by a decadent seven course breakfast prepared with local foods and herbs straight from the garden.
Westfir Lodge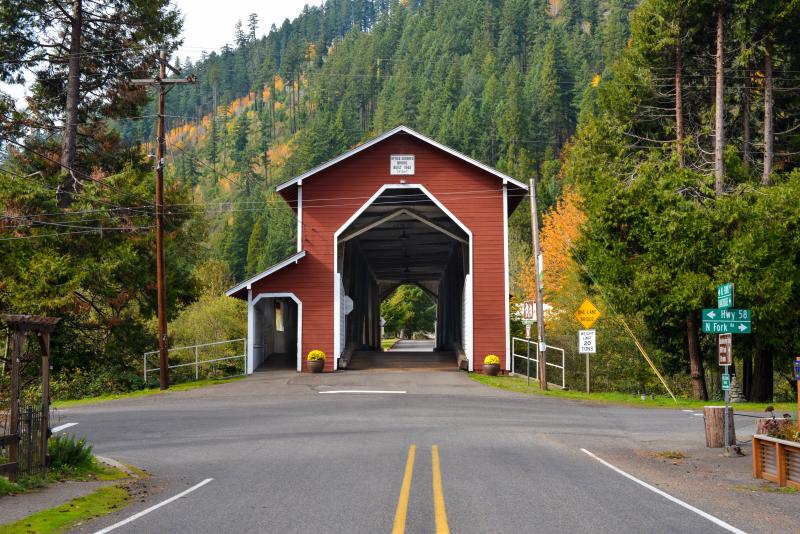 Office Covered Bridge in Westfir by Melanie Griffin  

Stay in a former lumber company office in Westfir in the Cascade Mountains. Now converted into a comfortable bed and breakfast, the Westfir Lodge is a favorite for hikers, mountain bikers and outdoor enthusiasts of all kinds. 

Directly across from the lodge is Office Covered Bridge, the longest covered bridge in Oregon, that was built to connect logging operations with the payroll office. On the far side of the bridge is the trailhead for miles of the region's best hiking and riding trails along the North Fork of the Willamette River. This is also the beginning of the scenic Aufderheide Drive, a beautiful road trip during late spring, summer and fall.

Wake up with a housemade breakfast — the owners are passionate about good food and sourcing local. As regional guides, they can also help you plan your day's adventures and even take you rafting, hiking or forest bathing to some of the area's most captivating wild places. 
All Inclusive Lavish Bed & Breakfast at Sweet Springs Family Farm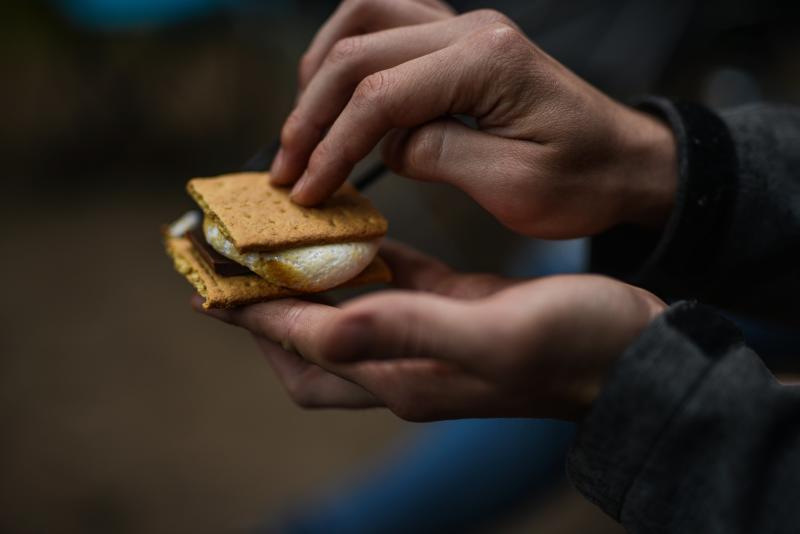 Making s'mores by Melanie Griffin   

Lavish Bed & Breakfast is a farm stay that elevates country lodging to a pampered getaway. Book a relaxing massage, savor a tasty dinner at a nearby winery or get cozy at a casual campsite with s'mores, popcorn and an outdoor movie on a big screen. Your stay here can be as grand or as laid back as you like. Spend the day doing yoga, swimming in natural waters or making friends with the farm animals. Farm life has never been so easy!
The Oregon Cliff House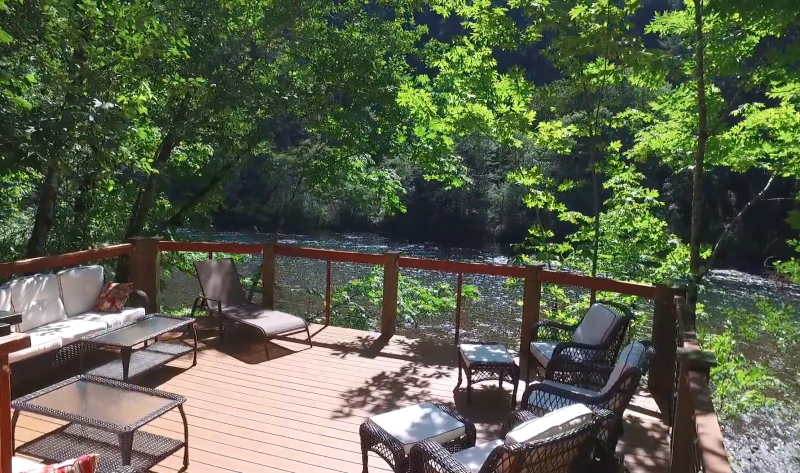 The Oregon Cliff House  

Build it and they will come — to play Wiffle Ball, that is! Bring your whole family, or team, to this luxurious riverside estate complete with a full-size Wiffle Ball field. Guests need to reserve the entire property (sleeps up to 14) to enjoy all the Oregon Cliff House has to offer – and there is much to do here. This gorgeous property includes a riverside hot tub and plenty of spaces to gather. While you're here, check out the McKenzie River region's great waterfall hikes, golf course, guided fly-fishing and rafting trips. 
The Graduate Eugene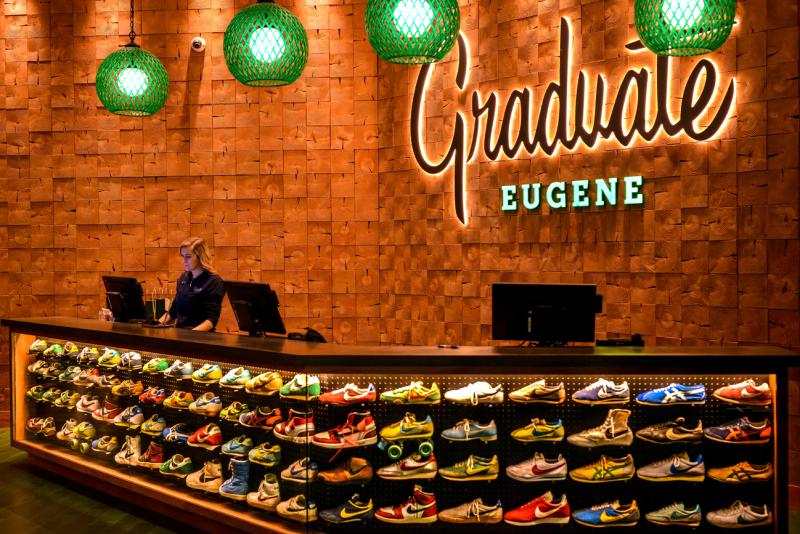 Graduate Eugene Hotel Lobby by Melanie Griffin  

The entire Graduate Eugene hotel is a great big love letter to Eugene — staying here is full of fun discoveries. There are many nods to local history, including a the giant collection of rare Nikes – a tribute to the fact that Eugene-Springfield is where the first shoe was crafted. Although the hotel is located in downtown Eugene with easy access to great food and fun, you don't have to leave the hotel for entertainment. Just head to their TopGolf Swing Suite to play a variety of sports games including a wild round of zombie dodgeball. 
The Whiteaker Hostel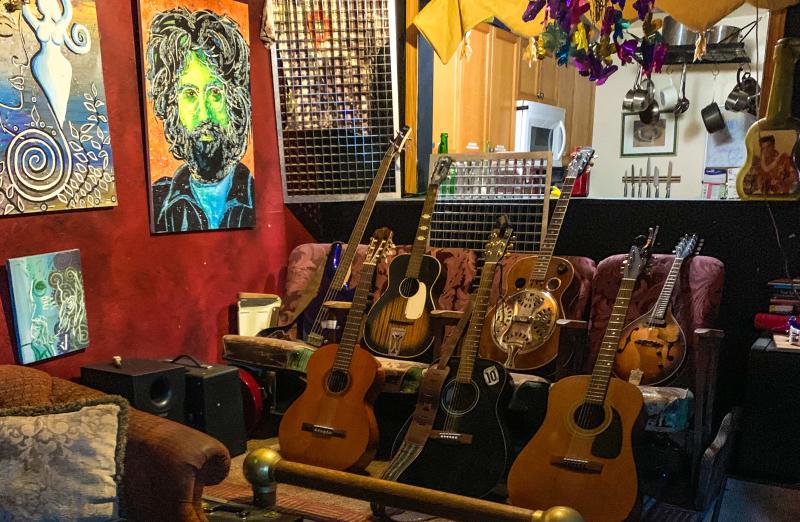 The Eugene Whiteaker International Hostel common room by Melanie Griffin

 

The Eugene Whiteaker International Hostel is an affordable way to be immersed in Eugene's counterculture scene. The Whiteaker neighborhood is where art and rebellion flourish, and that culture seeps into the walls of this communal lodging location. Take a short walk to one of the many nearby breweries, wineries, distilleries or fine restaurants in the neighborhood where almost every wall hosts a unique mural.