Located in Eugene's walkable downtown just steps from its sister boutique hotel, Inn at the 5th, the new art-centric Gordon Hotel offers 82 eclectic guest rooms, two restaurants, a hidden speakeasy, rooftop bar, meeting space and more. 
The luxury hotel offers 3,700 total square feet of meeting space, including a 1,717-square-foot ballroom. The 4,000-square-foot Gordon Tavern, situated on the ground floor, has a full-service bar and offers classic American comfort food. It provides room service and catering for the hotel's three meeting rooms and special off-site events. The second restaurant, Carlita's Rooftop, is located on the seventh floor and features a patio with beautiful city views. It will serve a mix of small Mexican plates infused with locally sourced ingredients along with specialty tequilas and whiskeys when it opens in spring.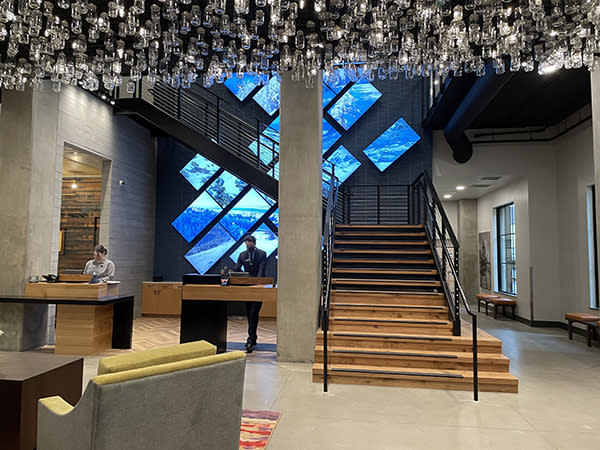 The Great Wall in the Gordon Hotel by Melanie Griffin
There are 162 works of art from over 80 local and regional artists throughout the hotel. A collection of paintings created by the namesake of the hotel, Gordon Obie, is also on display. There are even 75 pieces of art in the hotel that were created by Obie Companies staff. The lobby features The Art Bar stocked with supplies such as paint, pencils and clay where guests are encouraged to create their own art. The lobby also features a digital art installation called the Great Wall, which was brought about in collaboration with the Eugene-based Harmonic Laboratory, an award-winning local art collective. There are plans to publish an art catalog of all the pieces on display.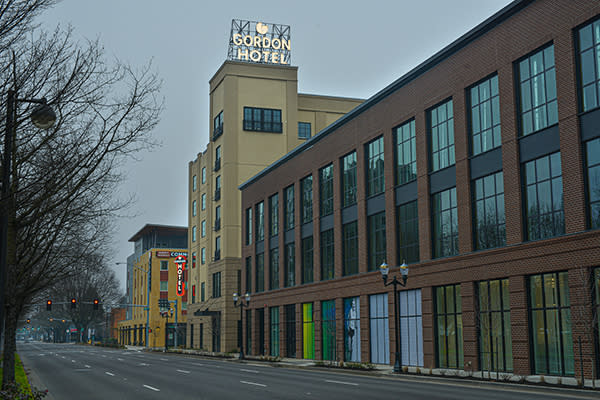 Gordon Hotel Rooftop Sign by Melanie Griffin
Even the hotel's retro rooftop sign is a piece of art. The fifteen-foot-tall sign stands 112 feet above the street and weighs in at four tons with its base. It is illuminated with 396 LED bulbs and can be seen for blocks in downtown.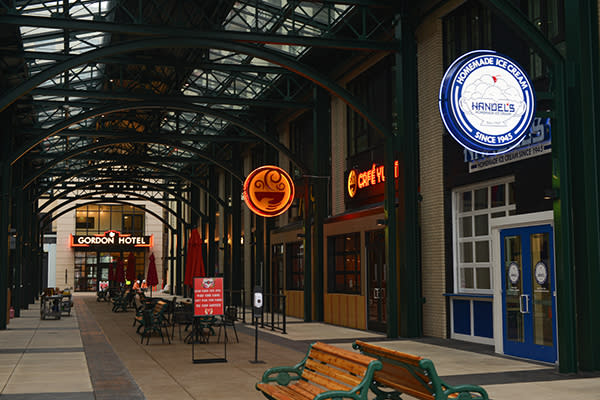 Market Alley by Melanie Griffin
The hotel is part of a $75 million market expansion of Eugene's popular Fifth Street Public Market. The project also includes 30,000 square feet of retail and office space in the adjacent three-story Market Building. A Nike store anchors the bottom floor, and the top two floors are offices. A covered and heated Market Alley connects the adjacent Gordon Hotel and Gordon Lofts. There is also Market Alley's Makers Row that is a collection of eight 300-square-foot retail spaces that already include local favorites Café Yumm!, Euphoria Chocolates, Heritage Distilling Co., and Pfeiffer Winery.

Inn at the 5th by Joni Kabana
The Gordon Hotel's sister property, Inn at the 5th, is just across the street from the Market Building. Inn at the 5th has been named a Top 25 Hotel in the United States on TripAdvisor's Travelers' Choice Awards three years running. This four-diamond luxury hotel has two meeting spaces that include the 1,400-square-foot Maple Room that accommodates up to 40 people with complimentary audio/visual, and the 156-square-foot Back Room that can accommodate up to eight people. Catering can be provided by the preferred caterer, Marché.  In addition to complimentary wine with check-in, Inn at the 5th also offers a complimentary luxury airport and in-town shuttle service for guests. The hotel sits next to 5th Street Public Market that is bustling with unique shops, restaurants and tasting rooms.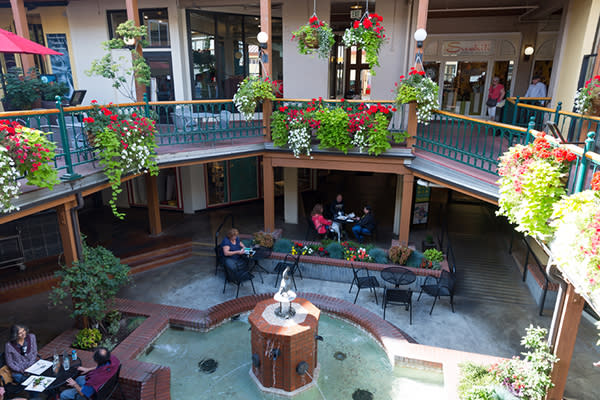 5th Street Public Market Courtyard by Joni Kabana
A local favorite, 5th Street Public Market really is a Eugene icon and has become one of the area's most visited destinations. History, character and culture all come together within the market's walls. Adjacent now to two boutique hotels, this collection of eateries and stores represents the flavor, diversity and fun to be had here and there is always something happening in the courtyard. Attendees can connect with the locals, sip world-renowned wine and eat delicious food while listening to the splashing of the fountain or live music. Attendees can also shop to their heart's content with no sales tax in the state.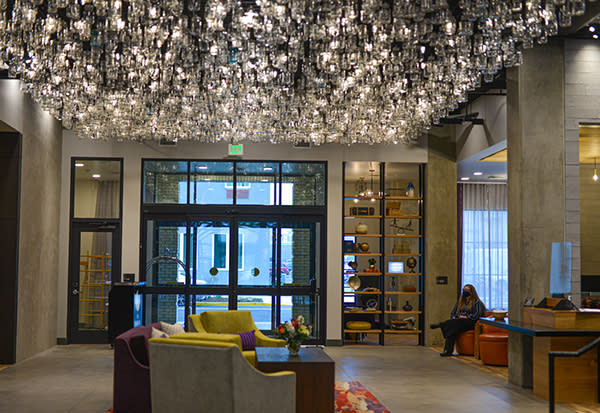 Gordon Hotel Lobby by Melanie Griffin
The new Gordon Hotel is certainly a welcome addition to the downtown area and will quickly become a favorite of VIPs, foodies and art enthusiasts. Consider treating your board or team to a meeting here and discover all the art and fun waiting to be discovered in this unique boutique hotel.