Imagine a beautiful coastal town that has meeting venues with ocean views, an assortment of boutique shops (and tax-free shopping), exquisite culinary offerings and unique after-hours activities like horseback riding on the beach or riding in a dune buggy across massive sand dunes. Just an hour outside of the Eugene-Springfield metro area, Florence has everything to make your next event one to remember!
Unique Venues
A popular venue for events up to 500 people, the Florence Events Center (FEC) is a great option for hosting any event. A hub for various shows, fairs and celebrations throughout the year, the FEC has been home to conventions such as the Oregon Mayors Association. Your attendees will have plenty of room to walk around and interact in the 7,500 square feet of convention space. The FEC is also home to a 455-seat auditorium with excellent acoustics and special equipment for hearing-impaired attendees. This trusted venue with dedicated staff, professional audio equipment, video cameras for hybrid meetings, and on-site catering can help make your event a huge success.

Driftwood Shores Resort Ocean View courtesy of Driftwood Shores Resort and Conference Center
If meeting as close to the ocean is your goal, Driftwood Shores and Conference Center lets you accomplish this wish. This oceanfront hotel is just steps away from 10 miles of beautiful beach. The hotel's conference center, which can accommodate up to 100 people, will inspire attendees with its beautiful ocean views. Partake of the award-winning Pacific Northwest cuisine when you utilize Driftwood Shores in-house catering from Surfside Restaurant. Encouraging both productivity and relaxation, Driftwood Shores is a perfect option for your next event.
Unique Experiences
Florence is home to many delicious restaurants for attendees to discover after hours such as the Bay View Bistro or the Bridgewater Fish House and Zebra Bar. You'll be heartily satisfied with the many varieties of local wines found at the Bodega Wine Parlour and you'll want seconds of Mo's Restaurant's famous clam chowder. After you've eaten your fill, there are many little shops to peruse and lovely scenery around Historic Old Town Florence. Take a picture by the historic Siuslaw River Bridge as a memento of your visit.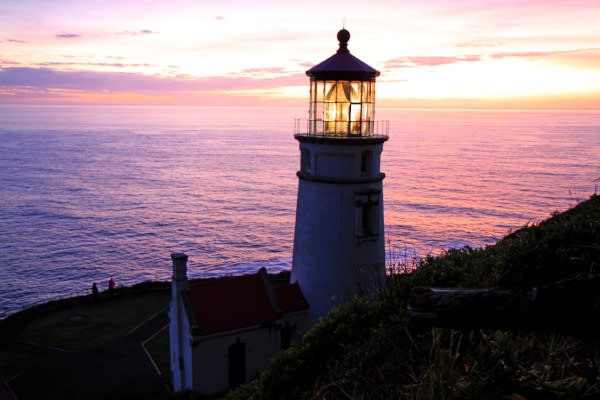 Heceta Head Lighthouse at Sunset by Patrice Raplee
Attendees can take a 20-minute trip outside of Florence to Heceta Head Lighthouse, the most iconic lighthouse on the Oregon Coast. Built in 1892, its lens still casts a beam 21 miles out to sea making it the brightest light on the Oregon Coast. It is a striking sight as it is perched on a 200-foot bluff that juts out into the sea. 
Sitting just below the lighthouse is one of the last remaining lightkeeper's cottages and it is perfect for small events up to 150 people on the surrounding lawn. An outdoor reception against the picturesque backdrop of the Pacific Ocean will surely be an experience your attendees will always remember!
Just a short five minutes away from Heceta Head Lighthouse, is America's largest sea lion cave (it is as tall as a 12-story building and as wide as a football field). Before riding down 200 feet in the cave elevator, make sure to take a video peek at the current activity in the Sea Lion Caves Gift Shop. Once you've descended, visit with the numerous Steller sea lions that are often found lounging around the rocky interior. The fall and winter are the best times to visit as the cave will be filled with barking sea lions.

Sandland Adventures Dune Buggy Tours by Eugene, Cascades & Coast
The Oregon coast is home to the largest expanse of coastal sand dunes in North America. This 40-mile stretch of windswept sand provides endless adventures and unique recreational activities. One of the best ways to explore these ever-changing dunes is by getting out there on a dune buggy. Sandland Adventures offers a Giant Dune Buggy Tour that covers eight miles of dunes and two miles of beach. Sand Dunes Frontier offers guided sand rail tours, Big Buggy tours and ATV rentals. This fun and exciting experience allows attendees to get up close and personal with the impressive natural wonders of the dunes which include unique tree islands, shifting sands, various wildlife and of course spectacular views.  
If you are holding your event in the summer, sign up for sandboarding lessons at Sand Master Park, the world's first sandboarding park (think snowboarding on sand). This incredibly fun activity is something that anyone can enjoy regardless of age or experience.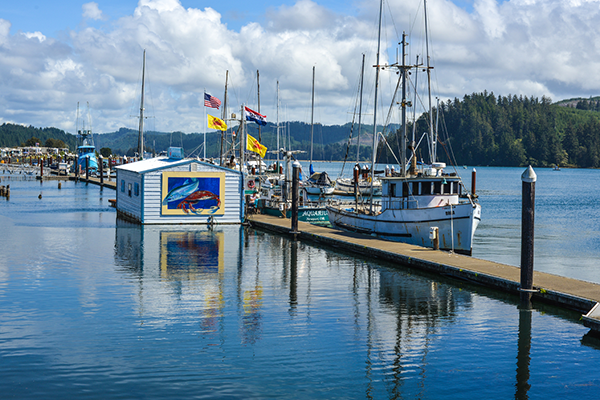 Novelli's on the Docks by Melanie Griffin
Consider Florence
From a great conference center to oceanfront hotels, from award-winning restaurants to unique after-hours and teambuilding activities, Florence, Oregon is the perfect place to hold your next event. Your group will want to stay as long as possible when you MEET & EXPLORE on the beautiful Oregon coast!