Small outdoor meetings and events are expected to play an important role in the recovery of the meetings industry. The Eugene, Cascades & Coast region has an abundance of beautiful parks and outdoor spaces to consider. Whether you choose to meet on the banks of a majestic river, at the foothills of a mountain range, on the edge of a national forest or inside a covered bridge, this region has an incredible outdoor space that is sure to be perfect for your next meeting or small event.
Eugene-Springfield
Eugene's oldest city park, Hendricks Park pictured above, is famous for its world-renowned rhododendron gardens. Hendricks Park has the Francis M. Wilkins structure available to rent for outdoor events. Built in 1938 in honor of one of the founders of Hendricks Park, Francis M. Wilkins, this historic shelter has running water, electricity, lights and includes a large fireplace and deck, both of which are constructed out of natural stone. Available to rent year-round excluding Mother's Day, this shelter has a 60-person capacity and rentals are limited to 20 vehicles due to limited parking. Event attendees will be able to wander the park's 80 acres, walk among 200-year-old Douglas fir trees, and explore over 6,000 varieties of rhododendrons and other ornamental plants.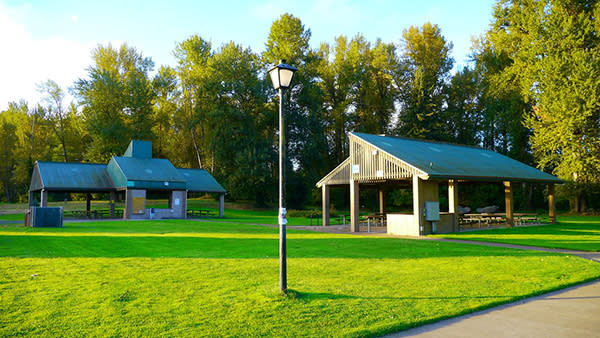 Alton Baker Park Shelters
Serving the City of Eugene since 1959, Alton Baker Park is Eugene's largest developed park with 413 acres. Two picnic shelters are available to rent for events. The first shelter has electricity, 12 stationary picnic tables and is capable of hosting groups of up to 110 people. The second shelter has electricity, 20 stationary picnic tables (eight 16-foot-long stationary picnic tables and four eight-foot-long stationary tables), running water and a maximum group size of 150 people. A drinking fountain, restrooms and ADA parking round out the amenities the Alton Baker Park shelters have to offer. Attendees can stay for a round of disc golf, go for a run on Pre's Trail, or visit the Eugene Science Center.
Listed on the National Register of Historic Places, Dorris Ranch is a living history farm and a public park complete with walking trails and natural areas. Dorris Ranch has two spaces available to rent; The Tomseth House and the Dorris Ranch Barn. The Tomseth House with its quaint, rustic setting, is the ideal place to hold events from weddings to business meetings. With a capacity of 35 people inside and additional 100 people outdoors, the Tomseth House is equipped with all the accessories to make any event a success. Restrooms as well as a kitchen with oven, microwave, four-burner range, freezer, and refrigerator make it easy to handle food preparation. The exterior is even more inviting than the interior, with a porch that overlooks 250 acres of filbert orchards and a nature preserve. Dorris Ranch Barn is the second part of this historic farm right inside the city of Springfield. The open air and spacious natural grounds make the Dorris Ranch Barn perfect for group celebrations or business gatherings. With a capacity of 40 indoor and an additional 300 outside, this renovated 1892 barn retains all the charm of its historic origins while providing modern conveniences such as electrical outlets, water, benches and tables. Attendees can even walk on the 4.5 miles of gravel walking paths that pass through the old filbert orchards. Surrounded by nature, planners and attendees will not believe that they are only two miles from the city center.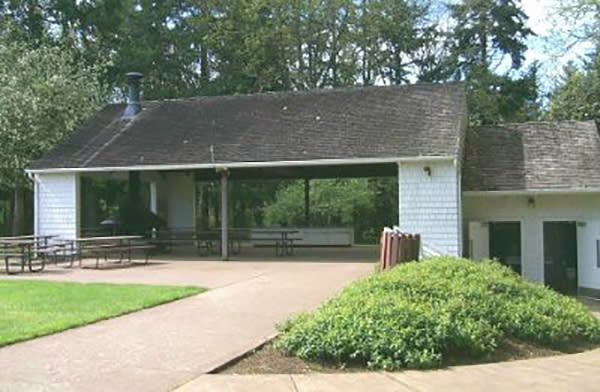 Shelter at Wayne Morse Family Farm and Park
Also listed on the National Register of Historical Places, the Wayne Morse Family Farm is a city park located just three miles from downtown Eugene. The former home and farm of Senator Wayne Morse, this 26-acre property includes many grassy lawns, a wooded park with trails, restrooms, ample parking, covered picnic shelters with limited kitchen amenities and tables. This beautiful event space is available to rent for groups of up to 125 people from May to October through the City of Eugene. 
Mt Pisgah Arboretum's picturesque White Oak Pavilion opens on all sides to reveal the beautiful scenery of the surrounding arboretum. The White Oak Pavilion is a 3,000 square foot building with large glassed-in barn sliding doors. With a max capacity of 200 persons, the Pavilion has four private restrooms, a drinking fountain, two indoor sinks, four potable waterspouts and electrical outlets inside the building, and outdoor outlets on the four corners of the building. Renting the Pavilion for your event includes day and evening use of the building and the surrounding lawns. Even though the staff supplies the essentials (chairs, tables, etc.), food and alcohol must be purchased through a caterer.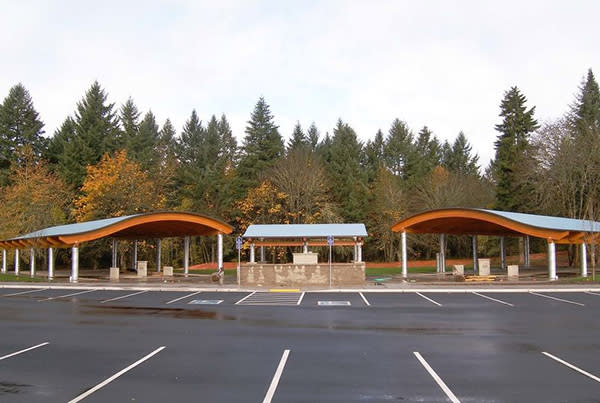 Pavilions at Lively Park
Lively Park Pavilions are in Springfield next to Willamalane's premier indoor water park, Splash! at Lively Park. Each of the two covered pavilions provide electric cooktops, natural gas barbecues, food prep areas, restrooms and parking, and have the capability to host 150 people. The pavilions are next to a spacious lawn area and are adjacent to a large playground at Lively Park.
Island Park is adjacent to the Willamette River and close to downtown Springfield. The towering trees and open grassy areas by the river offer an inviting view. The North and South shelters are available for reservations. Full park rentals are available for exclusive use and large-scale events. The park features picnic tables, restrooms, drinking fountains, electricity, and a playground. A stage is also available when renting the North shelter. There is a 100-person capacity for each shelter.
Westfir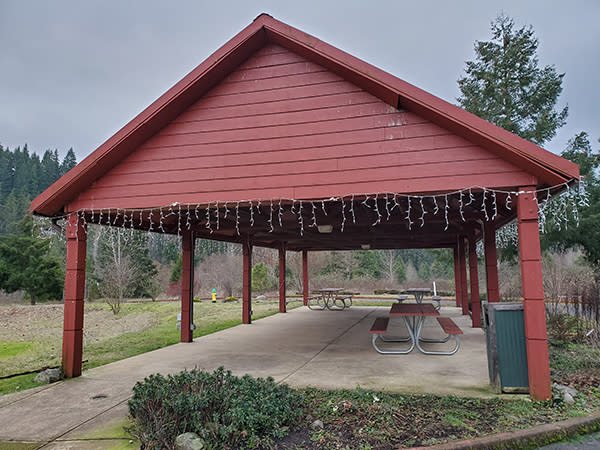 Westfir Portal Park
Situated on the banks of the wild and scenic North Fork of the Willamette River is the Westfir Portal Park. This park, located 40 miles outside of Eugene, has a large pavilion (50 feet by 25 feet) complete with picnic tables with benches, charcoal grills, permanent restrooms and a parking lot that meets ADA standards. Additional parking is available just up the street at City Hall. The pavilion is in a lovely spot surrounded by forested slopes next to the river. Renters can obtain an OLCC permit and servers to allow alcohol to be served on the premises. Local restaurants are available to provide breakfast, lunch, and snack options. Vehicles and pedestrians can enter the park via the Office Covered Bridge.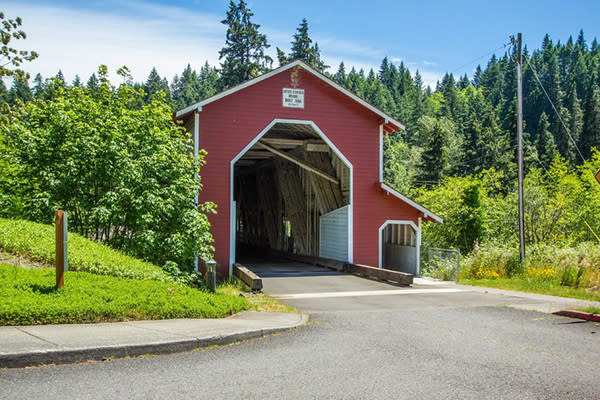 Office Bridge in Westfir
Looking for a truly unique place to host your outdoor event? Host your event in the Office Covered Bridge and have your attendees talking. Also called the Westfir Covered Bridge, the Office Covered Bridge was built in 1944 by the Westfir Lumber Company and spans the North Fork of the Middle Fork of the Willamette River. It measures 180 feet in length, making it the longest covered bridge in Oregon. Overnight guests can stay at the Westfir Lodge Bed & Breakfast across the street.
Oakridge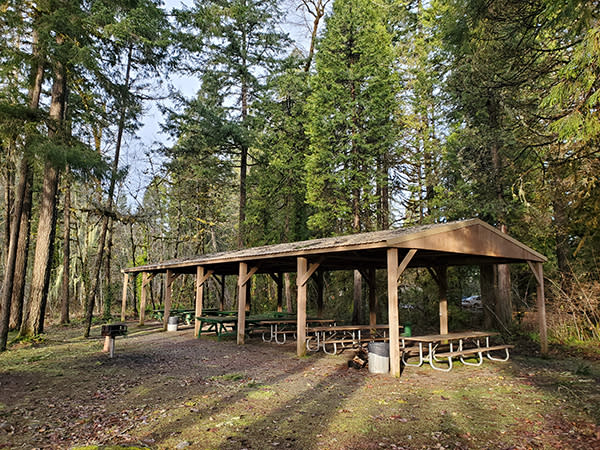 Greenwaters Park
In Oakridge, Greenwaters Park offers exquisite views of the Willamette River. This park includes an amphitheater as well as a covered picnic space. The picnic space has eight picnic tables as well as six electrical outlets. The picnic area offers convenient parking and onsite restroom access with plenty of open space to spread out and enjoy the beautiful setting. Catering options are available directly through the venue, but renters are welcome to order from one of the local businesses. The park is open for most of the year from dawn to dusk.
​Cottage Grove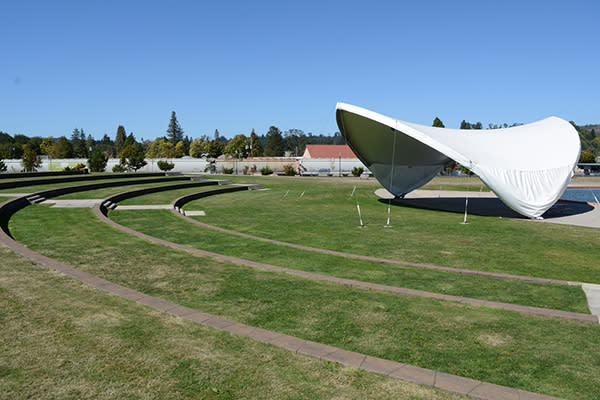 Bohemia Park Amphitheater
At the center of Cottage Grove lies the community favorite, Bohemia Park. This 14-acre, multi-use park features an amphitheater with seating for 2,000. Bohemia Park was the performing space for Eugene Symphony's Summer Concert series in 2019. Other amenities include covered picnic spaces, a walking trail, three-acre pond and fountain, plaza and playground.
Florence
The 28-acre Jessie M. Honeyman State Park is a beautiful area filled with sand dunes, hiking opportunities and access to two freshwater lakes. There are two picnic shelters available to rent on different sides of the park. The Cleawox Ballfield Shelter can host a maximum number of people 200 with space for 50 vehicles. Restrooms are available year-round at the nearby Honeyman Park Lodge. Other amenities include cold running water, electrical outlets and a rentable barbecue grill. Five picnic tables are provided.
Located on a peninsula of Woahink Lake, the Woahink Gazebo can host a maximum number of 200 people and has space for 200 vehicles. This picnic shelter is near a public swim/dive area and there is a large grassy open area around the shelter. Amenities include year-round restrooms, a sink with cold running water, electrical outlets, five picnic tables, a horseshoe pit, and a nearby boat ramp. Not only is the Woahink Gazebo a picturesque place to host your meeting, but the lake is also an excellent place for boating, jet skiing, fishing, windsurfing and swimming.
Park Your Meeting Here
Consider hosting your next meeting outside in one of these beautiful spaces. With varying sizes, amenities and scenery, we can help you discover the perfect location for your next outdoor meeting or small event. Contact us today to find out more about how to meet safely and explore in the Eugene, Cascades & Coast region of Oregon.