Hayward Field
Runners, both the athletes and the fans, consider the University of Oregon's Hayward Field as a cherished destination for track and field. Since 1921, the field's first track lanes — fashioned on ground originally dedicated to football — spawned generations of track legends.
World Athletics Championships Oregon22
The World Athletics Championships was at Hayward Field in 2022 — this was the first time this event took place in the United States.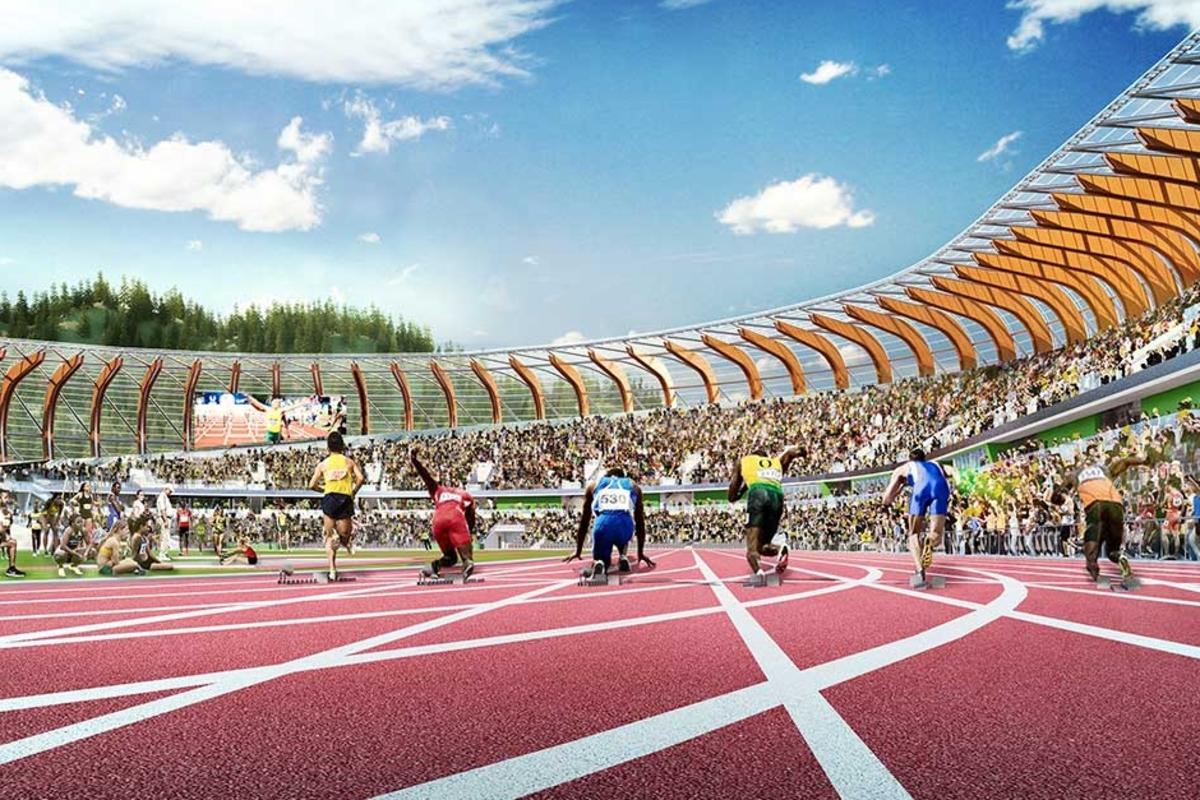 A Reimagined Hayward Field
Over the years, Hayward Field has been updated, upgraded and expanded. Now, with consideration for future track events and UO's prestigious ongoing track programs, Hayward Field has undergone an incredible renovation. The stunning new stadium graces Hayward Field with innovative design and thoughtful tributes to the history of this momentous site. For full renovation details, visit the UO Hayward Field website. 
The new stadium seating has a capacity of 12,500 seats with temporary seating up to 30,000. The stadium offers an open and airy design with sightlines from the street to the field. Full amenities for the athletes include locker rooms, equipment rooms, training rooms and treatment facilities. It is truly a marvel of design and a celebration of both the athlete and the track fan.
A dramatic nine-story tower shaped like a torch houses private offices for athletes and staff, topped off with a 360 degree observation deck. The deck is not open to the public, nor optimized for views of the track below, but the belvedere offers unobstructed sightline to the greater community. The tower's exterior is clad with a perforated metal panel capturing the portraits of five Oregon track and field greats — coach Bill Bowerman, Steve Prefontaine, Raevyn Rogers, Ashton Eaton and Otis Davis.
There is also a 4,000-square-foot museum in Hayward Hall at the base of the tower, which memorializes UO's former track coaches and all the local track athletes, records and competitions. This impressive, detailed and thoughtful exhibit includes interactive components, a short film, a selfie station and artistic re-purposing of salvaged green wood from the former stadium stands. From the trophies to artifacts, this is a worthy visit for any track enthusiast. 
Hayward Historic District
The surrounding neighborhood boasts local ice cream shops, restaurants and breweries; the UO campus; and quiet tree-lined residential streets and shady parks. After any large track and field event, athletes can be spotted indulging in a scoop of ice cream at Prince Pucklers or cooling down on the forest trails at Hendricks Park.
MAP IT
The newly renovated Hayward Field at the University of Oregon is a world-class track & field facility. Completed in 2020, the venue seats 12,000 (expandable to 25,000) and includes modern men's and women's locker rooms, an equipment room, video room, weight room, indoor practice area, and training and sports medicine facilities. Fans enjoy unobstructed sight lines throughout, great acoustics, proximity to athletes and spacious seating. The multi-story landmark tower features a lobby filled with interpretive exhibits, an observation deck, viewing areas, elevator, and a staircase to the top. The 40,000-square-foot Hayward Hall provides a museum-style experience with tributes to Historic Hayward Field and prior events, coaches and athletes.
1580 E 15th Ave, Eugene OR 97403
MAP IT
Hayward Hall is a place to celebrate the legacy of UO Track and Field. Inside this 4,000 square-foot space visitors can interact with displays that tell the story of this historic program. While walking the hall you can see team trophies, The Bill Bowerman workshop, and other highlights from the years. Visitors can take a moment to relax in salvaged seats from the "presidential box" at Historic Hayward Field while they watch a short film on the history of Oregon Track and Field. Hayward Hall works to incorporate the past of UO Track and Field, while looking toward all that is to come for TrackTown USA.

1580 E 15th Ave, Eugene OR 97401
A Continued Historic Legacy
It is not surprising to see visitors get weepy visiting Hayward Field for the first time. And when one attends a meet here, an enthusiastic fan base fills the seats, roaring for track and field athletes like no other community across the nation. The appreciation for running reverberates here — you can feel it.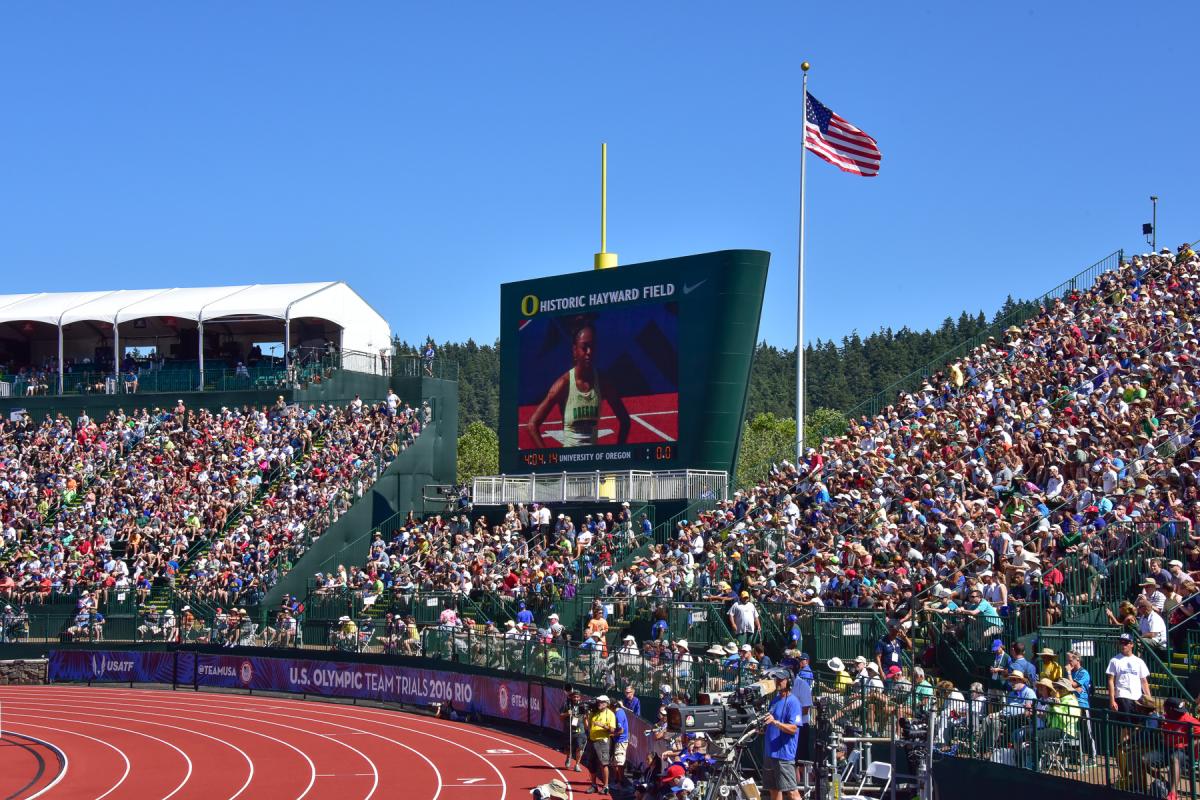 Bill Hayward was UO's first track and field head coach. Over his 44 years he coached American and world-record holders, with nine of his athletes going to the Olympics. His coaching prowess was followed by Coach Bill Bowerman also known for turning out amazing champions and Olympians.
A statue of Coach Bill Bowerman, dedicated in 2000 outside the former Bowerman Building, now stands with stop watch in hand in front of turn three near the northeast entrance.
Hayward Field has earned its significant reputation by hosting numerous NCAA Championships, the National Masters Championships and decades of Prefontaine Classics and other world-class events. The U.S. Olympic Team Trials - Track and Field were held here in 1972, '76, '80, 2008, 2012, 2016 and will be again in 2021. It has also been the home track for athletes on the road to greatness — from Steve Prefontaine to Ashton Eaton, many American and world-record holders have trained here.
The Eugene community also has a great fondness for Hayward Field. For many years the Oregon Track Club invited visitors and residents of all ages and abilities to compete in their annual "All-Comers" meet here. And traditionally, the Eugene Marathon's finishing line has been at Hayward Field.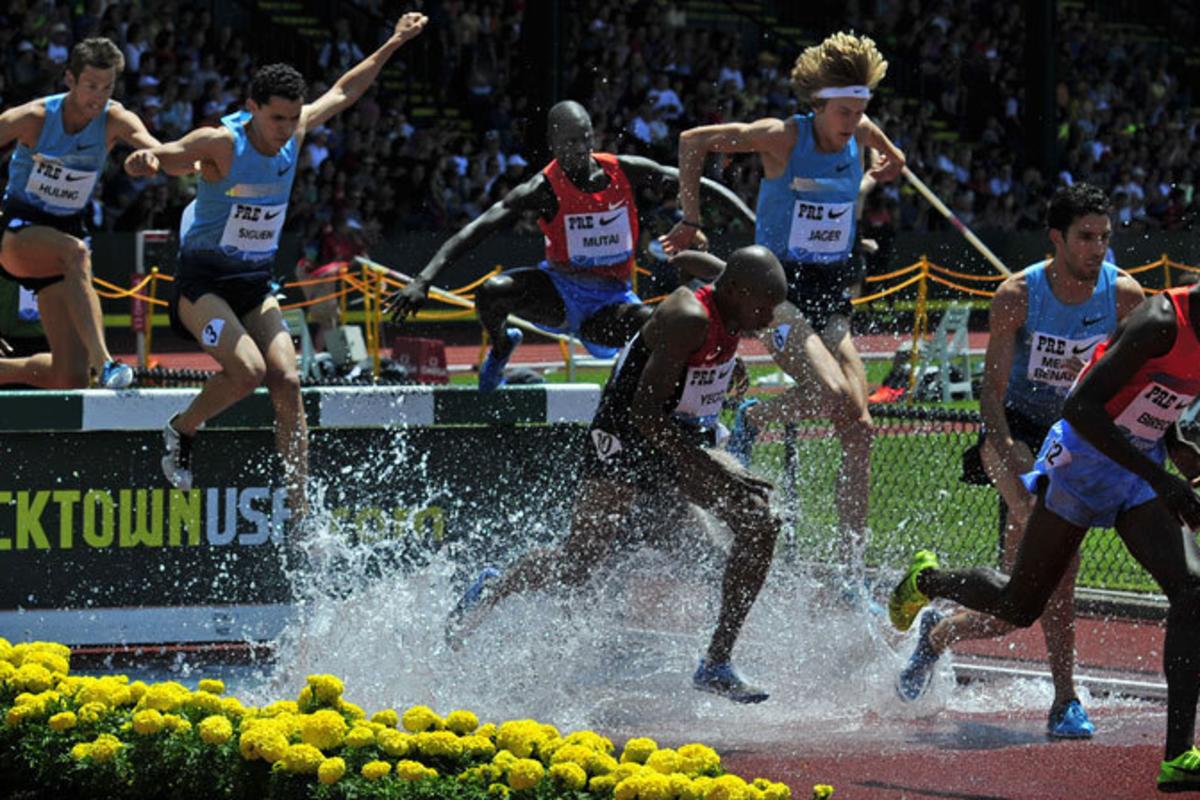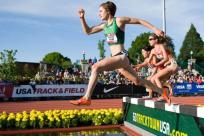 Did you know? According to the University of Oregon, Hayward Field, constructed in 1919, was…
More

Info

›