Built in 1926 on the University of Oregon Campus, McArthur Court (Mac Court or The Pit) was the home of the Oregon Ducks men's and women's basketball teams until 2011 when it was replaced by Matthew Knight Arena. With the move, Mac Court was left relatively unoccupied. Now it can be used for your next gymnastics, volleyball, dance or cheer competition. Mac Court is dedicated for recreational use and is available to rent for sports events.
Last year, the National Association of Artistic Gymnastics (NAAG) hosted an all-boys meet, with more events coming soon. This has piqued the interest of other organizations desiring to host their next event in this historic facility. We anticipate more and more sports event planners in the gymnastics field will look towards Mac Court to bring sports and competition back to the historic facility.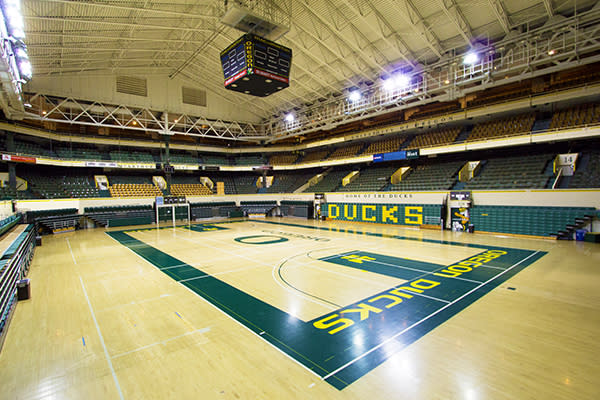 "I hosted a men's gymnastics meet on Mac Court this year in January. Everyone loved the facility. There was plenty of room for everything we had going from the meet itself and spectators to our hospitality and concessions. The best part about Mac Court was the history that is there. U of O used to hold their men's gymnastics meets right there on that same court. We (The National Academy of Artistic Gymnastics) also hosted our Emerald Team Challenge back in the 70's on Mac Court and had some of the greatest gymnasts compete there. We told a little of the history at the beginning of each session so the gymnasts and families could appreciate the significance of being on Mac Court. One of our judges (Doug Hills) competed there as a young man and he gladly shared his fun story with the crowd. It was really amazing to be on that historic court and hosting a men's gymnastics meet just like the years past." – Velinda Hunter, Meet Director, National Academy of Artistic Gymnastics
Mac Court is a nostalgic piece of history for Eugene. Alums and locals alike frequented Mac Court in its heyday to watch the Ducks play basketball and volleyball. Some argue that if the crowd was raucous enough, the fans could cause the baskets to shake. Even today, it's not uncommon to hear people ask what is to become of Mac Court, or how they used to love watching games in the facility. Bringing it back to "life" is like resurrecting old memories for a community that has plenty of positive ones. Let us partner with you to make this your next dream event.