Back To Previous Page
Best Brunches & Breakfasts in Eugene
Published: January 15, 2020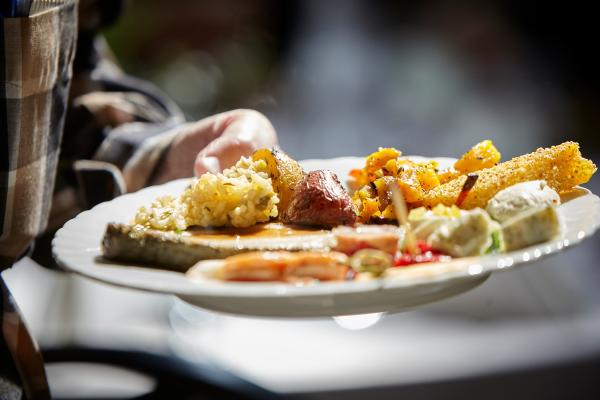 Start your morning at one of these destination-worthy breakfast spots from sumptuous brunches to line-out-the-door diners. Whether you've just rolled out of bed in search of a quick bite or you want the perfect place to entertain guests or celebrate a big day, these top brunch and breakfast restaurants will get your day started the right way.
Downtown Eugene
Jazzy Ladies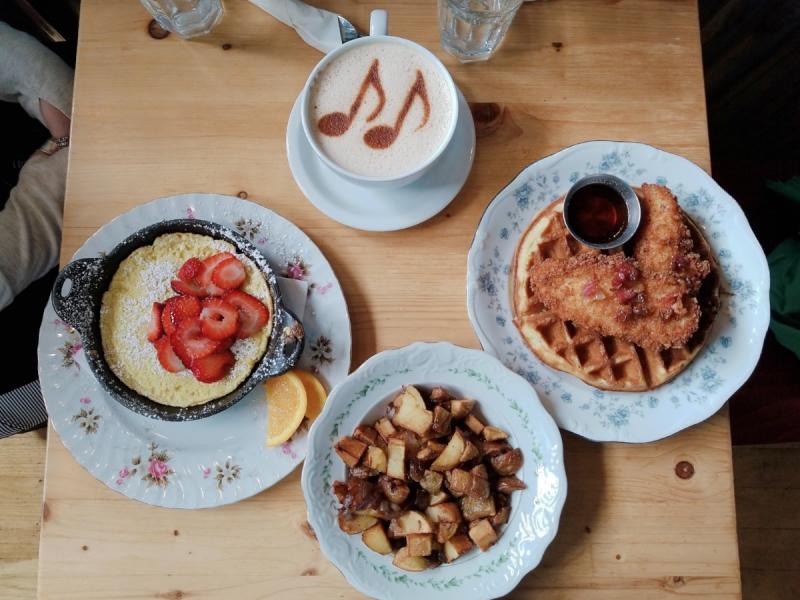 Jazzy Ladies Food by Rebecca Adelman  
Gluten-free folks rejoice! Everything on this menu is entirely gluten-free (and nut, dairy and soy-free friendly/accommodating). Popular items include decadent waffles, chicken-fried steak and eggs benedict. This small cafe downtown only seats 20 people inside so plan accordingly. Jazzy Ladies gets its name from a love of jazz music and you'll notice the themed decor the moment you walk in. Breakfast is served all day, so there's no shame in ordering eggs benny with affogato at any hour.
Marché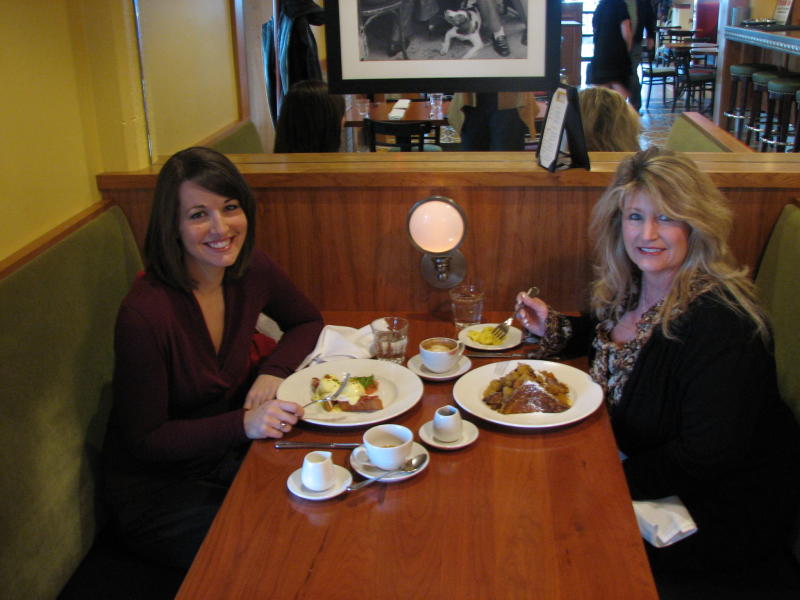 Marché Breakfast  
Marché is one of Eugene's finest restaurants and their breakfast and brunch menus keep with their tradition of excellent French-inspired dishes with fresh local ingredients. Order a café au lait to enjoy with your meal for the full experience. Popular dishes here are the Boudin & Egg or Smoked Salmon Hash, but even the small pastries are smart choices. Level up on breakfast in bed and stay at the Inn at the 5th next door and you can have a decadent Marché meal brought to your room to be enjoyed on your private balcony or by the fire. 
Lion & Owl
Serving "Bubbles & Brunch" seven days a week, Lion & Owl is a stellar culinary experience. Your brunching buddies will be impressed by the seasonal menu items such as foie gras pop tarts and caviar as well as the sophisticated urban atmosphere. Guests have the option to enjoy their meal inside the fun Airstream travel trailer where the restaurant began as a simple (but stylish) food truck. Waiting for your table? Pop into Civic Winery & Wines next door for a delicious coffee drink.
The Vintage
The Vintage is a charming restaurant with a creative breakfast menu highlighting sweet and savory crepes., including gluten-free options. The Lemony Lemons crepe is the fresh, bright start to a day that we all need (and a pitcher of bellinis on the table won't hurt either). This a great hideaway spot for intimate meals and can be quite cozy on a rainy day.
Falling Sky Brew Pub
Falling Sky Brewing courtesy of Falling Sky  
A great option for a late weekend brunch that will impress a crowd is the original Falling Sky Brew Pub tucked away in an alley near downtown. This menu is short but sweet. Try the pulled pork chilaquiles with a house bloody mary or a beermosa. Everything on the menu is Instagram-worthy and tastes just as good as it looks. 
Morning Glory Café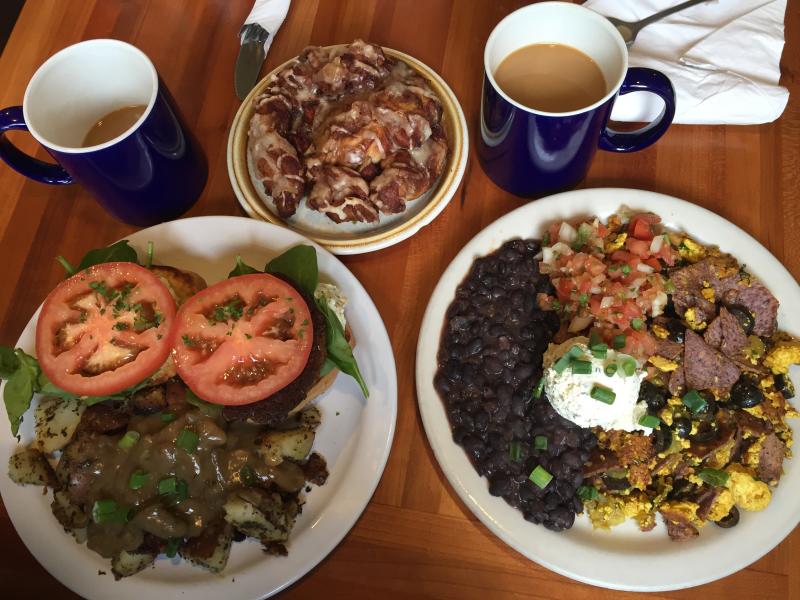 Morning Glory breakfast by Melanie Griffin  
Morning Glory is an entirely vegetarian restaurant with plenty of vegan options. Even your meat-eating friends will love the lovingly crafted dishes made from scratch. Located near the train station, this warm little spot full of art is a great way to be welcomed into the city. Although there are many delicious sweet and savory options, I recommend the Three Sisters (named for the three snow-covered peaks sometimes visible to the east from Skinner Butte) which is loaded with veggies and topped with hearty mushroom gravy. 
Off the Waffle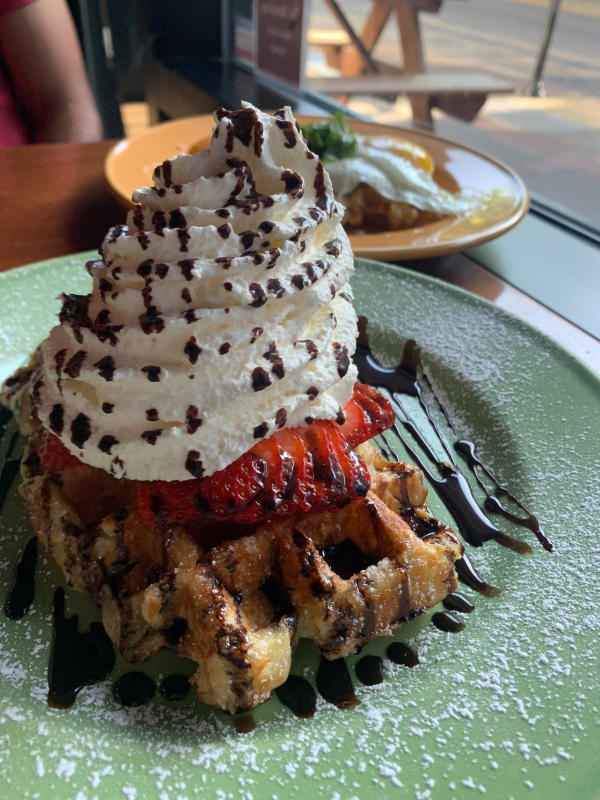 Off the Waffle Downtown Eugene by Melanie Griffin  
Off the Waffle has been a local breakfast staple since the brothers who started it were serving liege waffles out of their house. Now, there are two locations to help them keep up with the demand for the perfect waffle topped with exciting ingredients. Order a sweet or savory waffle, or bring home a pack of frozen waffles and add your own special toppings at home. 
6th Street Restaurant
Open for brunch only on Saturday and Sunday, this downtown sports bar serves up traditional breakfast favorites in a relaxed atmosphere. You won't want to miss the morning cocktails which include bloody "matadors," peach bellinis and pineapple margaritas. Their location across from the Hult Center for the Performing Arts makes it the perfect pre-or-post matinee destination. 
Mid-Town
Mandy's
Eugene's search for late-night breakfast ended when Mandy's opened and created a space to enjoy the most important meal of the day at any hour. Mandy's is located on the edge of downtown and is open 24 hours making it a great choice for folks who know that breakfast can be enjoyed at any hour. Choosing between their french toast and corned beef hash is hard, so bring a friend and share.
Brail's
Voted the best hangover breakfast in Eugene many years in a row, Brail's is a local favorite for classic breakfast that also offers some delicious Korean dishes. With two locations near downtown, this is a great place to meet for a hearty breakfast with friends. Try Joy's Special with a side of spicy kimchi. 
Westside
Coffee Plant Roasters
A trendy coffeehouse in the Westside Warehouse District that serves up some serious breakfast. Coffee Plant Roasters is a great place to sip some of Eugene's best coffee, watch as a fresh batch gets roasted and enjoy a beautiful acai bowl or avocado toast with all the toppings you didn't even know you needed. 
North
SweetWaters at Valley River Inn
The ultimate breakfast destination, Sweetwaters on the River hosts indulgent holiday buffet brunches or traditional breakfast favorites every weekend.
University District
Glenwood
The menu at the Glenwood is huge because they really do have something for everyone. One of the two locations is right next to the University of Oregon campus and is a great place to breakfast with your soon-to-be-college-grad. As a former New Mexico resident, I love their generous sprinkling of green chile in dishes throughout the menu. If you aren't familiar with the magic that is green chile, I suggest you order a Sierra Madre omelet immediately. 
Excelsior 
This cozy Inn and attached restaurant near the University of Oregon campus is dishing up some of Eugene's finest breakfasts. The Excelsior brunch is a delicious way to start an exciting weekend. Many ingredients are grown on the Excelsior farm. Crab Cake Benedict and Steak & Eggs are both solid choices but even the simple dishes taste fresh and perfectly handled. 
Studio One Café
For lovers of early Hollywood cinema, this little cafe is a great place to enjoy a meal with a little nostalgia. Studio One is also located near the University of Oregon campus. Menu items are named after movie classics and fictional characters like the Animal House benedict, named for the cult classic filmed nearby. If you are attending an event at Hayward Field, this is an ideal location to fuel up before you start a busy day at the track. 
Brunch Beyond Eugene
Cornbread Café - Springfield
This comfort food cafe is totally vegan and has been featured in magazines and television shows. According to Travel+Leisure, Cornbread Cafe is the best vegan restaurant in Oregon. You won't regret an order of their chik'n & waffles with a side of cheesy grits. Check out their second location in West Eugene.
Creswell Bakery - Creswell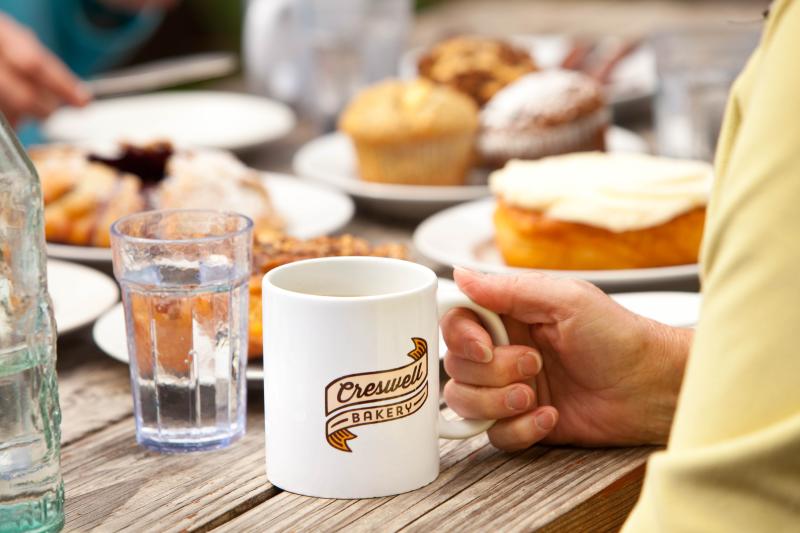 Creswell Bakery  
Freshly baked bread makes Creswell Bakery a must-stop on any adventure south of Eugene. Breakfast hours start at 7 a.m. Monday - Saturday and at 9 a.m. on Sunday. Along with made-from-scratch baked goods, indulge in hot breakfast dishes like brioche sandwiches, house-cured bacon and a ham and cheese pretzel topped with an egg. Chef Heidi Tunnell started baking in her Grandma's kitchen and still sources many ingredients straight from the family farm.