Back To Previous Page
Eugene's Best Special Occasion Restaurants
Published: January 25, 2022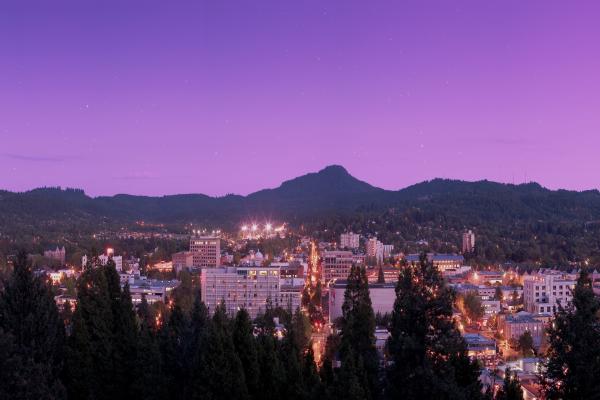 An important night out in downtown Eugene is enhanced with these fine dining experiences. From ambiance to incredible food, eat at a perfect restaurant for romance, celebrations and entertaining.
We've compiled a fine dining list for the discriminating diner — but with Eugene's prolific farm-to-table culinary scene, there are many more amazing restaurants to enjoy.
Beppe & Gianni's Trattoria
A long standing local go-to, Beppe & Gianni's Trattoria is both a popular business dinner destination and a romantic favorite. Enjoy classic Italian dining served by proficient waitstaff well-versed in the wine list. Set in a historic home, the restaurant features several intimate and elegant dining rooms, a small bar and outside patio dining. Just a few blocks from the University of Oregon's Hayward Field, this venue is often bustling, so plan ahead as seating is based on first come, first serve.
Cafe Soriah
The warmth of welcome, the spices, the flavors and the ambiance make the dining experience at Cafe Soriah one of-a-kind. This Mediterranean restaurant has been acknowledged as one of Eugene's most romantic destinations time and time again. Featuring a full bar and handcrafted cocktails, small plates, entrees and supreme pastries; every downtown Eugene visit should include a stop here. Reservations are strongly recommended.
Sabai Cafe & Bar
Located at Oakway Center, not far from Autzen Stadium and downtown Eugene, the Sabai Cafe & Bar presents Thai and Pacific Rim cuisine with thoughtful design and full flavor. A sophisticated, contemporary atmosphere that invites intimacy; Sabai excels at date night. The adjacent courtyard, Hyatt Place hotel and nearby high-end shopping can be combined for even more celebratory experiences (perhaps a fine jewelry selection at Skeie's?). Reservations are strongly recommended.
Ambrosia
Handmade pasta and delicious wine selected by an Ambrosia sommelier in this charming historic building in downtown marks many a special occasion. Reputed for their excellent wine collection and beautiful dining spaces, Ambrosia is popular for family gatherings, business announcements and celebrating with a recent University of Oregon graduate. The elegant bar and upstairs dining provide romantic elements, while company parties, congratulatory dinners and business entertaining are perfect in the banquet spaces. Reservations are recommended.
Party Downtown & Party Bar
Party Downtown showcases organic, locally sourced food and culinary creativity. Starting as the "Party Cart" food cart in a Eugene's Friendly Street residential neighborhood, the cart's Eugene vibe and local ethos drew an enthusiastic following. Today's brick and mortar downtown restaurant is open limited hours for dinner. Call ahead is required for the Party Downtown side of the establishment. The menu changes seasonally and is a great way to enjoy the flavors of the northwest in exciting and unexpected ways. Order the Kitchen's Choice dinner for a great overview. Celebrations that happen here, are definitely a "party".
The Vintage
If sweet and intimate describes your ideal date night, The Vintage creates that experience in the residential neighborhood bordering downtown. This former home-turned-restaurant offers cozy downstairs and upstairs spaces, artisan cocktails and fun shareable foods like cheese or chocolate fondue, crepes and gigantic sundaes. Tucked away at a table for two, this romantic restaurant will feel like your own very special secret. 
In the summer, the patio is a lush green space with fairy lights and sweet kiwi vines. Order a spicy passion fruit margarita and really heat things up. Reservations are not accepted; so plan on first come, first serve.
Rye
Between Eugene's Market District and the Oakway Center neighborhood, rye's menu is a sophisticated world tour of tastes from Greek to French and beyond. Even though the dinners are deeply satisfying on their own, the dessert pairings are the star of the show. Each delectable dessert is expertly paired with a spirit meant to accentuate the flavors. They offer eleven different dessert pairings which are the perfect way to finish an evening. There is a beautiful bar with authentic cocktails, and dimly lit booths and corner tables. Reservations are recommended.
Marché & Le Bar
Marché is one of Eugene's best-known culinary destinations. This French-inspired restaurant focuses on seasonal, market-fresh ingredients. A James Beard Foundation Award semifinalist for "Oustanding Restaurant 2019", Marché brings the same uncompromising quality that Chef Stephanie Kimmel started with more than 20 years ago.
Tucked in among upscale boutiques at the chic 5th Street Public Market, Marché is both romantic and perfect for entertaining clients. Start in the bar with a cocktail and oysters on the half shell. There are no bad options on this carefully crafted menu. Reservations are recommended. Proof of vaccination or negative test is requested for dining.
George + Violet's Steakhouse
Located on Main Street in Springfield, this upstairs restaurant is the perfect place for an impromptu surprise party or playing afternoon hooky. George + Violet's Steakhouse serves classic American fare based on a seasonal menu in a contemporary yet comfortable setting. With superb service and quality ingredients, a visit to this steakhouse will make a special day memorable. Reservations are recommended. 
Tavern on Main
Enjoy a fun, retro experience at Tavern on Main in Springfield. Throwback vintage cocktails and deliciously prepared dishes will class up every important occasion. Afterwards stroll Main Street with its varied boutiques, museums and antique shopping.