Back To Previous Page
Popular Water Skiing Lakes
Published: July 05, 2021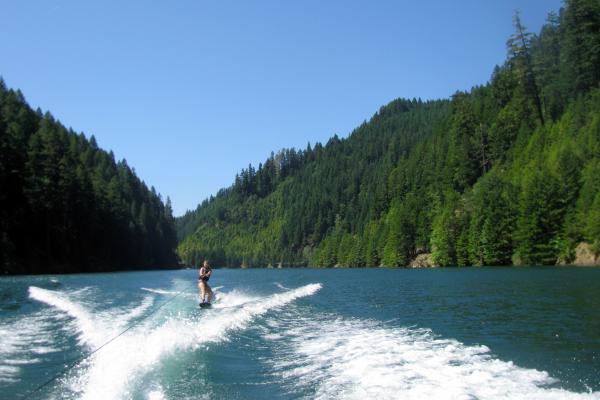 Do you feel the need for speed? We've compiled a list of some of the best places for powerboats, water skiing, wakeboarding, tubing and jet-skiing around the Eugene area. Launch your motorboat from one of the boat ramps at these speedboat-friendly lakes.
Be sure to check with parks and marinas before visiting to confirm boat ramps and marinas are open, water levels are safe for boating, and which park amenities are currently offered. Waterfront management may be handled by city, county, state or federal land managers and therefore subject to different permit requirements for parking, day use, boat ramps and/or safety protocols. 
Fern Ridge Reservoir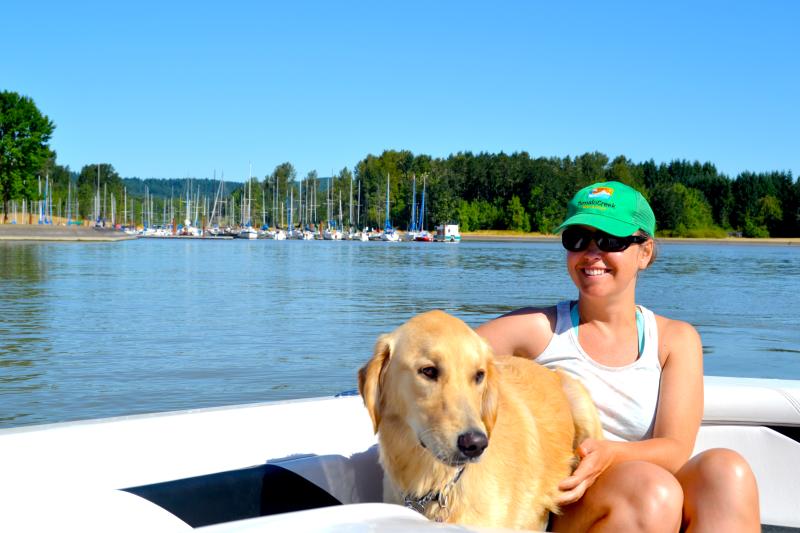 Fern Ridge Sailing by Sally McAleer

 

Fern Ridge Reservoir is the region's largest lake and the most popular destination for water sports. Just outside Eugene, near Veneta, Fern Ridge is easy to visit with many shoreline parks, marinas and campgrounds. Find moorage and boat ramps at Richardson Park Campground and Orchard Point Marina. You can also put in at Perkins Peninsula.

Because of the breeze that can scurry across its vast expanse, Fern Ridge is also a hub for windsurfing and sailing. Early mornings are the best time to enjoy the glassy water.
Dexter Reservoir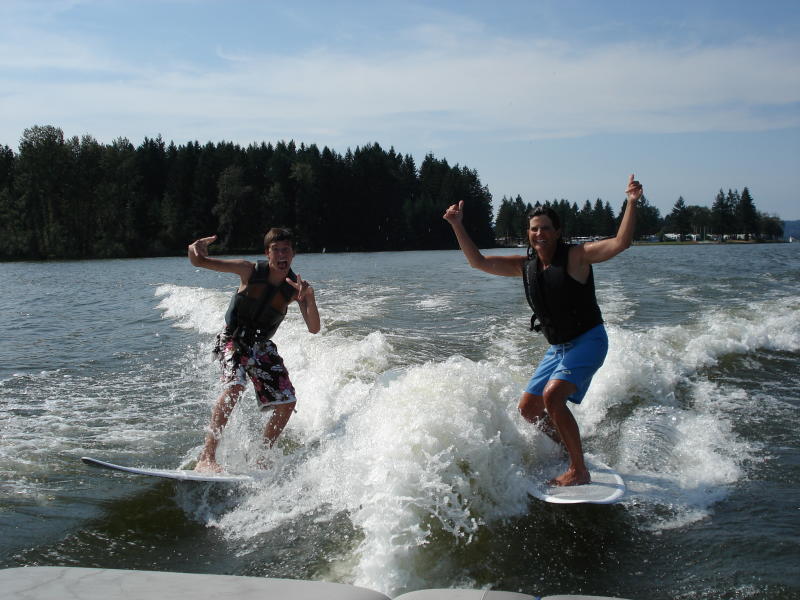 Water Sports at Dexter Lake by Blue Turn

 

Dexter Reservoir is located between directly below the Lookout Point Reservoir which is the next location on the list. This means that if one is busy, the other one is just a short drive away. Locals love Dexter for the water for water skiing which is usually gentle and has the view of a historic covered bridge on one side of the lake. 

Access the lake at either Dexter State Recreation Site or Lowell State Recreation Site. After a long day of play on the lake, head to the Dexter Lake Club Rattlesnake BBQ for some of the best food in the area. 
Lookout Point Reservoir
Lookout Point Reservoir is east on Highway 58 from Dexter Lake and is four times larger. If you really want space to take your speedboat full throttle, this is a great option. It is only a 35-minute drive to the lake from Eugene but the view of snow-capped peaks in the distance make it feel much further. 
You can put in at Black Canyon, Hampton Campground, North Shore boat ramp or Signal Point to enjoy the waters here.
Fall Creek Reservoir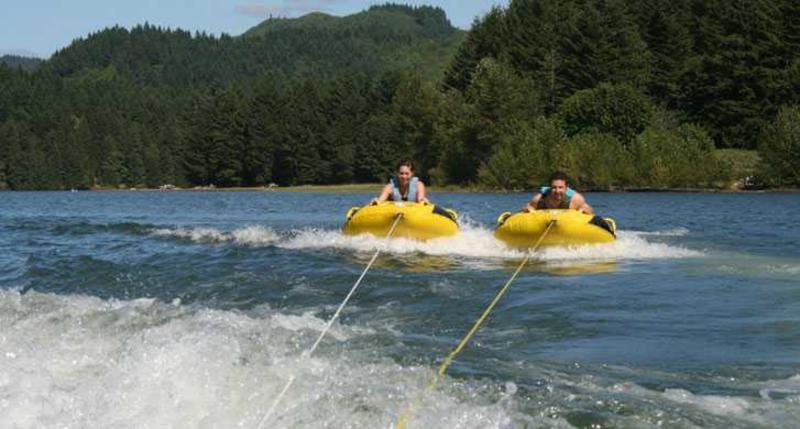 Fall Creek Fun by Chris Havel

 

Fall Creek Reservoir is also located near Lookout Point and Dexter Reservoir, just past another lovely historic covered bridge called Unity Covered Bridge. This lake is exciting to explore as it naturally has two water legs. One leg is long and wide (perfect for your powerboat) and the other is smaller. Both are surrounded by deep forests perfect for camping in for the weekend. 

Winberry Creek Day Use, Cascara Camprground and Fall Creek State Recreation Area are all places where you can expect to find a boat ramp. 
Dorena Reservoir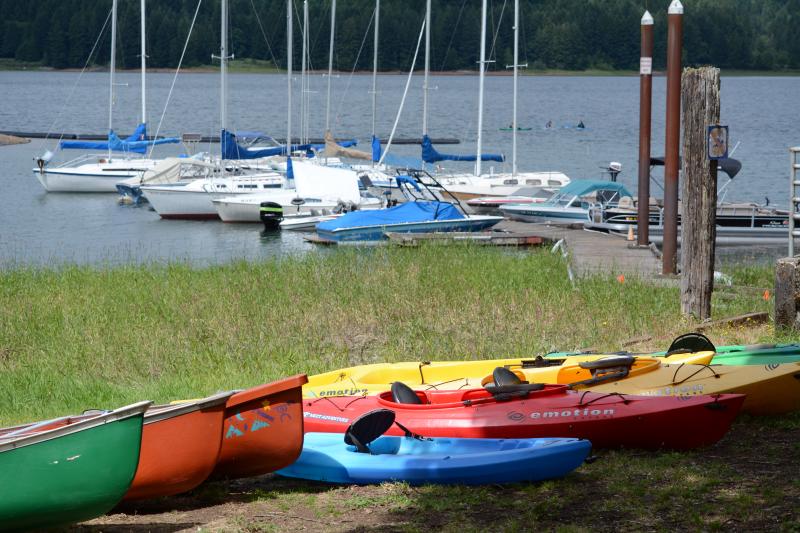 Baker Bay Marina Dorena Lake by Colin Morton  

Dorena Reservoir is located on the Row River and is not only great for water sports, it's also a wonderful place to see wildlife which visit the shores and soar overhead. Baker Bay is the only option for launching your boat but that means that all of the best amenities are located here. Summertime rentals and vendors make this a fun place to camp and a safe marina for your motorboat. For less crowds visit in the springtime or early fall.

The location of this reservoir make it a great place for enjoying a sunset on the water. 
Cottage Grove Reservoir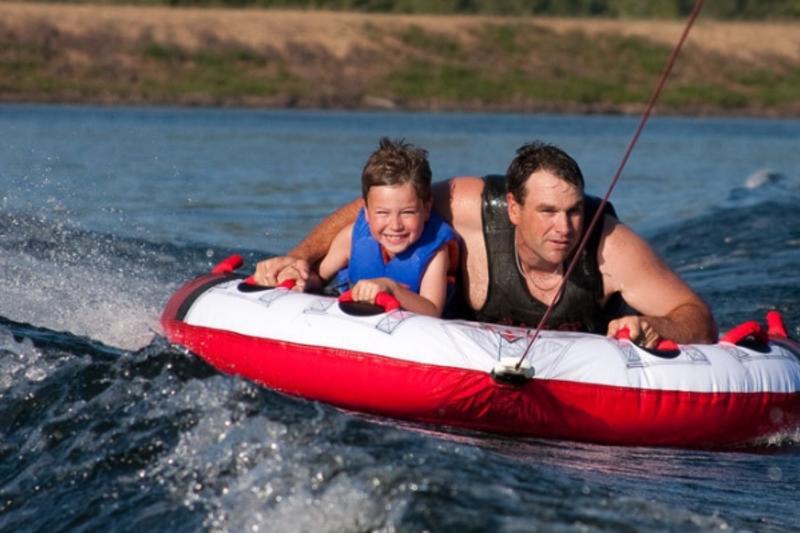 Tubing on the Lake by Katie Zolezzi

 

From the charming town of Cottage Grove, you can reach Cottage Grove Reservoir in under 15 minutes. There is a first-come-first-served life vest loan program on the honor system for a limited number of visitors at each of the sites where boats can launch. The two locations with boat ramps are the Lakeside Park and Wilson Creek Park on opposite ends of the lake.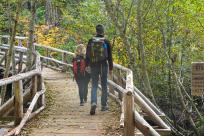 Most outdoor facilities and parks are operational again, but not all, so it is wise to plan ahead…
More
›
What is Algae Bloom?
When water levels are low and weather is warm, some still lakes, ponds and waterways can develop toxic algae. This green or colorful scum is harmful to pets and people — please don't swim, fish or recreate in water impacted with bloom.
While this condition can impact any body of water, our most vulnerable and popular water destinations to watch include Fern Ridge Reservoir, Dexter Reservoir, Dorena Reservoir, Fall Creek Reservoir, Hills Creek Reservoir, Cougar Reservoir, Cottage Cover Reservoir, Siltcoos Lake, Golden Garden Ponds, Walterville Pond and Odell Lake. Check with the Oregon Health Authority for current advisories.