Meeting planners are ready to get back to doing what they do best—hosting in-person meetings. All industry research indicates that the third and fourth quarters of 2021 are when most planners expect in-person meetings to return in some form. 
To prepare for the comeback of in-person events, the Eugene, Cascades & Coast Conventions team held a virtual FAM (familiarization) webinar for Oregon planners to answer questions, showcase the destination and our services, talk with an industry representative, and discuss meeting safely in two popular Eugene meeting venues.
Venue Spotlights
Venues in the region have developed social distancing protocols, created a variety of socially distanced room setups for their meeting spaces, and calculated socially distanced room capacities for the different setups. They have also increased cleaning and safety practices within their facilities and expanded their capabilities for hosting hybrid events. 
Lane Events Center

Juanita Metzler Interview at Lane Events Center
Lane Events Center presented during the webinar and gave Oregon planners insights into their property and their safety protocols. 
Lane Events Center's size allows for great flexibility in adapting to social distance protocols and planner requirements. With over 180,000 square feet of total rentable space and its largest exhibit hall being 37,000 square feet, they can arrange each of their 18 different spaces in a way that meets both safety guidelines and the needs of the planner. Theses large spaces, along with ample free parking, makes Lane Events Center well-equipped to host in-person events while following the necessary safety guidelines required at the time.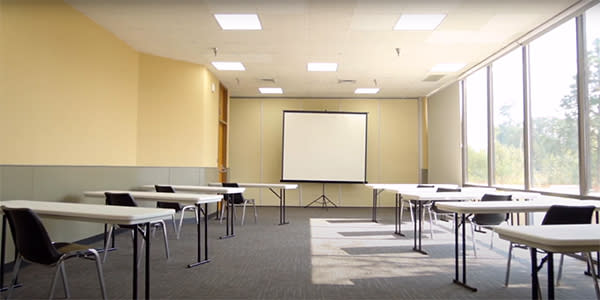 Lane Events Center Socially Distanced Classroom
Lane Events Center, like most venues, elevated their safety standards last year. Their on-site staff regularly cleans high-touch surfaces on a rotational basis. However, if the client wishes high-touch areas to be cleaned more often, Lane Events Center has the staff and resources to accommodate such requests. Most of Lane Event Center's facilities have air hand dryers and signage reminding people to wash their hands frequently and to stay six feet apart. Lane Events Center can recommend caterers that provide a variety of food options.
In 2020 when protocols allowed, Lane Events Center hosted several in-person meetings as well as dog shows and retail shows. Last summer, they even helped create and provide a series of drive-in movie events for local residents. 
Lane Events Center is also able to host hybrid events. They have upgraded their wi-fi and have an IT team that is able to work with the client one-on-one to make sure they have the proper amount of broadband needed for their event. For hybrid events that rely heavily on video, Lane Events Center can work with local partners specializing in video streaming and services.
Venue 252

Juanita Metzler Interview at Venue 252
Venue 252, a contemporary and unique venue located in Eugene, is an impressively versatile meeting facility with 20,000 square feet of total space. The building was once home to the Eugene Planing Mill and has been converted into an urban meeting venue that planners love, and attendees remember. The grand ballroom's 9,410 square feet can fit up to 280 guests with social distancing and designated dining groups. If the client wishes to increase the designated six-foot social distance, Venue 252 can lengthen the spacing to 10 feet with the capability to fit 100 people. Their 2,390 square-foot gallery space can fit 40 people with standard social distancing at six feet.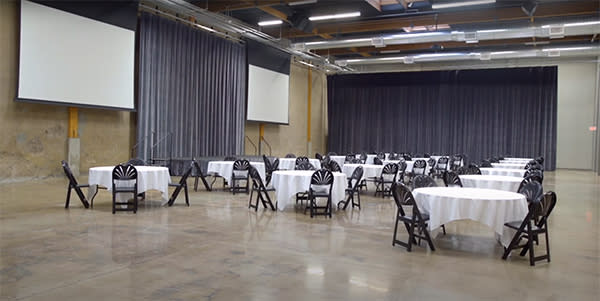 Venue 252 Distanced Tables
During events, Venue 252 has a designated staff member who is responsible for sanitizing the common, highly touched areas throughout the venue on an hourly basis. They also have multiple Oregon Health Authority approved safety signs spaced throughout the venue. However, if the client wishes to increase the sanitation protocols or customize the safety signage, Venue 252 can work with the client directly to create custom signs. In ensuring safety standards are met, Venue 252 makes sure any attendee or client entering the venue has been thoroughly informed and is comfortable with Oregon's safety protocols.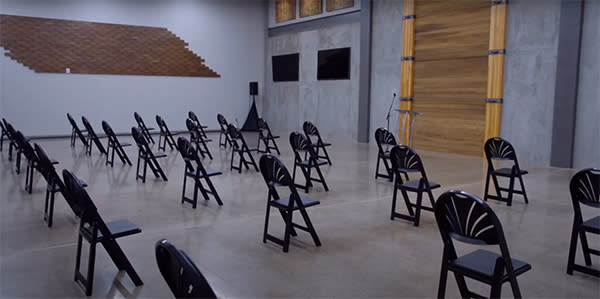 Venue 252 Distanced Room for Speaker
Venue 252 offers catering services with seasonal menus and fresh ingredients. Their ServSafe-certified chefs and servers provide exquisite cuisine and exceptional service. Planners can choose from a current menu or customize selections for their event. 
With plenty of free parking across the street and password-protected wi-fi, Venue 252 has all the right elements to make your next event vision a reality.
Industry
Terry Hopkins, a representative of the Oregon Restaurant and Lodging Association (ORLA), complimented the local venues and hotels on their attitude of innovation to meet safety and sanitation requirements. 
Formed in 1992, ORLA's current focus has been on helping local venues and hotels stay up to date on COVID-19 restrictions and on helping to ensure that events adhere to the governor-mandated guidelines. ORLA's goal is to be the voice of education and communication between the continually revised and updated procedures and the venues these procedures affect. If there are people traveling from other counties of Oregon or even from out of state to local events, it is in ORLA's best interest to make sure these people know what to expect when traveling to Lane County and using our facilities, hotels and restaurants. 
In 2021, ORLA looks forward to welcoming people back to Lane County's restaurants and venues and to helping ensure the continued safety of everyone involved.
Services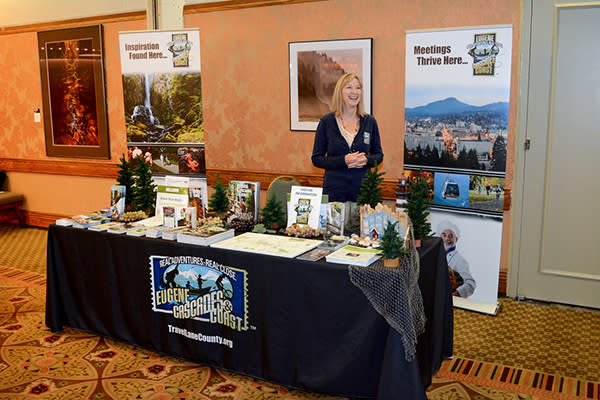 Convention Services Welcome Table
Our dedicated convention services team understands the challenges associated with assimilating all the safety requirements and then planning how to adapt your event to meet them. We want to assure you that we stay up to date on current safety guidelines and protocols and are here to help every step of the way. Whether it is venues, accommodations, transportation, catering, speakers, audio/visual, printing or other services, we are local experts and will help find the perfect choice for your event and help ensure it is safe for all.
After-hours activities are endless in our year-round playground and we can help put together a safe and unique itinerary that attendees will always remember. There is so much to do here—exploring the pristine natural landscapes, savoring Oregon's amazing culinary bounty, exploring world-renown Willamette Valley wine country, tax-free shopping and more.
Contact us and discover how we can help make your next event a success. Come meet safely and explore!
To watch the full webinar recording, click here.