Outdoor Recreation & Nature
Tackle feats you've never tried before... outdoor enthusiasts worldwide visit Oregon for the ultimate in hiking, mountain biking, boarding, birding, climbing, horseback riding, fishing, snow sports and sand dunes adventures.
Crest a mountain peak by bicycle, scale 200 feet (60.96 m) fir trees, cruise across sand slopes and camp by a tranquil lake deep in the old growth forest. Spot birds, animals and interesting plants. On the Oregon Coast watch for whales and sea lions.
Hire a guide to show you the Pacific Northwest's secrets close up. Or rent your own gear, get a good map and set out on the trails.
The Eugene, Cascades & Coast region offers an array of easily accessible outdoor adventures. With temperate weather year-round, this region is a natural destination for outdoor recreation. To purchase permits, get great tips and free maps, visit the Visitor Center in downtown Eugene.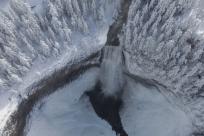 Sure, they're easy to visit in the summer – but intrepid road trippers who bundle up and visit…
More

Info

›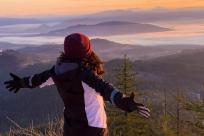 Bundle up, pull on a warm hat and boots that can handle the mud – you're going winter hiking!…
More

Info

›