New Year's Day was coming up fast and I decided that my daughter and I needed a quick getaway. Our requirements were simple—short drive, ocean views and a pool and hot tub. Driftwood Shores in nearby Florence immediately came to mind. Since I live in Eugene, Florence has always been a favorite day trip destination, but I had never stayed there overnight. Time to try something new to celebrate the new year!
After a scenic drive to the Oregon Coast, we checked into our small but comfortable oceanfront room at Driftwood Shores Resort. The view from our balcony was truly stunning – wide, uninterrupted beach and ocean views for as far as we could see, with the Heceta Head Lighthouse in the distance. I have stayed at numerous beachfront hotels over the nearly twenty years I have lived in Oregon (the coast is my happy place) and this was one of the top views by far.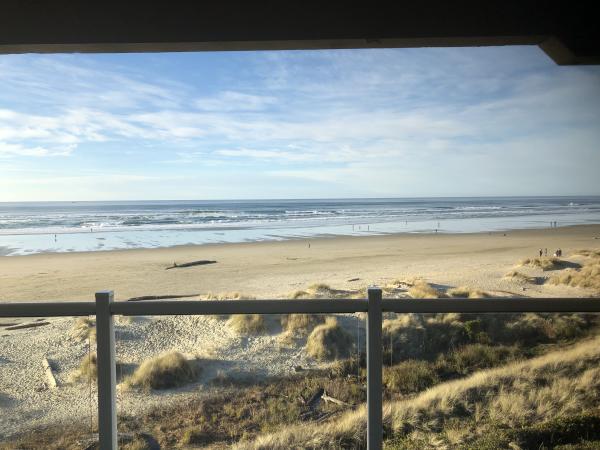 First, we took a long walk on the beach, looking for shells and crabs and dodging the waves. It was one of those perfect winter days on the coast—55 degrees, sunny and windless—that is made for a leisurely beach walk. 
Next, we decided to relax in the pool before heading out to dinner. My daughter Lucy thought she was a bit too old to play in the spray and play feature next to the pool, but the various misters and sprayers proved too tempting—apparently 14 is not too old after all! A family with two little kids came in shortly after us and the parents were able to enjoy the hot tub while the kids played in the spray area within view—what a great perk. The water in the pool was warm, refreshing and perfect for a few laps, and the hot tub was heavenly.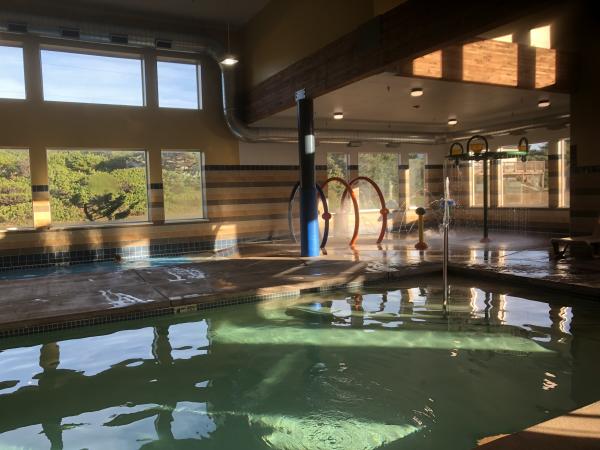 One of my favorite Florence restaurants, Bridgewater Ocean Fresh Fish House, was closed on New Year's Day so we decided to try Waterfront Depot, also on Bay Street in Historic Old Town Florence. We were warmly greeted by the hostess and seated within 10 minutes, despite not having a reservation. Though the restaurant was busy, the atmosphere was welcoming and relaxing with dark wide plank wood floors, high ceilings, a big, classic carved wood bar, soft lighting and mismatched wood tables. The menu offered lots of local seafood options as well as meat and vegetarian dishes.
The waitress was unfazed by my daughter's need to be gluten-free (she has Celiac) and made sure the kitchen knew about her dietary needs. We shared an appetizer of prawns in lime sauce that was tart and delicious—and more substantial than most shrimp appetizers. Lucy's salmon dish was fresh, well-prepared and she declared it "yummy." My dinner of mussels came in a garlic and white wine broth that I could have happily drunk as a soup, but instead sopped up with the plentiful homemade sourdough bread that came with it. A glass of King Estate Pinot Gris was the perfect complement to my meal and added a touch of New Year's cheer. We will definitely be going back to Waterfront Depot the next time we are in Florence.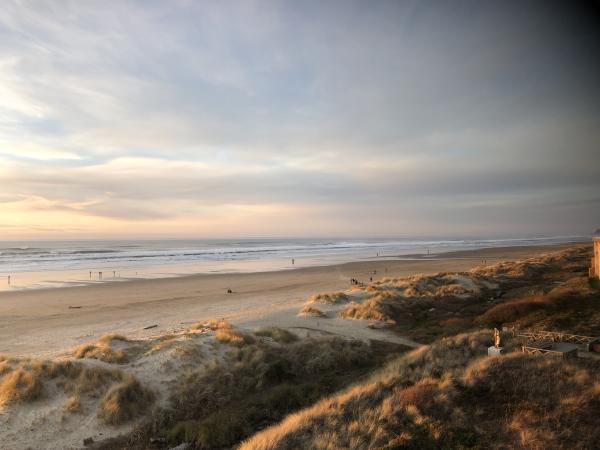 After a good night of sleep on comfortable beds we took one last walk on the beach then checked out of Driftwood Shores Resort. The front desk clerk recommended a good breakfast spot that would be gluten-free friendly, and so we headed to the Fresh Harvest Café on Highway 101. What a great recommendation! It's an old-fashioned café with local art for sale on the walls and a homey ambiance that serves great food to mostly locals. We both enjoyed omelets stuffed with cheese and peppers, served with real home fries and a gluten-free bun for Lucy.
Newly fortified, we headed to Historic Old Town Florence to window shop. From art galleries to bookstores to an entire store dedicated just to olives (All About Olives), Old Town is a great place to shop, and it's fun to look at all the historic buildings with old-fashioned false facades along Bay Street. We even found a few of the colorfully painted stellar sea lion statues that are placed around Florence as part of a public art project.
After several hours of browsing, we got a coffee and hot chocolate at River Roasters and watched the boats go by on the Siuslaw River. Then it was time to head home to Eugene. One night at the coast is never enough, but this visit felt satisfying and rejuvenating—the perfect start to the new year.