Back To Previous Page
Eugene's Best Urban Hikes
Published: September 16, 2022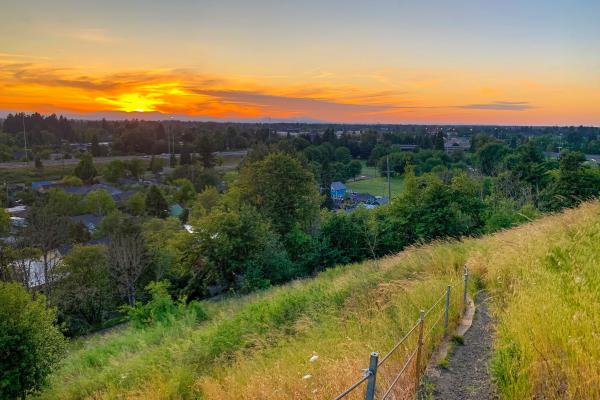 These top three urban hikes feel remote yet are just minutes from downtown Eugene. Escape to the shady trails for "forest bathing", walk through wide open meadows and emerge at scenic lookouts to soak up breathtaking views. Below are our suggestions for maximizing your hiking experience.
Spencer Butte
Spencer Butte (photo at top of blog) is one of Eugene's most popular hikes and takes on a whole new twist when you start at a lesser trafficked trailhead. 
Before - Fuel up for your hike with a hearty breakfast from Glenwood in South Eugene. 
Hit the trail - Park at the Fox Hollow Trailhead for a slightly longer and less populated hike to the summit. This section meanders through fern-covered forest before connecting with the main Spencer Butte summit trail - think Jurassic Park. After two miles, reach the top where you can enjoy 360 degrees of valley views from the tallest point in Eugene at 2,000 feet.
After - You may have heard the call of large birds of prey on your hike, now you can see those birds up close. Keep your camera out for a visit to the Cascades Raptor Center - one of the largest native raptor hospitals in the Pacific Northwest. Meet owls, eagles, hawks and more in this amazing rehabilitation center in the forest. Then, quench your thirst at Viking Braggot Southtowne where specialty beer is made using ancient recipes with a modern twist. 
Ridgeline Trail
Spencer Butte is just one section of the Ridgeline Trail that stretches across much of Eugene and includes approximately 2,000 acres of park space. There are 12 main trailheads but many places to jump onto the ridgeline and hikes can be customized in small or large chunks. 
Before - If you are going to enjoy Wild Iris Ridge Trailhead in full springtime bloom, stop by Bagel Sphere for authentic, hearth-baked bagels. Or swoop up some coffee and a hearty breakfast sandwich at Provisions South before hitting Mount Baldy from the Dillard East Trailhead. 
Hit the trail - There are so many ways to access the Ridgeline Trail. Check the map to find the option nearest you or hit each of the main trailheads to see the variety of landscapes surrounding our great city. Ribbon Trail Trailhead from Spring Blvd and 30th Ave towards Hendricks Park is one of the newest sections. 
After - Depending on how much of the Ridgeline you conquer, you just might be ready to eat everything in sight. To really nourish those muscles, grab a healthy and delicious Yumm bowl from every local's favorite - Cafe Yumm! Cafe Yumm has many locations in Eugene so no matter which trailhead you hop on, you're never far from a classic Yumm bowl. If you're not quite ready to call it a day, check out a film at Broadway Metro. Metro is the only independent movie theater in Eugene and has serious vibes for the cinephile. 
Mount Pisgah
Mount Pisgah beautiful location offering a variety of trails, landscapes and interactive education kiosks. 
Before - Grab a coffee and the city's best chocolate chip cookie at Washburne Café and take a walk through historic downtown Springfield. Sip as you stroll the area on a self-guided hunt for Public Art. 
Hit the trail - Pick your own adventure from the many trails. Follow a trail to the summit for grand views and to see a bronze sculpture featuring perfect viewing panels for summer and winter equinoxes and a topographic illustration of the peaks and rivers visible from the top on a sunny day. For an easier hike, tour the arboretum on trails through the water garden, incense-cedar forest and oak savannas where signs help visitors imagine the landscape as it was during the Kalapuya era as well as identify plants and wildlife in the park.
After - Return to downtown Springfield for dinner at PublicHouse. This thriving food mecca holds a taproom, whiskey library and four unique restaurants all located inside what was once an old church. The stained glass and spires make this setting even more interesting. 
Hendricks Park
Fill your senses at this 80-acre park which boasts hiking trails and a rhododendron garden with 6,000 varieties. Hendricks Park is a lovely place for a casual stroll. 
Before - Stop by Oolong Bar for a cold-pressed juice, kombucha or a loose-leaf tea. Get something caffeinated for a boost or ask for a soothing and calming beverage for your slow nature adventure. 
Hit the trail - Wander through the rhododendron garden trails for an experience that is pleasing to all of your senses. Head South to the forest hiking trails for longer hikes. Try the Wildflower Trail in Spring or the Oak Knoll Trail in Fall. Before leaving the hilltop, be sure to stop at Pre's Rock - a memorial for Eugene track star, Steve Prefontaine. 
After - While in the area, see one of the University of Oregon's fantastic museums. If open— enjoy world-class art exhibits at the Jordan Schnitzer Museum of Art — known for its Asian collection. Dive deep into the stories of Oregon at the Museum of Natural and Cultural History. Or just admire the UO's beautiful campus and tree arboretum. 
Skinner Butte
For a view of downtown Eugene, drive to the top of Skinner Butte, Eugene's oldest park, and explore the many trails crisscrossing the hillsides.  
Before - Before a jaunt in Eugene's oldest park, fill your belly at the oldest vegetarian restaurant in the city. Morning Glory Cafe delights locals and visitors alike with dishes like their Three Sisters. 
Hit the trail - The big O is visible just below the observation deck at the summit. Hike down from there and head west in search of the more hidden big E. 
After - Explore the 5th Street Public Market Alley just below the butte. Have a slice of pie and a coffee at Magpie or smell a variety of essential oils at the Mountain Rose Herbs Aroma Bar. All of this and more is located in a covered alleyway where live entertainment commonly occurs.