Back To Previous Page
Eugene's Best Urban Hikes
Published: June 14, 2021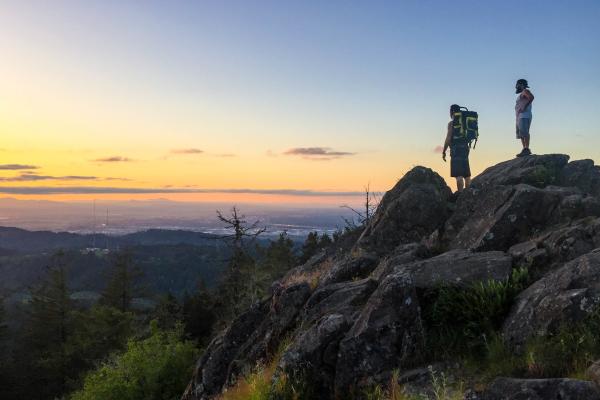 These top three urban hikes feel remote yet are just minutes from downtown Eugene. Escape to the shady trails for "forest bathing", walk through wide open meadows and emerge at scenic lookouts to soak up breathtaking views. Below are our suggestions for maximizing your hiking experience.
Please note: Businesses may be operating with limited hours or different protocols, please call ahead.
Spencer Butte
Spencer Butte is one of Eugene's most popular hikes takes on a whole new twist when you start at a lesser trafficked trailhead. 
Before - Fuel up for your hike with a hearty breakfast from Glenwood in South Eugene. 
Hit the trail - Park at the Fox Hollow Trailhead for a slightly longer and less populated hike to the summit. This section meanders through fern-covered forest before connecting with the main Spencer Butte summit trail - think Jurassic Park. After two miles, reach the top where you can enjoy 360 degrees of valley views from the tallest point in Eugene at 2,000 feet.
After - You may have heard the call of large birds of prey on your hike, now you can see those birds up close. Keep your camera out for a visit to the Cascades Raptor Center - one of the largest native raptor hospitals in the Pacific Northwest. Meet owls, eagles, hawks and more in this amazing rehabilitation center in the forest. Then, quench your thirst at Viking Braggot Southtowne where specialty beer is made using ancient recipes with a modern twist. 
Mount Pisgah
Mount Pisgah beautiful location offering a variety of trails, landscapes and interactive education kiosks. 
Before - Grab a coffee and the city's best chocolate chip cookie at Washburne Café and take a walk through historic downtown Springfield. Sip as you stroll the area on a self-guided hunt for Public Art. 
Hit the trail - Pick your own adventure from the many trails. Follow a trail to the summit for grand views and to see a bronze sculpture featuring perfect viewing panels for summer and winter equinoxes and a topographic illustration of the peaks and rivers visible from the top on a sunny day. For an easier hike, tour the arboretum on trails through the water garden, incense-cedar forest and oak savannas where signs help visitors imagine the landscape as it was during the Kalapuya era as well as identify plants and wildlife in the park.
After - Return to downtown Springfield for dinner at PublicHouse. This thriving food mecca holds a taproom, whiskey library and four unique restaurants all located inside what was once an old church. The stained glass and spires make this setting even more interesting. 
Hendricks Park
Fill your senses at this 80-acre park which boasts hiking trails and a rhododendron garden with 6,000 varieties. Hendricks Park is a lovely place for a casual stroll. 
Before - Stop by Brew Dr. Tea Company in downtown Eugene for a cup of tea or kombucha. Choose from over 100 loose leaf teas with the help of their tea wall where you can smell each tea before ordering. Be prepared to fall in love with something unexpected.
Hit the trail - Wander through the rhododendron garden trails for an experience that is pleasing to all of your senses. Head South to the forest hiking trails for longer hikes. Try the Wildflower Trail in Spring or the Oak Knoll Trail in Fall. Before leaving the hilltop, be sure to stop at Pre's Rock - a memorial for Eugene track star, Steve Prefontaine. 
After - While in the area, see one of the University of Oregon's fantastic museums. If open— enjoy world-class art exhibits at the Jordan Schnitzer Museum of Art — known for its Asian collection. Dive deep into the stories of Oregon at the Museum of Natural and Cultural History. Or just admire the UO's beautiful campus and tree arboretum.