Back To Previous Page
Eugene-Springfield Neighborhoods
Published: December 08, 2021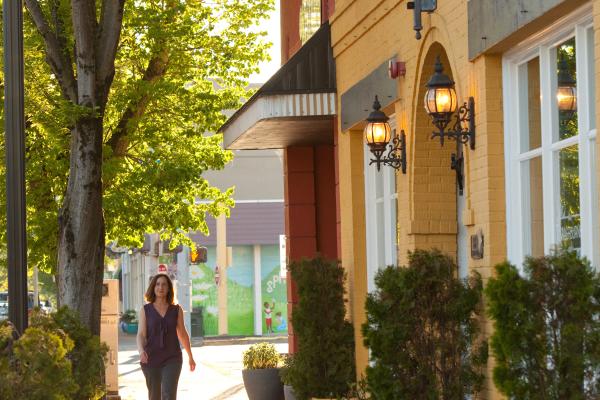 Explore all the neighborhoods that comprise the Eugene-Springfield area and just beyond.
The Market District
Eugene's artsy and exciting Market District is your destination for top attractions and trending styles. Shop the Nike Store, pick up a coffee from Magpie and a French pastry from Provisions, buy a new bag from Will Leather Goods, and find the perfect sporty, yet professional attire at Title Nine. Layer it over something special from Freudian Slip. From local gifts at Made in Oregon, to delicious chocolates from Euphoria, to a bouquet of stunning cut flowers at Rhythm & Blooms, you'll be able to treat loved ones to a little remembrance. And stop in Elephant's Trunk for toys for the kids!
The Market District is your destination for shopping, the best business lunch in town, tasting local Pinots, overnight romance and a stroll along the riverfront. From this central location, you can get to downtown Eugene's Hult Center, Autzen Stadium, Mathew Knight Arena, Hayward Field and the University of Oregon campus within ten minutes or less.
Downtown Eugene
At the heart of Eugene, downtown is anchored by the Hult Center for the Performing Arts, with everything onstage from local opera to national headline comedy. Multiple theaters are clustered in downtown, from a boutique movie theater to historic stages attracting musical talent from around the world. Experience downtown Eugene by trying a wild flavor at Voodoo doughnuts in Kesey Square, touring Civic Winery's amphora wine production, and wandering the colorful and historic Saturday Market. Order a custom hat from the Northwest Hat Company, gift shop world treasures from Mosaic Fair Trade and pick up a vegan lunch from Kiva Grocery & Deli. With LTD's public transportation hub at its center, downtown Eugene is your base camp for region-wide conferences, large events and business travel. 
The Whiteaker Neighborhood
This eclectic neighborhood is fiercely independent. Here you will find the "fermentation district" housing craft breweries, spirits and urban wineries. Jam in a music session, watch artists at work, try your hand in a print shop, and stay at a local hostel... but in doing all things, show respect for the neighbors by staying off private property and parking with courtesy — in fact riding a bicycle here or taking the bus is the best way to visit. The Whiteaker Neighborhood is a great destination for an afternoon of discovery, rambling the neighborhood to appreciate pop-up art, shop a boutique store or eat some amazing food at a local eatery. And any visit must include stopping by Eugene's largest regional brewery, Ninkasi. Their Better Living Room offers inside and outside dining, right at the heart of the district.
Mid-Town & The Pearl
Proximal to downtown Eugene, "Mid-Town" and "The Pearl" is your destination if you are wanting really good fish and chips, a cold craft beer, or some classic barbecue. Many of the shops, restaurants and professional offices are housed in historic homes converted to storefronts. The terrain is fairly flat, crisscrossed with bicycle routes linking residential neighborhoods, parks and swaths of local businesses. Relax at the Pearl Day Spa; pick up an ice cream treat from Mandy's; and then browse the jumbled, packed and has-everything Hiron's drug store for Duck gear, candy and gag gifts.
South University Neighborhood (SUN)
On the south side of the University of Oregon campus, this primarily residential neighborhood is an attractive place for cycling, running and hiking. The SUN district is mostly a quiet portion of town, but energy rolls through here like a tidal wave when there are games, concerts and events at Hayward Field or Matthew Knight Arena. Just like President Obama did, pick up an ice cream cone from Prince Pucklers and enjoy a stroll. Visit Hayward Hall for a magnificent museum display of tributes to Eugene's running heritage.
South Eugene & Friendly Neighborhood
From books to bicycles, South Eugene has a robust collection of delis, markets, dining and small stores all along Willamette Street and in a few neighborhood shopping centers. Sip a cup of the famous tomato soup from Glenwood, shop for birding supplies at Wild Birds Unlimited or try a braggot, a honey-based ferment, at Viking Braggot Southtowne. At the far south end is the popular hiking trail going up Spencer Butte, plus there are many trailheads to the Ridgeline trail system all along the edges of the community. Lane Community College is also located here. Toward the west is the Friendly Neighborhood, with its collection of local eateries and shops. 
North Eugene's Oakway / Ferry Street
North Eugene's Oakway Center / Ferry Street Bridge area and the Gilham Neighborhood are a mix of residential and business. Ferry Street Bridge is close to the University of Oregon's Autzen Stadium and Alton Baker Park which links cycling paths, running trails and parklands with Eugene's Market District. Visit the Eugene Science Center, then enjoy high-end shopping at Oakway Center. There are plenty of great dining options too! Further north, Crescent Village is another delightful enclave of great dining and shopping.
Coburg
This tiny historic town is so close to both Eugene - Springfield, that we included it as a neighborhood. Not only is Coburg's architecture an attraction, but its antique storefronts draw shoppers from across the region. Come browse the collectables and quilts, along with farm chic goods at Farm Fancy — known for their excellent seasonal wares. Dine on scrumptious pizza at the Coburg Pizza Company, and then head out from here to explore the beautiful agricultural landscape.
Springfield, Main Street
Just across the bridge, Springfield's historic Main Street neighborhood is surprisingly close and definitely visit-worthy. Stop by the Springfield Area Chamber of Commerce's visitor center, then proceed to Dorris Ranch, an active hazelnut farm right on the Willamette River with great hiking and cycling paths. Return to Main Street for lunch — Plank Town Brewing Company is a favorite, or enjoy the food variety from multiple restaurants at PublicHouse just a few blocks over. Throughout the downtown area, look for tributes to "The Simpsons" TV show, enjoy the many outdoor murals, explore the local museums and art galleries. Main Street is a hub of antique and boutique shops, plus you'll even find a distillery and a farmers' grocery market! A couple of other tips: nearby is an axe-throwing lounge, an escape room, and a furniture showroom and warehouse that produces gorgeous pieces out of reclaimed wood —ask for a tour!
And more nearby communities
Within 30 minutes of Eugene-Springfield, there are even more small communities worth exploring. Creswell and Cottage Grove to the south offer charming shopping and dining options along historic Main Streets. Pleasant Hill and Lowell to the east are small, mountain communities that are close to great trailheads and outdoor recreation. Veneta and Junction City are west of Eugene are offer birding, cycling and wine country.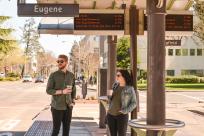 Want to road trip but don't have a car? Explore the region beyond Eugene using public…
More
›