Back To Previous Page
Guide to Eugene Food Truck Pods
Published: May 26, 2022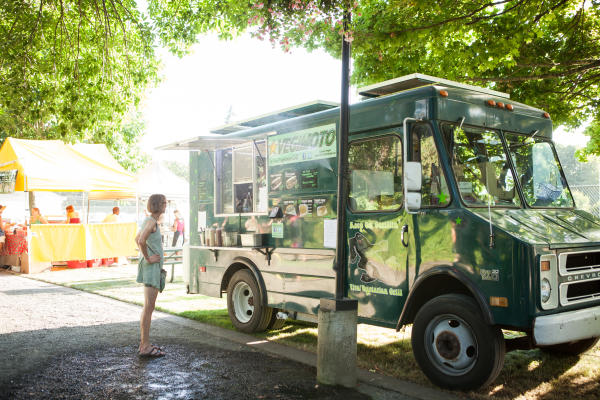 From street tacos to vegan wraps, Eugene's food trucks and food carts offer casual culinary excellence. These small, mobile vendors are often homegrown start-ups that develop popular followings. Food cart owners tend to source local, fresh ingredients daily. Ordering from a food cart is a great way to enjoy Eugene's local food scene.
Many of the carts are clustered in "pods" adjacent local breweries or in community plazas near downtown. Food carts are also found at many special events and festivals as well as the Saturday Market. Because food trucks are mobile, we recommend checking their Facebook pages or calling ahead to confirm both their location and hours.
Below we've highlighted the best food truck pods in Eugene - Springfield. 
beergarden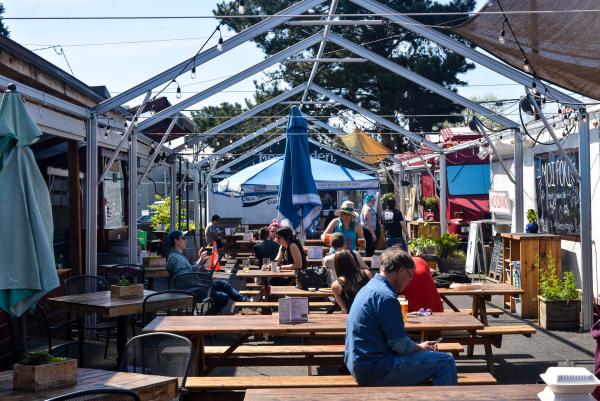 beergarden may be the best place to enjoy a cluster of food trucks in Eugene. There is more to love here than just the beer (42 rotating taps and hundreds of bottles of craft beer to choose from). In the summer, this outdoor space is cool, pet-friendly and often hosts live entertainment on the small stage. Even during the winter, this is a popular hang spot thanks to covered seating and heaters to keep it toasty. The food trucks here are varied and delicious making it possible for everyone to find something they will love. 
Best Bet: Lani Moku Grill: Authentic Hawaiian kine grinds. 
What's nearby: Sweet Life Patisserie, Gray's Garden Center, Glass House Coffee Bar and Skinner Butte.
This cluster of food trucks only happens on Saturdays in the downtown Eugene park blocks. Varied cuisine is available here. Some of the food trucks here have been serving the market for many years. Sit with your food and enjoy live entertainment on the market stage or wander through the many booths with a refreshing beverage. 
Best Bet: Irie Jamaican Kitchen -  serving the bold flavors of braised oxtail, ackee + saltfish and so much more. 
What's nearby: Hult Center for the Performing Arts, Mural Tour, The Shedd and McDonald Theatre
8th & Olive Food Truck Pod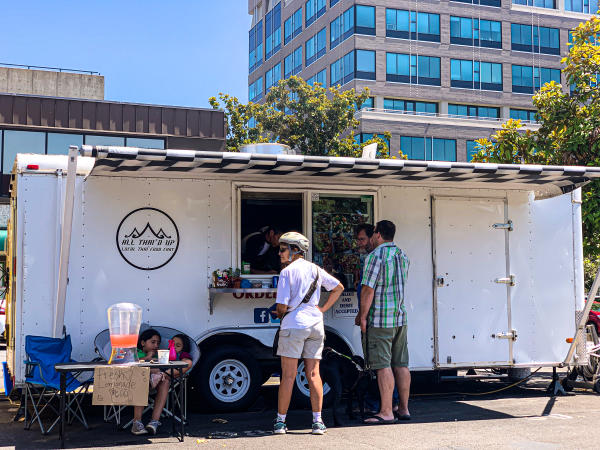 Conveniently located in downtown Eugene, this food truck pod attracts the local lunch crowd. Rain or shine, residents flock here for the international offerings. Picking the right food truck from this collection is tough, but luckily there is no wrong answer. Each small business is owned by passionate chefs excited to share their creations. 
Best Bet: All Thai'd Up -cooked-to-order noodles, stir-fries, curries and more. Longest running truck at this location. 
What's nearby: Hult Center for the Performing Arts, Mural Tour, Saturday Market and The 5th Street Public Market
Kesey Square Food Truck Pod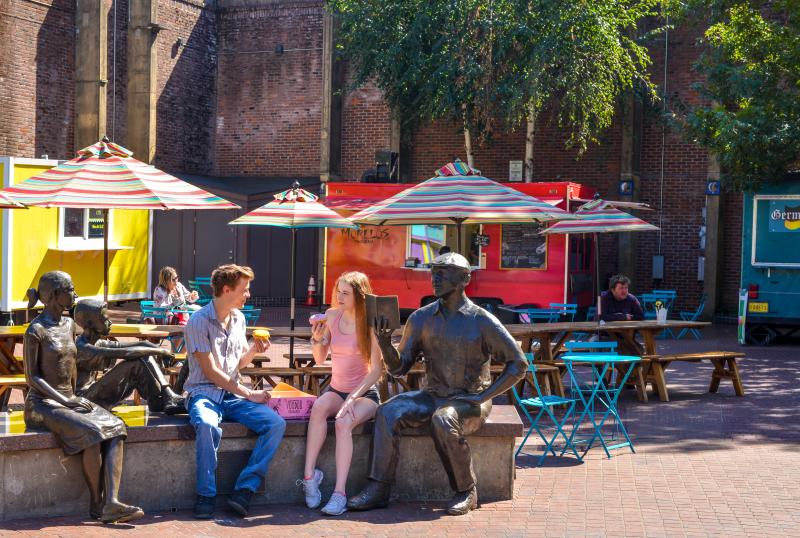 Right in the middle of the city action is this small pod. One great thing about food truck pods is the sense of community that is inherent. Nowhere else exemplifies that communal feel as well as Kesey Square. In the warmer months enjoy public art, live music and occasional vendors. Kesey Square is perfect for a quick lunch. Grab a sweet treat after at Voodoo Donuts right next door. 
Best Bet: Abi's Philly Cheesesteak Company with German sausages and mac & cheese. 
What's nearby: Voodoo Donuts, Actor's Cabaret of Eugene and McDonald Theatre.
The Friendly Garden 
Friendly Street might truly be the friendliest place to grab some food cart grub. This pod sits in a quiet neighborhood on the southwest side of College Hill. Bring the dog and the kids and relax with the rest of the Friendly Street community while you enjoy some heavenly bites and an excellent cider selection from a local cider truck. 
Best Bet: Bartolotti's Pizza Cart - Pies and stromboli fresh and hot. 
What's nearby: J-Tea tasting room, Wayne Morse Ranch, Moss Crossing Dispensary
Oakshire Brewing
One of Eugene's favorite breweries also has some of the best food trucks. Grab a beer (or glass of wine next door at Eugene Wine Cellars) and take your pick of food trucks offering amazing eats in the Whiteaker Neighborhood. Oakshire is the perfect place to refuel after a day of casual riding on the Ruth Bascom bike path or kick-pushing at the WJ skatepark. Outdoor seating makes this a great summer spot.
Best Bet: Bounty Meat & Cheese with generous cheese boards, homemade soups and fresh salads
What's nearby: Eugene Wine Cellars, Wandering Goat Coffee, WJ Skatepark and Owen Rose Garden
Coldfire Brewing Co.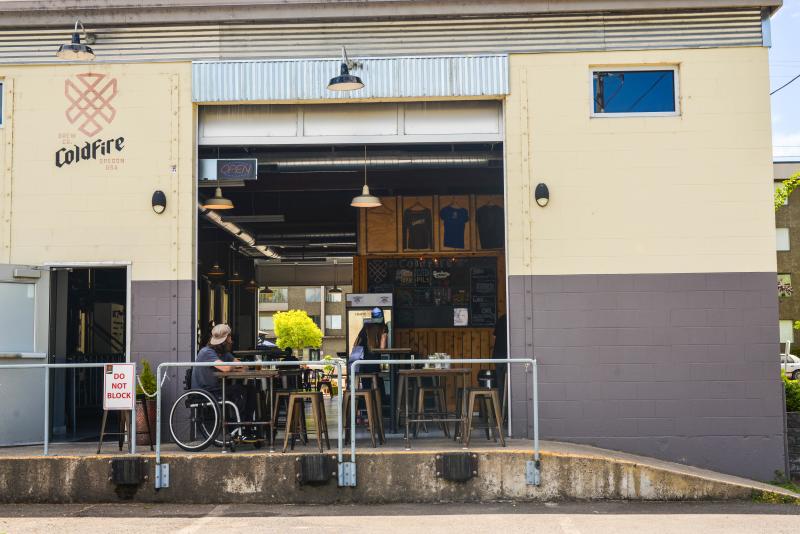 Coldfire Brewing Eugene by Melanie Griffin

 

Coldfire Brewing sits just beyond the Market District near to the riverfront and serves European-style beers brewed with Northwest ingredients. Although this brewery offers its own limited food menu, they also host a number of truly stellar food trucks. Grab a flight and a seat on the patio or play a game from their collection inside. Just don't miss their Soleil Melange sour blonde ale on a sunny day. 

Best Bet: Yardy - Chef Isaiah Martinez creates food that is market-driven and West Indian inspired. Don't miss the fried chicken. 

What's nearby: Riverfront Park, Ruth Bascom Bike Path, Skinner Butte and the 5th Street Public Market
Graffiti Alley Food Truck Pod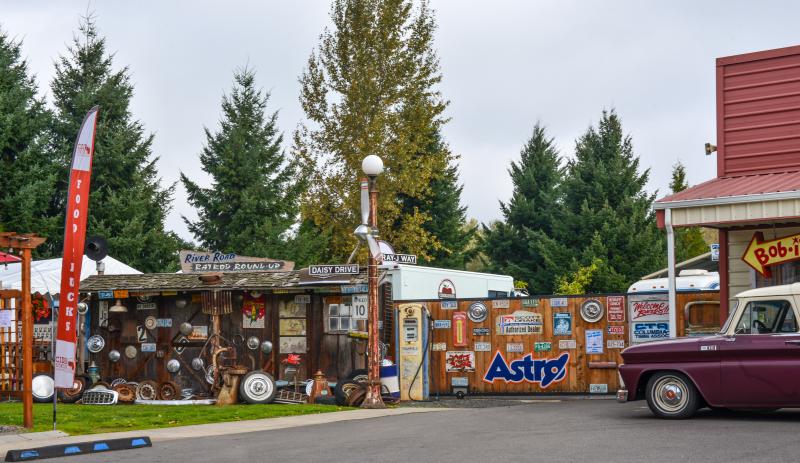 Outside of the city center is this great River Road dining option. The food trucks sit beside a truly unique auto parts store called Graffiti Alley which is full of classic charm. The area is complete with picnic tables and plenty of Instagrammable features. Since this pod is in a more suburban setting, the carts are only open on weekends and evenings when the hungry neighbors return from work. There is a variety of food styles offered here and a popular cider cart as well!
Best Bet: Ciderlicous Hard Cider Tap Cart - truck with a plethora of delicious ciders for cider experts and the skeptic alike. 
What's nearby: West Bank Bike Path, Delta Ponds, Valley River Center (via bike path)
Other Great Food Trucks
Here are a few more popular solo food trucks worth tracking down for lunch:
If you are a food truck fan, be sure to attend the annual Eugene Food Truck Fest at PK Park. Enjoy live music, family activities and a huge selection of tantalizing dishes offered by dozens of area food trucks. Go with a large group of friends, then share your plates so that you can taste a little of everything. This popular event benefits the Eugene Mission.