Oregon has an extensive health food store heritage with thriving co-ops and natural food stores. Since the 1970s, the Kiva and Sundance Natural Foods have been Eugene's original and primary local foods grocers. Specializing in vegan, vegetarian and organic foodstuffs, both are venerable landmarks of the community.
Below are the must-visit natural food stores for any true health food fan.
The Kiva
The Kiva started as a '70s bookstore and mini health food store/quasi restaurant, catering to Eugene's original hippie community. Today, the tiny shop remains a local favorite in downtown Eugene focusing on organic and primarily local food. Pop in here for a local Nancy's yogurt or Toby's hummus. They offer daily soups and salads to go, plus you can order for curbside pick up or delivery.
A section of the Kiva's mural by Colin Morton

 
Sundance Natural Foods
A landmark local business from the early '70s, Sundance is the epitome of the boutique, local health food store experience. Along with healthy food brands, bulk bins and fresh produce, the staff provides helpful information finding those unusual grains or body care products that you are seeking. Their carefully chosen produce is always fresh. The parking is limited here, so walking or riding your bike to the store is encouraged. Currently their hot line and salad bar is closed but some pre-packaged lunch items may be available, just ask. During this time they are also offering remote shopping online, so you can pre-order through their website and pick up in front.
Red Barn Natural Grocery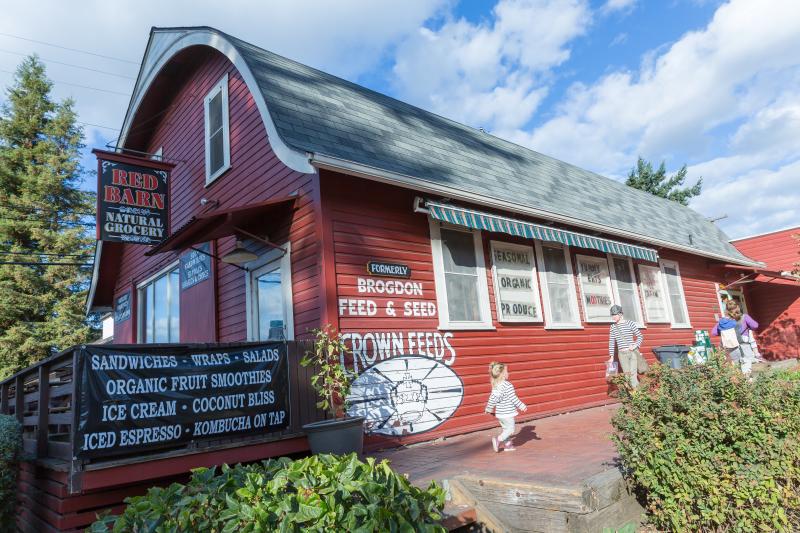 Red Barn Grocery by Joni Kabana  

Since 1982 the visually iconic Red Barn grocery store has presided over the Whiteaker neighborhood, supplying its artsy community with artisan products, craft beers and natural products. All their produce is 100% organic, and always local when available. Visit the juice bar, enjoy a scoop of Luna & Larry's Coconut Bliss ice cream or pick up lunch at their deli. This is a great source of vegan products.
Friendly Street Market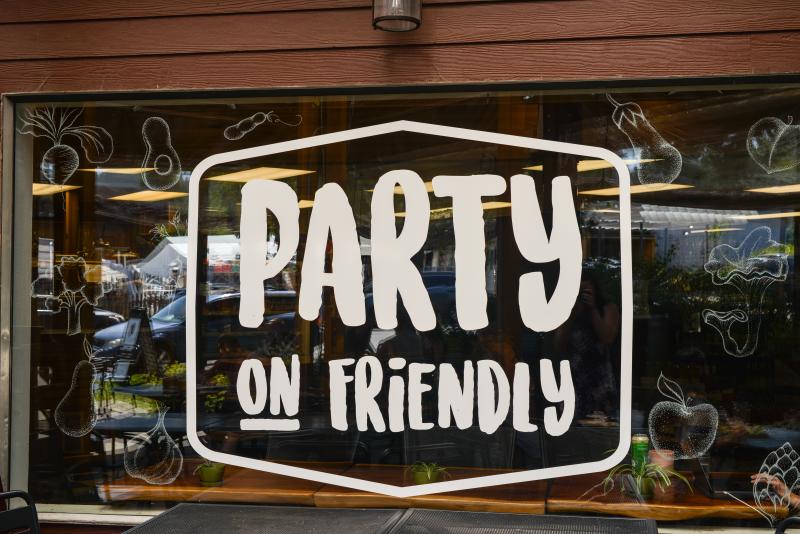 Party on Friendly by Melanie Griffin  

Friendly Street Market is everything a health food market should be. They have the best essentials plus kombucha on tap, an outdoor patio and a deli that is actually an amazing place for foodies — Party on Friendly. Party on Friendly is the third location of the "Party" family of restaurants. You should never shop hungry so grab a coffee or beer and a treat from the deli before strolling the aisles. 

Also Party Downtown has a delightful selection of gourmet items to take home too!
The OG Corner Market
This tiny market place is more like a farmers' market open seasonally with organic, fresh local produce and artisan pantry staples. A boon to West Eugene, this casual store is the place to shop for an inspired farm-to-table meal. The OG Corner Market is an especially popular place to grab your harvest pumpkin in the fall. 
Hummingbird Wholesale
Tucked into the community-inspired Stellaria Building, Hummingbird Wholesale offers a retail storefront and shady patio. They sell bulk and packaged nuts, nut butters, honey, oils, grains, pasta, dried fruits, spices, tea carob and chocolate. Their hours are limited but you are likely to find their products at many of the other stores listed here.
Camas Country Mill Store & Bakery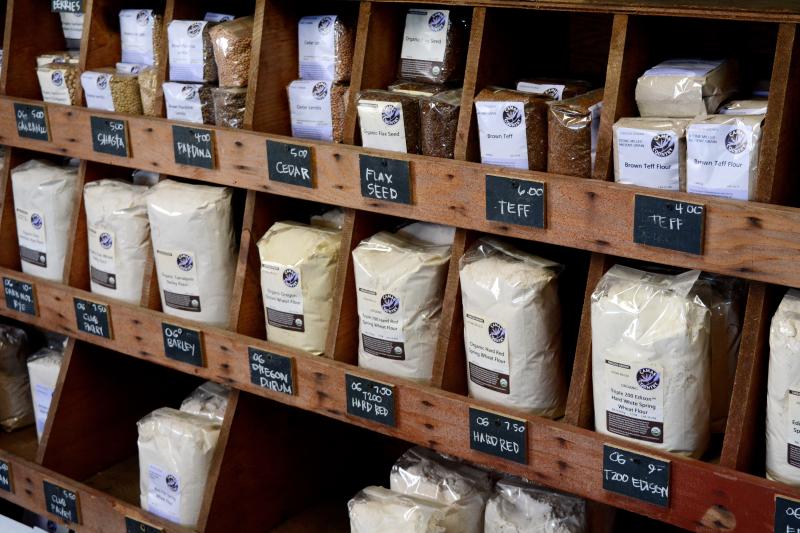 Camas Country Mill Flour in Junction City by Colin Morton

 

Head out into the country and grab some locally grown and milled grains from the Camas Country Mill Store & Bakery. This is where Eugene's finest bakers and pasta-makers come to get their grains. Grab some cookies or a little lunch to pair on a picnic with wine from one of the regional wineries. 
Evergreen Nutrition
Not really a health "food" store, but Evergreen Nutrition has the same vibe if you are looking for supplements, vitamins and homeopathic remedies. Talk to knowledgable staff and stock up on all the hard-to-find alternative options.
SeQuential Biofuels
SeQuential Biofuels, styled as a gas station convenience store, is a mini-mart experience like no other! Pop in and discover that it is possible for local and sustainable to be quick and easy. Enjoy locally roasted coffee, decadent desserts, healthy road snacks and kombucha on tap — all under a green living roof. 
More Great Food Stores
Capella and the local supermarket chain, Market of Choice, stock large varieties of organic, local and sustainable products alongside some conventional items. Natural Grocers and Whole Foods Market have also joined Eugene's grocery and natural food stores.
Select fresh fish straight from Florence boats at both the Fisherman's Market and Newman's Fish Co. Talk directly to the butcher at Benedetti's Meat Market or Long's Meat Market. 
Explore regional beverage and food trails showcasing local farms, artisan industries and locavore dining.