As the snow starts to melt in the Cascades, springtime in Oakridge is invigorating with its lush greenery, rushing creeks and frisky wildlife. This is your destination for amazing birding, fishing and waterfalls!
While the towns of Oakridge and Westfir are likely to be snow-free, be prepared for lingering snow as you travel further up the mountains. During the spring shoulder season the weather can fluctuate dramatically and quickly. While the day may start sunny and warm, it may wrap up with snow flurries so wear layers, carry chains and always pack along food and water. Willamette Pass may still be offering spring skiing and snowshoes may still be a good idea when hiking to waterfalls. Check road conditions and weather reports before heading out.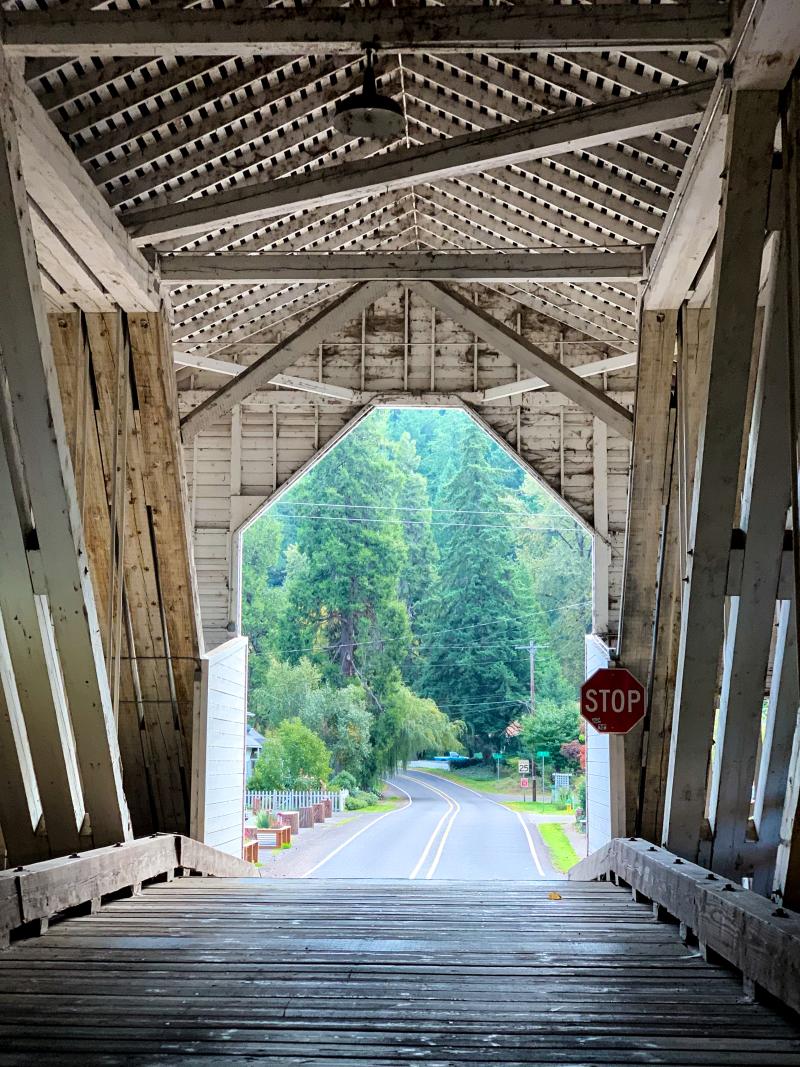 Drive through the historic Office Covered Bridge in Westfir. Photo by Melanie Griffin
Oakridge is renowned for its fantastic mountain biking trails — but spring is not the time to ride on the trails. Wet and muddy conditions make the trails vulnerable to damage, rutting and erosion. So this trip, leave your bike at home and instead scout out trails on foot for future epic rides when the trails are dry. Get excited planning, and take a selfie in front of Oakridge's mountain biking mural located on E 1st & Ash Street.
Birding
Birding is growing in popularity as it is a serene and solitary pursuit — and Oakridge is an excellent birding destination. The area is known for spotting Northern Spotted Owls, Great Gray Owls, Harlequin Ducks, Mountain Quail and Black Swifts, plus many more raptors, woodpeckers, hummingbirds and river birds.
Some great bird watching spots include the Willamette Fish Hatchery Interpretative Trail, Wren Loop and the Buckhead Interpretative Trail. You can also observe wetland activity at the Mill Ponds, Oakridge Sand and Gravel Ponds and below Hills Creek Dam. Bring your binoculars and be prepared to settle in for a meditative experience.
Fishing
Fishing guides will take you to the best fishing spots around Oakridge and Westfir. The North Fork of the Willamette River runs through here, and the region is crisscrossed by many creeks and streams. Be cautious as water channels are at capacity, cold, and moving quickly. You'll find the most success catching spring trout in warmer pools and slower sections of the creeks and river. 
Prep for your fishing trip at outfitters in Eugene or stop in at Ray's Food Place in Oakridge to talk directly with local anglers. At the Willamette Fish Hatchery tour the facility for an educational preview (great for kids!) before casting out a line.
Chasing Waterfalls
The most famous waterfall near Oakridge is Salt Creek Falls with its dramatic single plunge. Other spectacular falls include Diamond Creek Falls and Salmon Creek Falls, but there are other lessor known falls in the area. Track them down along the highway or hike along river banks to discover spring's enhanced water flows.
Explore Town
Finish any adventurous day with some relaxation in Oakridge. Turn off Highway 58 to discover the historic uptown section with its small businesses and dining. Here two craft beverage establishments are the star attractions — Deep Woods Distillery serving handcrafted mini-cocktails and the 3 Legged Crane pouring British ale and dishing up your favorite pub food. Take time to peek in the Oakridge Art Council's art gallery to see displays by local artists.
Stay Overnight
Turn your mountain ramble into a spring break getaway by staying in Oakridge or Westfir for two to three days. With a slower pace, you'll be able to enjoy more of nature and spend more time bird watching, hiking, fishing and soaking up nature. Westfir Lodge is home to the Cascades Outdoor Center offering guided activities from snowshoeing to river rafting.