Looking for winter fun close to Eugene? Snowshoeing in the Cascades is a perfect option for a day trip, or weekend getaway.
Last weekend, I spent the entire weekend snowshoeing around Oakridge, Oregon! One day, we explored Salt Creek Falls and the next completed a section of the Pacific Crest Trail (PCT).
Day One
Salt Creek Falls observation area is closed in the winter, but you can still snowshoe to the see the waterfall -Oregon's second highest waterfall at 286 feet (87 m)! We started by parking at the Salt Creek Falls Sno-Park, clearly visible from the road. You will need a Sno-Park pass to park here.
After getting geared-up and using the vault toilets on-site, we headed to back out towards the road and turned left at the gated trailhead. This hike in is just under a mile with extraordinary snowy views!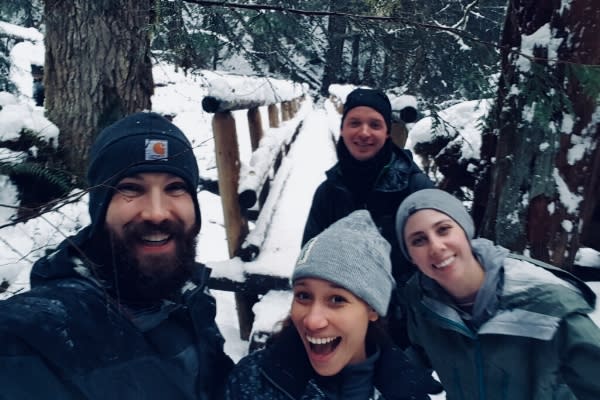 We left late in the day and didn't have enough daylight to continue onto the Diamond Creek Falls loop. I highly recommend snowshoeing the entire trail if you have the time! It is only another mile to the falls and 3.5 miles (5.6 km) round-trip.
Day Two
We spent the night at a local AirBnB that conveniently had maps of the area's snowshoeing and snowmobiling trails. From the map, encouraged, we decided to test out a more challenging trail with a "summit".
We started out parking at the Gold Lake Sno-Park (Sno-Park Permit required) and packed for the day ahead with all the essential winter gear and plenty of snacks and water.  
Directly across the street is Willamette Pass Ski Area. You can enter the park and follow clearly-marked signs for the PCT. We followed the trail signs until we reached a fork with a brown Forest Service sign detailing trail options. At first, we took a left and ended up hiking 45 minutes into no-man's land trying to find the summit trail we saw on the map. With no avail, we turned around, heading back to our original starting point at the Forest Service signs. We decided to take the trail labeled Rosary Lakes connecting onto the PCT. We stayed on the trail for about 3 miles (4.8 km) to reach Lower Rosary Lake. I am so happy we made this decision! This trail takes you on a winding, ethereal snowshoe hike through the forest that feels like you've taken a mystical step into Narnia. What inspiring views to behold!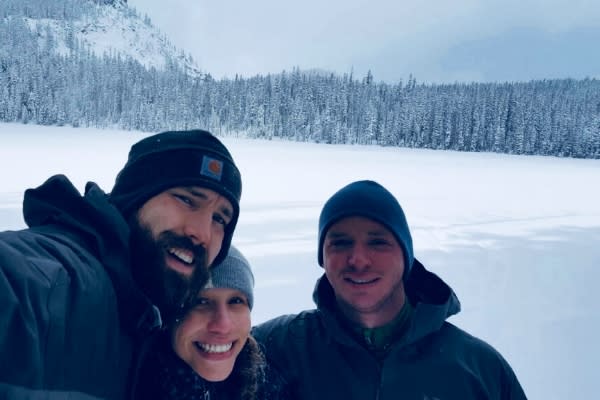 This entire round-trip hike took us about three hours to complete (mind you, I was hiking with two extremely competitive men and sweating profusely keeping pace). I recommend leaving yourself ample time and daylight to snowshoe the entire trail safely. A good rule of thumb is one hour per mile especially since snowshoe hiking can be more strenuous than hiking without snowshoes!