Tucked in the forest of Cottage Grove, the Brice Creek corridor in the Umpqua National Forest contains multiple easily-accessible waterfalls for visitors to enjoy. And as the weather gets warmer, more wildflowers are popping up. Follow along with Adventure Specialist, Gabrielle Lent, as she ventures into the forest on a wildflower hunt!
To find wildflowers this week I decided to venture where the green grass grows. From I-5 South I took Exit 174 toward Cottage Grove and set my sights on three mild afternoon hikes near Brice Creek, all of which resulted in waterfalls. Driving 19 miles (30.58 km) down Row River Road I would soon reach the junction of Layng Creek and Brice Creek Roads. Following Layng Creek for another nine miles (12.48 km), I came upon Forest Service Road #17 and in 500 feet (152 m) found the parking lot for the first of my mini-quests, Spirit Falls.
Recent rainfall had left the entire grounds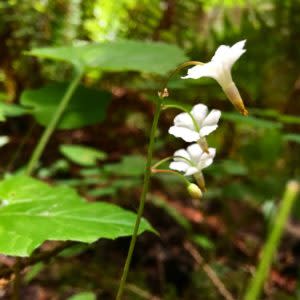 rejuvenated and full of life. Electric-green ferns seemed to harness the power of natural light in newly unfurled tendrils, glowing neon in their youth. Inside-out flowers darted up between the soft, ground-covering plants and wild roses held their faces level with our waists. Seeing some fallen petals on the p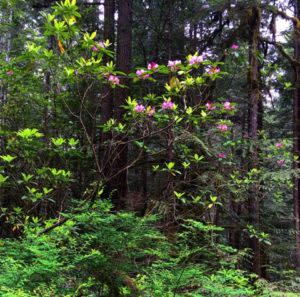 ath, I suddenly remembered the importance of looking up. In my search for wildflowers I have become accustomed to keeping my head down and if not for these retired blossoms in the dirt I might have altogether missed the rhododendrons growing above me, their hot pink bubblegum pops adding a fun flourish to a lush world of lime hues.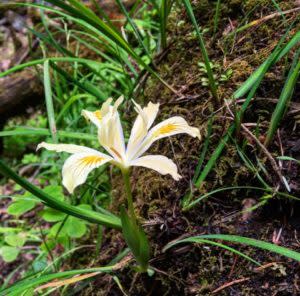 When we reached Spirit Falls, it was gushing. Down on the banks of its coursing stream, butterscotch-colored wild iris were found among the clover and rocks. We would see many more of these iris on the trail to Pinard Falls, though because this path was much cooler and more shaded, the rhododendrons had not yet bloomed.
I was happy to have saved Moon Falls for last. Of all the day's falls I found it to be the most interesting; a towering 125 feet (38 m) high with a network of old growth trees growing out of the water that coursed from the fall's pool. As we marveled at its immovable permanence, we were joined by two other groups of walkers. It was now 6 p.m. and this was the first time during our trip that we'd encountered other people. If they were locals they must have known something we didn't, leaving us with the feeling that 6 p.m. is witching hour at Moon Falls.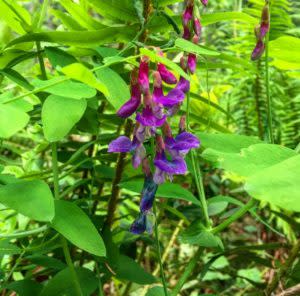 Trailheads leading to each of the individual falls were about a mile walk; half mile to and from, making for three miles (4.82 km) of walking in total. Not a crazy amount of hiking for the length of drive time but a lovely and worthwhile exploration none the less.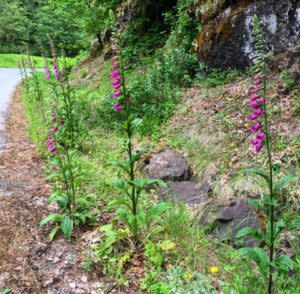 As we pulled away from Brice Creek, tall Foxgloves stood on the side of the road like floral queens majestically reigning in purple, waving goodbye. On our way back through town we stopped  for a delicious meal to wind down from our time outdoors and caught the end of the South Valley Farmers Market in Cottage Grove. The little town was warm and bustling on a late spring evening and returning to I-5, we caught the orange sunset over the Southern Willamette Valley.
Before hiking, always check trail status with the Forest Service. As of June 2019, trails in this vicinity may be temporarily closed for restoration after winter weather.