"Wooooooooo!" "Woo-hoooooooooo!" "Oh my gosh, are we really going down this? We are! Wah-hooooooo!"
If you are on the South Jetty sand dunes in Florence, these might be some of the excited screams you could hear carried on the cool ocean breeze of a sunny afternoon. You might think to yourself, where's the amusement park? It sounds like a roller coaster.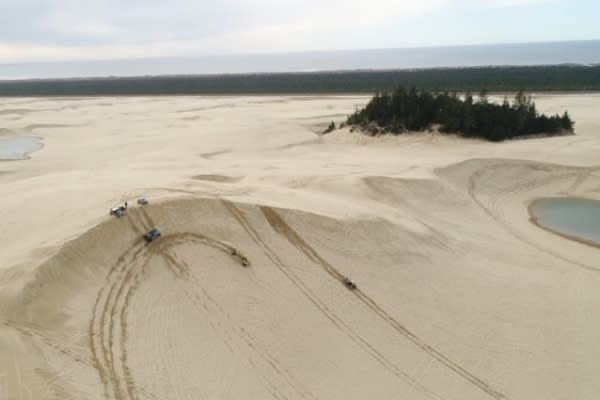 It's not a roller coaster. But it's like a roller coaster. In fact, it's a dune buggy racing through the dunes, whipping around turns, barreling up hills, tearing down them, doing "cookies" on slopes, and kicking up some major sand. And I got to be on this thrilling roller coaster ride, along with my new friends, Jesse and Mary from Travel Lane County, Mary's friend Adam, and Jessica and Nha from KEZI 9 News. We were helping out with a photo shoot for Travel Lane County along with the great folks from the Eugene marketing agency Turell Group and Eugene photographer David Loveall.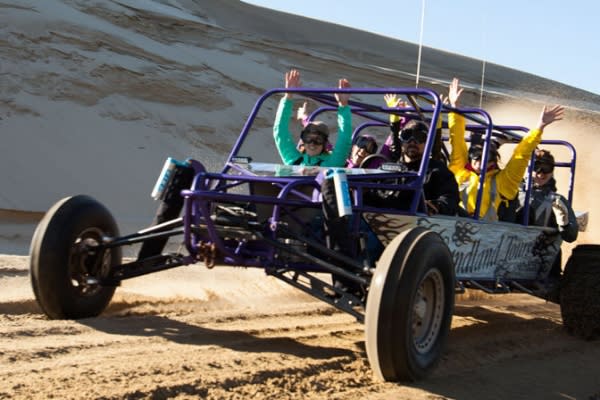 Hurtling up, down, and around hills at 65 mph was my first experience on the Oregon Coast sand dunes. I had never been on an ATV or sandrail, and my only previous encounter with sand dunes was flying kites and lighthouse hopping in the Outer Banks in North Carolina, where the dunes are not nearly as extensive. The Florence to Coos Bay sand dunes cover 40 miles, with spectacular views of the sparkling ocean, forested campgrounds, the Siuslaw River, Historic Old Town Florence, and all the way up to Heceta Head Lighthouse. The sand dunes themselves are amazing because in early spring, when they have yet to see the heavy traffic of summer adventurers, have made incredible wind-crafted formations that resemble ridged rock more than soft sand. Hiking through the dunes for these inspiring sights would be breathtaking on its own.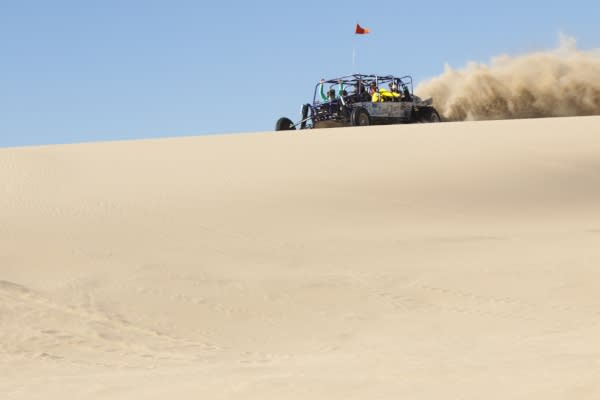 But my breath was destined to be taken away by Doug, who was our fast and fearless dune buggy driver for the day. The sandrail ride is an experience not to be passed up. For those with ATVs or thinking about renting them, nothing beats having a professional driver who knows every grain of sand, every hairpin turn, every heart racing downhill of the dunes to loosen your lungs and let the screams of delight rip. Doug has been driving with the wonderful outfit Sandland Adventures for fourteen years; he knows the terrain, he makes you feel safe even at top speed, and he's a fantastic guide, making for a thrilling adventure and a superior wildlife tour. Plus, on a dune buggy, I got to share the adventure with five other people, which makes it so much more fun.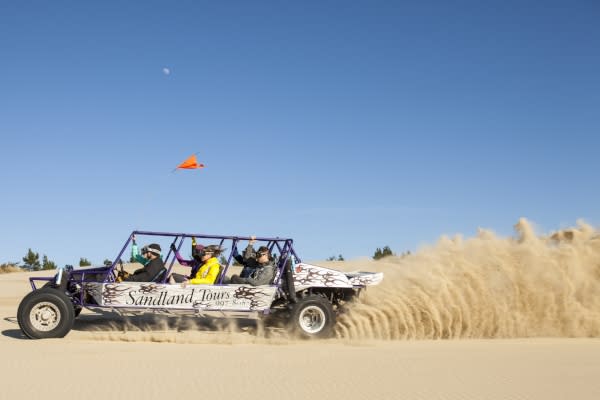 After our heart rates were raised as high as they could go, before we had totally lost our voices, and our cheeks hurt from all the laughing and smiling, we headed into Historic Old Town Florence for drinks and food with a sunset view of the Siuslaw Bridge along the river, each of us recounting our surprise at just how FAST we were cruising on the dune buggy.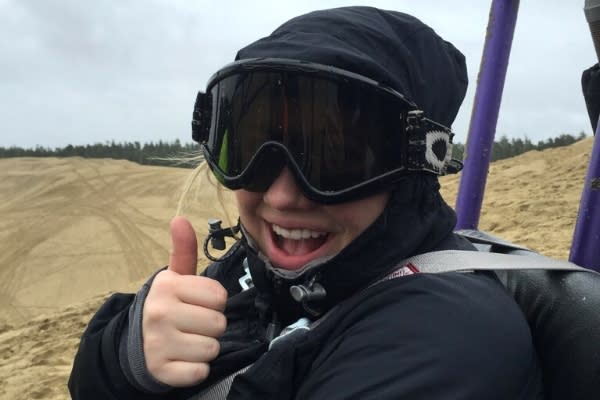 Sandland Adventures is located on the Oregon Coast Highway 101, just south of the South Jetty entrance that began our outing. They offer a variety of tours, hour and half-hour, for families, seniors, and the intrepid. Safety gear is provided, but bundle up in layers because the wind can get chilly when you hit top speed. Be prepared to scream, laugh, and smile; you kick up a lot of sand, and you may eat some as well.