Back To Previous Page
Best Beer Bottleshops & Growler Fill Stations
Published: December 19, 2022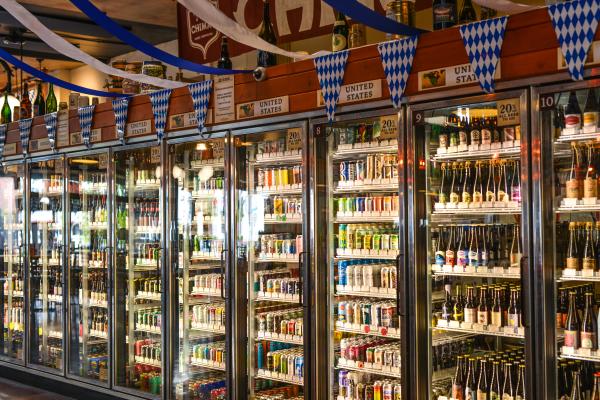 Taste a range of regional craft beers and then take them with you! Taphouses, bottleshops and growler fill stations offer convenient hours, knowledgeable staff and the ability to bottle up your favorite beer for later.
Like an urban wine bar, taphouses are a great place to enjoy a flight or make comparisons between breweries or beer styles. Growler fill stations are often a pre-game hub, as people stock up for tailgates and barbecues. These highly social venues are a great place to talk "beer," listen to music and often grab a bite to eat. Each one has a different atmosphere, so like the breweries, you'll want to visit them all.
The Bier Stein Bottleshop and Pub
Midtown, Eugene
This is Eugene's ultimate bottleshop with an extensive collection of local, regional, national and international beers. Coolers line the pub circumference and the bar with its taps reigns at the pub center — with such a large selection, everyone will find a beer here that they'll like. Host to themed events, an outdoor patio and an upbeat social vibe, The Bier Stein Bottleshop and Pub is the ideal place to meet up with friends for a casual and comfortable experience.
16 Tons Taphouse & Bottleshop
Eugene
Shop bottled beer, or fill your growler at one of their two locations. The 16 Tons Taphouse & Bottleshop in the campus area has a great selection of beers in the case and on tap. At 16 Tons Cafe & Creperie in South Eugene, fill your growler and then relax with a pint paired with a delicious crepe. The mellow cafe scene offers occasional live music in the summer time on the outdoor front patio. 
beergarden.
Whiteaker Neighborhood, Eugene
beergarden. is a fantastic taphouse with a wide assortment of beer, soda and kombucha. Combined with their outdoor patio, frequent live entertainment and multiple food trucks, you might discover that you wish to stay rather than take home your growler. Either way, it is a great place to pick up brews for your next occasion. 
Tap & Growler
Market District, Eugene
The Tap & Growler has a robust selection of craft beer, wine, soda and kombucha on tap. With ongoing deals and a lively restaurant ambiance, this is the place to fill a growler plus kick back at the bar.
PublicHouse
Springfield
PublicHouse is a voluminous beer hall (formerly a church) with an outdoor patio offers multiple taps with a diverse selection of craft beer. Bring your growler but also hang out awhile with a pint. There are multiple food vendors and often live music on stage. PublicHouse is a relaxed gathering place, just right for lunch, after work or weekends.
Breweries & Pubs
Of course, many craft breweries and pubs are also able to fill a growler for you if desired. So when you are out doing a beer crawl and tasting an assortment of different styles from different breweries, bring along your growler so you can take home your favorite. Some breweries, like Claim 52, sell their craft beer in bottles direct from their tasting rooms — or if you are planning a larger social gathering, inquire about kegs, usually picked up at warehouse locations.