Training & Events
Maximize Your Partnership Presentation
This partnership overview presentation is recommended for new partners and for long-time partners alike. Discover ways to maximize your partner benefits with Travel Lane County. Held quarterly. No cost. Check in and light breakfast begins at 7:45 a.m. RSVP to Megan@EugeneCascadesCoast.org.
Partner Spotlight
Showcase your business, organization or product to Travel Lane County staff. Recommended for new partners and a great idea for long-time partners. Four partners each have 15 minutes to make their presentation. Held every two months in the Travel Lane County conference room at the Eugene, Cascades & Coast Visitor Center (754 Olive St, Eugene). No cost. Limited availability, reservations required. Contact Megan@EugeneCascadesCoast.org.
Group Business Marketing Meetings
Partners with the convention or sports marketing package are invited to attend this monthly meeting. While the primary focus is reviewing current convention leads, confirmations and updates; it is an opportunity to meet the sales professionals from area hotels. Meeting facilities also have the opportunity to host these meetings. No cost. RSVP to Linda@EugeneCascadesCoast.org.
Third Wednesday of every month from 8:30 a.m. Location varies.
Champion World Hosts
What does it mean to be a Champion World Host? We want to inspire our local community to be excellent hosts and help us deliver positive, meaningful visitor experiences as we welcome the world to the Eugene, Cascades & Coast region. We are: welcoming, adventurous, friendly, involved and knowledgeable. Join us in providing excellent customer service to put Lane County on the map as a destination that is equipped to host the world in large scale events.
We've compiled useful resources for you so that you can easily share helpful information with visitors and offer them the best experience possible. The Champion World Hosts page connects front line staff, businesses and community hosts with common FAQs.
Get prepared for the World Athletics Championships Oregon22 by taking our 7-part crash course. Seven emails over seven days will get you tuned and ready to welcome the world this July!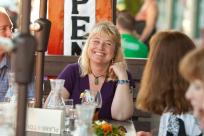 Register for an online email training course in preparation for welcoming international visitors to the Eugene, Cascades & Coast region…
More

Info

›
For Event Assistance Contact:

Megan Temple
Senior Director of Partner & Community Engagement
Megan manages all Travel Lane County partner data, administration and communications, organizes partner events and trainings, and assists with editing print publications and partner-related content on the website. She also oversees Visitor Center operations and staff. A native Oregonian, Megan graduated Magna Cum Laude from Northwest Christian University and holds a Master's degree from Bushnell University.