Iration live at McDonald Theatre by Melanie Griffin ​
The world is a stage; the stage is a world of entertainment - Howard Dietz.
As in-person events return, planners aim to make their events engaging and memorable. After such a long period of absence, event attendees are looking for the opportunity to gather, learn and have fun! While the event agenda may be set, the possibilities for event entertainment are endless. Here are some incredible entertainment options that will be sure to leave a lasting impression on attendees.
Live Music
While classical music playing gently on the radio in the background is always an option, liven up the post-lunch mood with a live band. The Eugene, Cascades & Coast region is a thriving music destination known for its music halls and diverse music scene. Here are a few examples of live music you can book for your event.
Blue Skies Big Band
Performing at private parties, public concerts, and dances for more than 20 years, Blues Skies Big Band aims to keep the grand tradition of big band swing music of the 1920s - 1940s alive.
Blue Wave Band
Passionate about creating memorable events, Blue Wave Band has been setting the industry standard for event music ever since 2012. Blue Wave Band plays everyone's favorite songs and focuses on high-energy live music for conventions and corporate events.
Steel Magnolias
Steel Magnolias is an award-winning steel drum island band that brings festive decorations, a vibrant set, and beautiful island music to your next event. A local favorite, Steel Magnolias is guaranteed to bring smiles to attendees' faces.
Calamity Jazz
Boasting of a carousel of top performers, Calamity Jazz prides itself on setting just the right mood and fitting gracefully into any occasion or theme. Calamity Jazz can combine themselves into different sizes and varieties of performing groups to suit any event setting.
Rudolf Korv
Eugene-based singer-songwriter Rudolf Korv specializes in Americana music. Rudolf Korv performs sets of originals and covers in a big, country-tinged baritone. 
Choirs
Looking for something a bit more unique? A vocal ensemble creates a distinct sound and touches hearts. Here are some local choirs that are available for hire. 
Eugene Concert Choir
The Eugene Concert Choir is a celebrated cultural pillar of the Pacific Northwest, performing an eclectic blend of music from sophisticated Renaissance chamber repertoire to modern popular works. With three award-winning ensembles to choose from, the Eugene Concert Choir will be sure to enchant and dazzle any audience.
Soromundi - Lesbian Chorus of Eugene
Founded in 1989 by Karm Hagedorn, Soromundi has grown to over 100 chorus members within the past 25 years. Soromundi, which means "sisters of the world," has performed at many community events, produced three albums, and has toured across the Pacific Northwest.
Women's Choral Society
One of Eugene's oldest choral groups and Eugene's first all-women's choir, the Women's Choral Society aims to create concert music of variety and quality. Proceeds from WCS concerts and private donations fund scholarships for University of Oregon music students.
DJ's
Looking for after-party entertainment? The Eugene, Cascades & Coast region has some high-quality DJs that can curate the right playlist and MC for any corporate event, convention, or after-hours party!
BMAC Productions
Barry MacGuire, a fixture on the radio dial in Eugene, and his crew at BMAC Productions work hard to make any event they oversee a rousing success. Bringing 20 years of local experience, BMAC Productions includes an extensive and varied playlist as well as wireless microphones for speakers.
Caught In The Act Entertainment
Caught in the Act Entertainment is a reliable source for live music, DJs, and professional emcees for any upcoming corporate event. Caught in the Act Entertainment uses DJs with vast musical experience to create the perfect event atmosphere. 
Rising Phoenix Productions
Serving the mid-Willamette Valley since 2004, Rising Phoenix Productions provides fantastic DJ/MC services as well as photo booths, lawn games, custom trivia shows, and much more.
With many choices at your disposal - a string quartet, an indie band, vocal choirs, a cover band, or even a DJ - our services team has the know-how to help find the perfect music to create either a relaxing atmosphere or a lively evening finale for any event.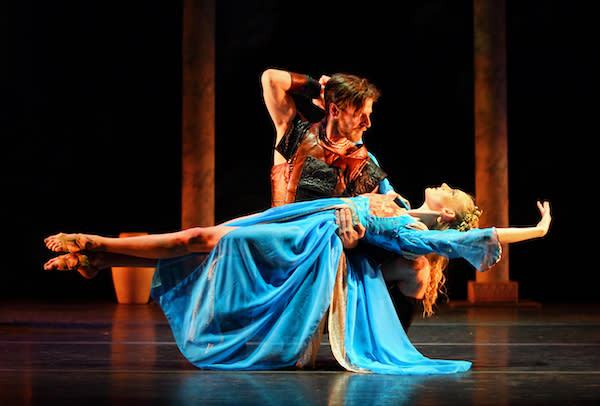 Ballet Fantastique by Greg Burns
Performances
Consider scheduling a performance as part of your event agenda. The Eugene, Cascades & Coast region is known for its emphasis on creative expression, and this is exhibited in the many different performing groups and showcases available annually. Below are some of the unique performance options at your disposal. 
Fred Craft's Radio Redux
A repertory theater group that revives memorable radio programs from 1935-1960, Fred Craft's Radio Redux gives listeners unique audio and visual entertainment for ninety minutes.
Dance has the ability to transcend language and touch many hearts. Here are a few local dance groups available to perform at your event.
Eugene Ballet
Since its founding in 1978, the Eugene Ballet has become one of the West's most versatile professional dance companies. With a repertoire ranging from full-length classical ballets, contemporary works, and accessible family programs, the Eugene Ballet aims to showcase the works of many of the country's finest choreographers.
Salseros Dance Company
Salseros Dance Company is passionate about building community and sharing its love of Latin dance and music. Salseros Dance Company performs throughout Oregon and beyond at salsa festivals and private and community events.
Ballet Fantastique
Ballet Fantastique is Eugene's all-original dance theater. With a small roster of dancers and a versatile repertoire, Ballet Fantastique can perform almost anywhere and can be adaptable to any budget.
Magicians
Add a bit of mystery when you book a magician!
Hart Keene
Are you looking for high-end corporate entertainment for your next event? Hart Keene is a versatile mentalist and illusionist who has performed on many television programs, including NBC's "America's Got Talent!". Choose from an interactive stage show or a close-up experience for your event.
Dr. Delusions Illusion's Comedy Magic and Illusion Show
Able to customize any show to the event's needs, Dr. Delusions Illusion's Comedy Magic and Illusion Show has performed solo shows and large shows for over 30 years throughout the Northwest.
Scott Wolf
Best known for his alluring entertaining style and audience interaction, magician Scott Wolf is an internationally acclaimed illusionist who combines his energetic personality with visual magic and inspirational stories.
Comedians
Looking for a bit of a laugh? We have comedians as well!
Leigh Anne Jasheway
Stress management and humor expert, comedy writer, stand-up comic, and comedy instructor/coach Leigh Anne Jasheway has had more than a quarter-million people attend her presentations over the past 15 years. Learn to control stress, manage change, or just plain be happy for a change when you book her for a presentation or interactive workshop.
Larry Weaver
A clean comedian, funny MC, and motivational speaker all in one, Larry Weaver uses his mastery of the craft to improve any event. A favorite at corporate events and conventions, Larry's humor is highly professional, culturally sensitive, and hilariously funny.
These groups are just a few examples of the talent and diversity available in the Eugene, Cascades & Coast region. We will ensure your event attendees witness the performance of a lifetime when you host your next event here.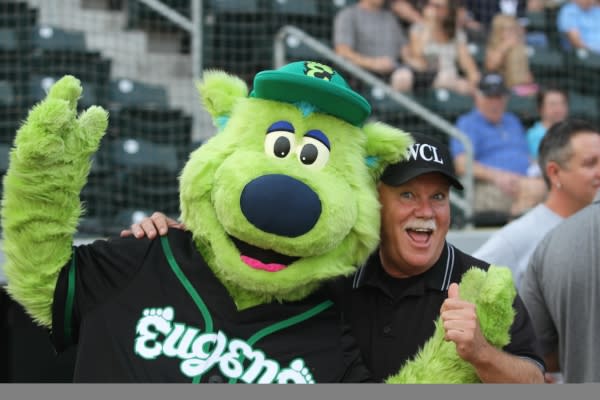 Eugene Emeralds Sluggo at PK Park courtesy of Eugene Emeralds
Hire a Mascot!
It is no secret that the Eugene, Cascades & Coast region is a powerhouse sports destination. Bring in the local sport spirit to your event when you hire a mascot.
University of Oregon Duck Mascot
The University of Oregon's mascot, the Duck remains one of the most recognizable and lovable mascots on the collegiate sports landscape. The Oregon Duck Cheerleaders can also be hired to appear alongside the Duck.
Eugene Emeralds Sluggo Mascot
Sluggo, the official mascot of Eugene's favorite minor league baseball team, the Eugene Emeralds, is available to appear at your event. Sluggo is sure to bring smiles to any event attendee.
There is no better way to pay homage to the Eugene, Cascades & Coast region's rich sports culture when you hire a mascot to interact with attendees. 
Event Atmosphere
If you are looking to enhance the atmosphere of your event, we have local vendors whose priority is to add that extra something… like a unique photo booth!
Blue Bus Creatives
Choose from a "PhotoSwagon" or an open-air photo booth when you book with Blue Bus Creatives. The PhotoSwagon is a renovated 1973 Volkswagen Bus turned mobile photo booth with custom props, fantastic backdrops, and online galleries. Their one-of-a-kind, custom, open-air booth is made to fit right into your event's atmosphere, whatever it may be!
Reflections Event Entertainment
Boasting of the latest and greatest in photo booth technology, Reflections Event Entertainment's fully interactive 65" mirror is sure to keep your attendees entertained during your event. With built-in premium animations, photo signing, and stamping features, as well as MMS and email sharing options, the Mirror Me Photo Booth can be tailored to specific events and can even be offered in a variety of different languages.
These are just a few of the entertainment options available for your event in the Eugene, Cascades & Coast region. Contact our qualified services staff today to assist in finding the right fit for your event!