Due to an increased amount of traffic and a fast-growing demand for increased air service, the Eugene Airport (EUG) is set for some upgrades and major expansions.
Air Service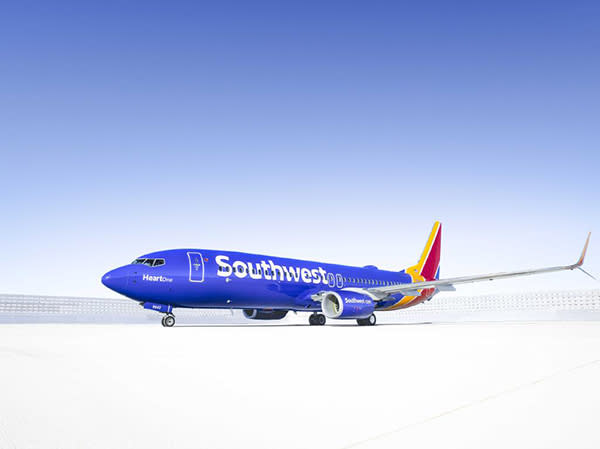 Southwest Airlines - Service to San Jose, Denver, and San Diego
Southwest Airlines continues to make big impacts at Eugene Airport. This summer, Southwest announced that they will begin daily service to San Jose, California, and Denver, Colorado. Additionally, starting March 11, 2023, Southwest Airlines will begin nonstop service between San Diego International Airport and Eugene. These additional flights certainly add to the convenience of getting to and from the region. 
Avelo Airlines- Nonstop Service to Palm Springs
In early August, Avelo Airlines announced that there will be new nonstop service to Palm Springs, California from Eugene Airport. This route will be flown twice a week, on Wednesdays and Saturdays beginning November 12th. For those traveling back and forth between Palm Springs and Eugene, the travel experience is one that passengers can look forward to due to the easy connection between Southern California and the Willamette Valley.
Accessible Service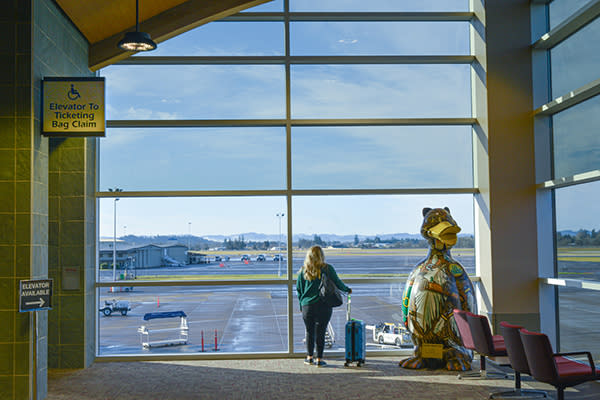 Short Story Dispenser
A new self-service kiosk that prints free stories and poems is available to all travelers making their way in and out of Eugene Airport. Formed through a thoughtful partnership between the airport and the Eugene Public Library, free reading just became even more accessible. People of all ages are encouraged to utilize this new exciting feature that is also used in major cities including Melbourne, Paris, London, and Hong Kong. This kiosk is integrated with a touch-free button that produces local, international, and or kids' options using ink-free recycled paper.
Therapy Dogs
F.E.T.C.H (Friends Eager to Come Help) is a local volunteer therapy dog group serving Eugene/Springfield and other Lane County areas. Next time your group is passing through the airport, keep an eye out for some cute dogs in green vests; they might just be the cure needed to curb any flying anxiety or travel stress. Whether it's Ozzy, the six-year-old English Lab, or Milo, the 11-year-old Dachshund, these dogs are here to make your group's travel experience the best it can be. 
Hearing Loop Technology
In an effort to become an even more accessible airport, Eugene Airport has installed hearing loop technology to aid those with hearing loss. Barriers such as plexiglass and masks can make it even harder for those who have hearing disabilities. Hearing loops, sometimes called an audio induction loop, are a special type of sound system for use by people with hearing aids. Hearing loop technology has been emerging more and more within Lane County, so look for a hearing station next time your group is in an eating or drinking establishment or in our visitor center in downtown Eugene.
Expansion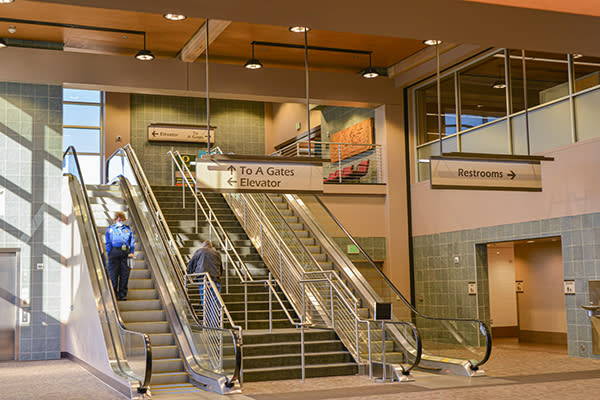 Footprint
Beginning in the fall of 2022, crews will be hard at work to improve the parking situation at Eugene Airport. Before winter arrives, the short-term and long-term parking areas will be expanded, allowing more vehicles within the airport premises. Several hundred new parking spots are expected to be added, making the lives of local passengers a whole lot easier. With the recent increased demand for air travel, the parking expansion will be a welcome addition. 
Assistant airport director Andrew Martz has reported that in addition to the parking expansion, the airport is in the planning phase of adding more gates to a terminal. Furthermore, 20 acres southeast of the airport has been designated for a possible hotel. 
A Sustainable Future
The airport's comprehensive development plan outlines its commitment to a more sustainable future. The airport has planned to investigate specific initiatives in air and water quality, energy conservation, infrastructure and more. This development plan ensures Eugene Airport is at the forefront of intelligent development that will make the airport a leader in sustainable decision-making.
Continuous Improvement
Eugene Airport has been consistently serving its community for decades and continues to grow. With the addition of these new services and expansions, the airport will remain as one of the top-tier airports in the Pacific Northwest.