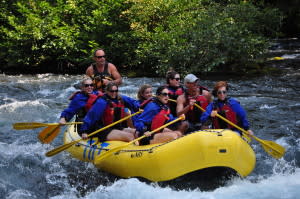 With the McKenzie River as our "office" for the day, a handful of the Eugene, Cascades & Coast staff set out on a half day adventure with TnT Whitewater Rafting. At Harbick's Country Store in Blue River, we met with Tim Moomey, the owner and operator (along with his wife Tonya), who has been rafting rivers throughout Oregon recreationally for the past 35 years. Tim loaded us in his van and we were off to Frissell Landing.
Before getting us into the water, Tim talked to us about river safety and taught us the commands that he would use to guide us when we rowed. After that, we strapped on our life jackets, and many of us chose to suit up in the provided splash jackets and booties -- a wise idea when you're that far up on the McKenzie. As the snow melts, the water remains considerably chillier than what we're used to around Eugene and Springfield.
Although the stretch of the McKenzie that we explored tops out with Class II rapids, there was never a dull moment. The 14-mile expedition that ended at Bruckart Boat Landing was full of twists and turns guaranteed to send you on a bumpy and exciting ride, leaving you soaked but smiling. With names like Boomerang, Roller Coaster, and the Zipper, the rapids often make the boat feel like some sort of carnival ride as it spins and bounces through the crystal clear water.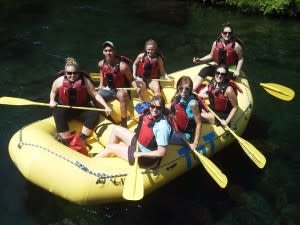 The McKenzie River is not only one of the cleanest rivers in the world, but one of the most scenic. Lush green trees line the banks, and many change to beautiful amber and red tones during early autumn floats. Herons are a common site along the banks, and salmon can be seen spawning in some parts during late summer and early autumn. A number of lodges and cottages dot the riverbanks, many with people enjoying the warm weather and waving as you pass by. Our trip took us past Belknap Hot Springs as well as under Belknap Covered Bridge.
We passed a once mighty log jam that was formed more than 20 years ago and in its heyday, stood over two stories tall. However, the raging waters during the winter of 2011 washed it out, and sent massive clusters of trees and limbs throughout the last stretch of our ride. As the waters crashed into these random piles, they served as a reminder that any river comes with its potential dangers, and why it's always important to ride stretches like this with a professionally trained guide who knows the river well.
Tim and Tonya's passion for rafting is evident, and they are eager to share the experience with everyone. Besides offering the best prices on the McKenzie plus longer runs, the snacks and gear (including Neoprene booties, splash jackets, and in some cases, Farmer John wetsuits) are available at no additional charge. This allows people to stay warm and comfortable, as TnT Whitewater is focused on providing fun and they understand that being cold can take away from that experience.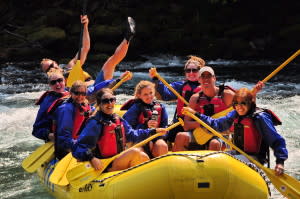 Our group was eager to take this trip knowing that it would be thrilling, and of course, beautiful. However, we came away with another appreciation for how well we worked together as a team. Everyone in the raft relies on each other to navigate the rapids safely, and to pass the "tests" that Tim throws out during the trip, including steering the raft with precision into eddies behind rocks (allowing the raft to actually come to a full stop in the middle of the river), or balancing the raft purposely on top of a rock. Without working together as a group and being aware of when the rest of your boat is rowing, it makes getting down the river more of a challenge. Taking a white water trip is a great way for any group to learn to work together, improve their communication skills, and have an amazing time while doing it.
TnT Whitewater is flexible with their put in and take out locations, and offers full day and half day trips. Riding for a full day provides rafters the chance to enjoy lunch along the river (snacks are provided for the half day trips). All of their guides are First Aid and CPR certified, and will go out of their way to make sure you have a memorable experience. Book a trip with them by calling 541-847-6085, or visit their website at www.TnTWhitewater.com.
A special thanks to West Coast Action Photos for allowing us to use some of their images.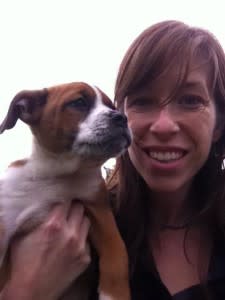 About the author: Jessica Chestnut is the Social Media and PR Manager for Convention and Sports. Although she's only been in Lane County since 2008, there's nowhere else in Oregon she would rather be. She spends her free time exploring the great outdoors, snowboarding, camping, floating the McKenzie, watching college football, enjoying local microbrews and spending time with her husband and puppy.