*This article originally appeared in Meeting News Northwest as part of the piece Oregon's Willamette Valley.
By Tracy Beard and Ron Engeldinger
Anchoring the southern Willamette Valley, Eugene displays a contemporary vitality that attracts meeting and event participants from all across the globe. The variety of nicknames from Track Town USA and the Emerald City to the Silicon Shire reflect the city's growing international reputation as a first-class destination and the variety of experiences awaiting visitors. The great outdoors converges with a vibrant, contemporary metropolitan area offering a unique experience for every visitor.
"We are known for the quality of service we provide," says Juanita Metzler, convention sales manager for Travel Lane County. She adds, "At Travel Lane County, we offer a tremendous array of complimentary services for meeting planners. We can help develop the perfect experience for your meeting participants." Whether you need a high-speed fiber optic connection, a fun team-building challenge or you are looking for a dynamic keynote speaker, Eugene will meet your expectations.
MEET AND STAY
Eugene's downtown is compact, walkable and the hub of the region's activity. It boasts a variety of meeting and event spaces. "Our venues do a wonderful job of working with each other to accommodate the needs of any group," explains Metzler.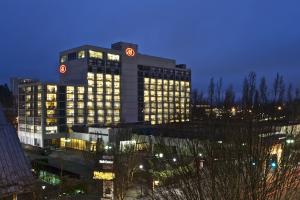 With more than 30,000 square feet of meeting space, the Hilton Eugene offers a variety of options for large or small groups. The Playwright's Hall that supports groups as large as 1,800 theater-style can be divided into as many as six spaces providing maximum flexibility. A variety of additional rooms offer attractive options for breakout sessions and can accommodate smaller groups. Perched on the 12th floor with sweeping views over the city, Vista Rooms I and II can accommodate as many as 180 guests. These rooms provide the perfect setting for a corporate retreat or an elegant banquet. The venue offers complimentary WiFi, full-service on-site catering and 269 guest rooms.
Adjacent to the Hilton, the Hult Center for the Performing Arts is the region's premier performance venue. Seating 2,500, the Center's modern Silva Concert Hall regularly hosts a full lineup of artistic presentations. With Northwest-themed décor and an abundance of public art, the Hult Center provides a variety of spaces for seminars, lectures and presentations. The Hult Center and Hilton Eugene have a strong collaboration giving groups maximum flexibility.
Nearby, the Downtown Athletic Club is located in the midst of Eugene's central restaurant and shopping district. The historic building offers an elegant backdrop for a business meeting or social event. Groups of up to 300 can enjoy the modern audiovisual support, WiFi and comprehensive catering menu.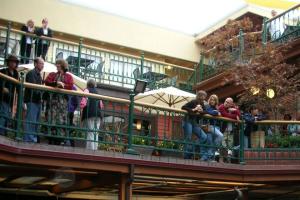 Additional downtown venues include Inn at the 5th and Home2 Suites by Hilton. Situated next to Eugene's famous Fifth Street Public Market, Inn at the 5th offers 1,400 square feet of flexible meeting space and 69 luxury guest rooms in a boutique hotel setting. Located only a block from the Downtown Athletic Club, the Home2 Suites is Eugene's newest hotel, providing 120 guest rooms and meeting facilities for up to 45 guests.
Scenically perched on the banks of the Willamette River, the Valley River Inn offers 257 guest rooms and more than 15,000 square feet of meeting space.
The wood and brick décor provides a resort-like ambience only minutes from downtown Eugene. The flexible Willamette Ballroom can accommodate as many as 800 in a theater-style setup. Additional meeting facilities offer a wide range of options for any size group. Breakout rooms provide views of the river and the picturesque landscape. The paved trail running along the river is ideal for a morning stroll or afternoon bike ride. "We want to help planners create something unique for their guests. We are open to anything that will make your event memorable," says Natasha Herndon, director of sales and marketing. The Valley River Inn offers complimentary WiFi, free parking and easy access to all of Eugene's shopping and dining in a comfortable setting.
With more than 250,000 square feet of meeting and event space, the University of Oregon Conference Services can support any size gathering. Ballrooms, lecture halls and meeting rooms accommodate groups from intimate board meetings to a 760-person conference. The modern 12,364 seat Matthew Knight Arena is a multi-purpose facility accommodating large performances. The University also has 4,500 residence hall rooms that are available when not in use by the students. They offer a cost-effective option for multi-day conferences. State-of-the-art audiovisual support, free WiFi and on-site catering will meet the needs of any group.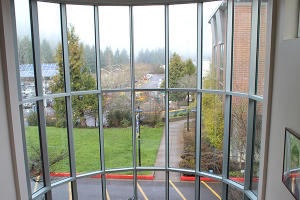 The Center for Meeting and Learning at Lane Community College, located on a wooded campus a short drive from the center of the city, has a variety of conference and meeting rooms. With a strong focus on sustainability, the Center has 14 meeting and conference rooms with high-tech audiovisual capabilities, complete support services, complimentary WiFi and free parking. The large Conference Room accommodates groups as large as 680, while additional rooms accommodate small-group meetings and breakout sessions. The fully-equipped kitchen classrooms are great for culinary-based team building sessions. 
Additional meeting venues include the Lane Events Center, home of the Lane County Fair. The Events Center offers more than 75,000 square feet of space in a variety of exhibit halls, auditoriums, performance halls and meeting rooms. The facility hosts large conferences and trade shows as well as meetings and seminars. A repurposed lumber mill is the site of Venue 252. The recently-opened venue offers meeting and event space for up to 945 guests.
OUT AND ABOUT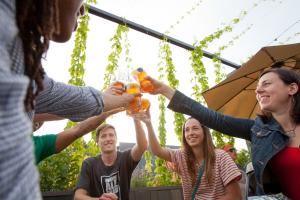 Eugene offers a variety of post-conference and team building activities to keep conference attendees busy and engaged. Groups can explore the burgeoning craft beverage scene by following the Eugene Ale Trail map available from Travel Lane County. Wine connoisseurs will want to play Pinot Bingo while exploring the regions many wineries.
Numerous outdoor activities are only a short drive from Eugene. The McKenzie River offers a wonderful whitewater rafting experience and the Willamette River is ideal for canoeing and kayaking. The town of Florence on the Oregon Coast is only an hour away. A day trip to the coast for a dune buggy ride, beachcombing and shopping in Florence's historic old town can be a fun meeting add-on.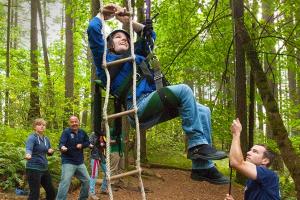 The lush forest at the edge of Eugene is the setting for the Spencer Butte Challenge Course. Operated by the city, the staff will design and facilitate a workshop that incorporates ground elements and tree-top challenges. The course is available for part-day, all-day or multi-day activities whether for team-building exercises or even just a few hours of active fun.
Eugene offers a variety of dining and nightlife opportunities. The Fifth Street Public Market in the center of the city is packed with restaurants, cafes and boutiques. The Whiteaker neighborhood, nicknamed "the Whit" by locals, is located just northwest of downtown. A variety of restaurants and craft breweries mingle on tree-lined streets in this artsy neighborhood.
Eugene is located on I-5 about two hours from Portland. The recently remodeled Eugene Airport offers daily non-stop service to cities throughout the West.